On the Black Sea, an active phase of exercises of anti-submarine forces is underway. The press service of the Ministry of Defense of the Russian Federation reports that the submarine Novorossiysk is involved in maneuvers for the first time. Information Agency
Interfax-AVN
cites the message of the official representative of the information management of the main defense department
The flagship of the Black Sea is involved in the exercises
fleet
missile cruiser "Moscow", small anti-submarine ships "Povorino", "Suzdalets" and "Alexandrovets". For the first time, the newest diesel submarine Novorossiysk was attracted to maneuvers, which, after the inter-naval transition from the Polar, arrived in the Black Sea two days ago.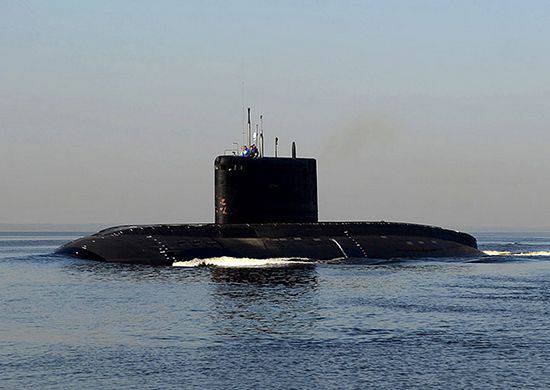 It is reported that during anti-submarine exercises used
aviation
. These are Be-12 amphibious aircraft and Ka-27PL helicopters of naval aviation of the Black Sea Fleet of the Russian Federation. They practice submarine detection and target designation.
The press service of the Ministry of Defense reported that the ships involved in the exercise, will fire torpedoes and depth charge bombs.
For reference. St. Andrew's flag over the Novorossiysk submarine was raised on 22 August 2014 of the year. This is the newest diesel submarine belonging to the third generation of diesel submarines. Such submarines are considered among the lowest noise in the world submarine fleet.