Information Agency
TASS
reports that in the African state of Burkina Faso, power passed into the hands of the military. Last year, the country lived in a transitional government and was awaiting elections, which were scheduled for October this year. An interim government was formed after the overthrow of President Blaise Compaore on October 31 of the year 2014. The fact that Compaore at one time himself seized power in the country, having carried out a coup d'etat, draws upon itself. It happened in October 1987 of the year.
After Kompaore announced his resignation (and this was preceded by many thousands of protest actions in Burkina Faso), Honore Traore, the country's commander, declared himself interim head of state, who later transferred power to the transitional president Michel Kafando and the interim government's premier Isaac Zid.
The Burkina Faso military did not arrange the actions of the interim government, as they themselves declared, and, they decided not to wait for the elections, taking power in the country. The brigade general of the Burkina Faso guard Gilbert Gyöndre is the leader of the coup. It should be noted that General Gyandre is Blaise Compaore's longtime ally.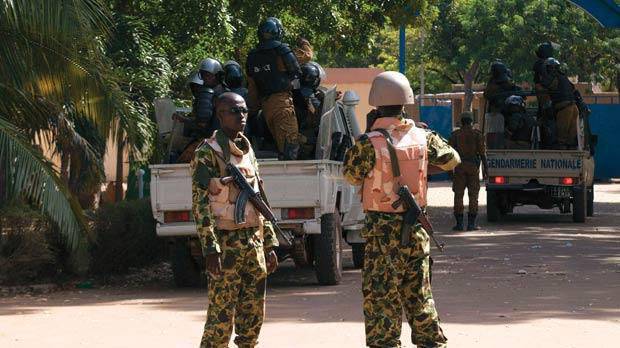 The military who seized power took the custody of representatives of the previous authorities, announced a temporary closure of the country's borders, as well as the imposition of a curfew "until the situation normalizes." In addition, they formed the Council of National Democracy.
One of the first countries to respond to the events in Burkina Faso was the United States of America. The US State Department stated that "an armed uprising occurred in Burkina Faso that violates the constitutional order of the state." It is interesting, since when did the United States become concerned about anyone's constitutional order? ..
Washington threatened the new authorities of Burkina Faso with economic and political sanctions. The White House added that the country "may lose American aid."
For reference: Burkina Faso is a West African state with a population of about 16 million. In terms of GDP per capita (IMF data), the country occupies the 170 line in the world ranking. The country's economy earns its main income from the export of cotton, peanuts and meat. The country is mining gold, the main buyers of which are Asian countries. Life expectancy is one of the lowest in the world - 52,9 of the year. Literacy is about 22%. The average age of the population of Burkina Faso does not exceed 17 years.