Advisor to the First Deputy General Director of the Concern Radioelectronic Technologies (KRET) (Rostec) Vladimir Mikheev spoke about the development of a new radar and a new optical-electronic aim-navigation system (OEPNK) for the Russian Yak-130 combat training aircraft, which will give him the opportunity destroy targets while outside the enemy's air defense zone.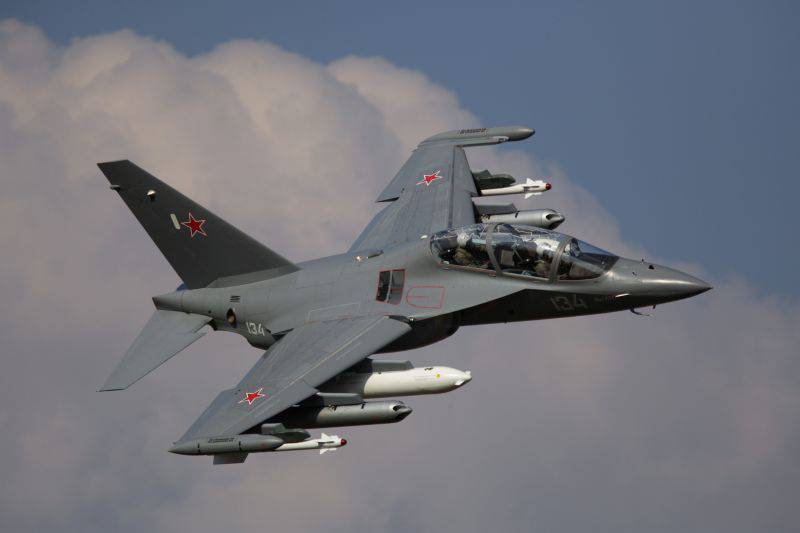 "Despite its small size, the Yak-130, in the case of modernization, can effectively solve tasks within a number of combat use scenarios envisaged for fourth-generation attack aircraft and multi-purpose fighters. At the same time, its use would be preferable from the point of view of the economy and simplicity of basing ... The capabilities of the new radar and OEPSK will allow it to strike at ground and air targets without entering the enemy's air defense system, "RIA
"News"
.
Specialists KRET are actively involved in the development of a new light attack aircraft based on the Yak-130, in particular, are working on a new OEPNK and radar.
"The new Yak-130 radar will operate under the control of a single combat central computer (BTVM) in conjunction with the new OEPNK system of the aircraft, which will allow the use of high-precision rocket armament, such as the Vikhr-M ATGM, guided missiles R-73E, X- 29L, X-25MS (ML), as well as medium-range weapons, "said the press service of the concern.
Mikheev stressed that "all this brings the potential technical characteristics of the Yak-130 to the capabilities of the Su-25CM attack aircraft."