The failure of the vote in BP on the laws on the restructuring of part of the national debt will mean the actual declaration of default, transfers
RIA News
statement of Arseniy Yatsenyuk.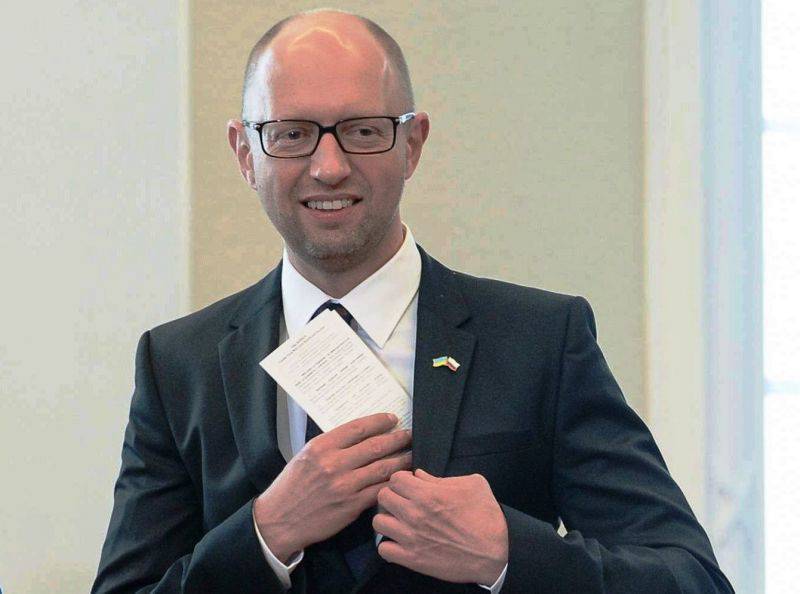 Currently, the Parliament is considering a package of government initiatives, the adoption of which will launch a legal procedure for restructuring government debt.
"Not voting for this package (of laws) means the actual declaration of default. Non-voting for this package means that Ukrainian citizens will not be able to receive increases in social benefits, standards, pensions and wages, "said the prime minister, addressing the deputies.
He stressed that he very much hopes for the support of the Rada. "This government, with the support of the Verkhovna Rada of Ukraine, for which I hope, will write off debts and enable the Ukrainian economy to grow, and Ukrainians to receive decent wages and be able to further create the economic basis for the country's growth. I am convinced that today (on Thursday) we will take the right government decision, "Yatsenyuk said.
Meanwhile, the head of the Ukrainian Ministry of Finance Natalia Yaresko did not rule out that in the future we will need another restructuring.
"I want to say, if the country is in some difficult situation, God save the aggression in the east does not deteriorate, Ukraine always has the opportunity, like any debtor, to restructure debts again, you see what happened to Greece recently, more than once , not two restructuring are doing, "she said.
But Yulia Tymoshenko did not believe in the beneficial power of restructuring, calling it a "trap". "In fact, no debt relief takes place," she said.
The agency recalls that under the terms of the agreement reached by Kiev in negotiations with the committee of creditors, Ukraine "will write off 20% of nominal debt - 3,6 billion from 18 billion dollars." In addition, a deferment is given on the payment of principal to 2019, while "interest on new bonds will be paid twice a year, the coupon on all securities will be an average of 7,75% per annum against 7,22% earlier."
However, "to complete the legal restructuring procedure, the parliament must adopt a package of relevant laws," Yatsenyuk said earlier.
The Russian Federation is not going to take part in this restructuring.