Representative of the North
fleet
Russian Federation, Captain 1st Rank Vadim Serga said that two nuclear submarine missile cruisers of Project 949A Antei carried out testing of interaction with marine aircraft
aviation
and diesel submarine.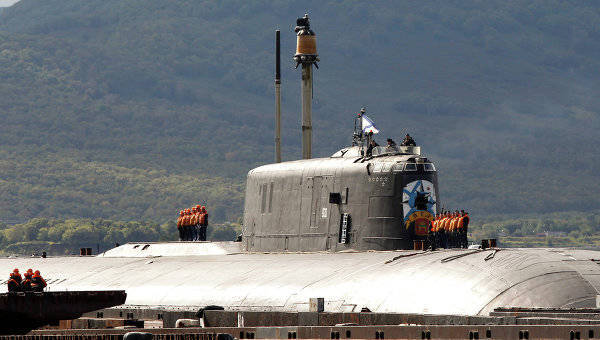 "According to the legend of the exercises, the naval strike group of the conditional enemy was designated by the vessels providing for the Northern Fleet - tankers" Manych "and" Kama ", - he cites
"Military Industrial Courier"
.
The captain noted that the crews of the diesel submarine of the Kola Flotilla of heterogeneous forces and the long-range anti-submarine aircraft of the Northern Fleet naval aviation Tu-142 received the task of detecting ships of the conditional enemy. Naval pilots and submariners tested skills to highlight the surface situation in various conditions of warfare at sea and transfer guidance data to heterogeneous shock forces.
"Crews of nuclear submarine missile cruisers have worked out practical deployment actions for launching a missile strike from a submerged position on ship groups of a conditional enemy. This episode of command and staff exercises of heterogeneous forces of the Northern Fleet was the final preparatory stage before the actual shooting of the crews of nuclear-powered submarine missile cruisers at target positions. Rocket firing practical
weapons
will be executed by the forces of the Federation Council in the near future. They are planned in the framework of the command-staff exercises of heterogeneous forces of the Northern Fleet, which began on September 14, "he added.