An Hyun Soo (Victor An), Roy Jones, Vic Ivan Wilde, Jeff Monson, Christian Noboa, Ariklenes Ferreira (Ari). What unites all these people besides the fact that they are professional athletes? What unites them is that they either have already received Russian citizenship, are either preparing to receive it, or express an active desire to become citizens of the Russian Federation. And if the question of why the representatives of the Slavic sports fraternity (figure skater Tatiana Volosozhar, snowboarder Assol Slivets, skier, born and raised in Slovenia, Alexander Glebov, etc.), expressed in their time the desire to get a Russian passport, is not particularly acute (everything so it is clear), then the situation with representatives of foreign countries looks very entertaining.
The fact is that for many years we managed to get used to the fact that athletes usually leave Russia, often accepting foreign citizenship, and here everything is exactly the opposite - foreigners come with the intention to get a Russian passport. And after all, these foreigners are not at all painters and handlers of paving slabs from the sunny Central Asian republics, which would be easily explained, and often outstanding representatives of the sports environment, whose names are known far beyond the countries in which they were born.
Well, it's possible to explain everything with Vic Wilde and Victor Aom: it's clear that Mutko jumped in on the Sochi Winter Olympics, awards, bonuses, housing - the athletes accepted the offer to perform as part of the Russian team. And Vick Wilde also has a Russian beautiful wife - an athlete ... However, not everything in this case is measured by money, square meters and beautiful wives. There is also something that is pushing the athlete to decide on a change of residence, lifestyle, to obtain citizenship of the country to which the authorities of your country, to put it mildly, have a specific attitude. So where does this impulse come from? Where did he come from Roy Jones or Jeff Monson? ..
To understand this, you need to refer to the words of foreign professional athletes expressed in an interview with various media.
Jeff Monson (quote
TASS
):
When I get Russian citizenship, my dream will come true. I already feel Russian, and I will soon become official. After I receive Russian citizenship, I will open my school or several schools of MMA. I want to give back what people have been giving me here for years.
Roy Jones (quote
rsport.ru
):
I will learn Russian. I want to speak so well in Russian that you understand me without any problems. I think it will take about a year. I hope that next year I will speak like a Russian. I respect the open Russian people, Russia.
For your information:
Jeff Monson
(nickname Snowman) is an 44-year-old American athlete performing in mixed martial arts. The world champion in jiu-jitsu, two-time winner of the ADCC wrestling tournament. Currently lives in Florida USA. Simultaneously with the application for Russian citizenship, he announced that he was going to move to the Crimea.
Roy Jones
. 46 years. American boxer, world champion in three weight categories. 12 September 2015 was granted Russian citizenship by presidential decree No. 454.
From the decree:
In accordance with clause "a" of Article 89 of the Constitution of the Russian Federation, I decree:
Satisfy the application for admission to the citizenship of the Russian Federation Jones Jr. Roy Levesta, born 16 January 1969 in the United States of America.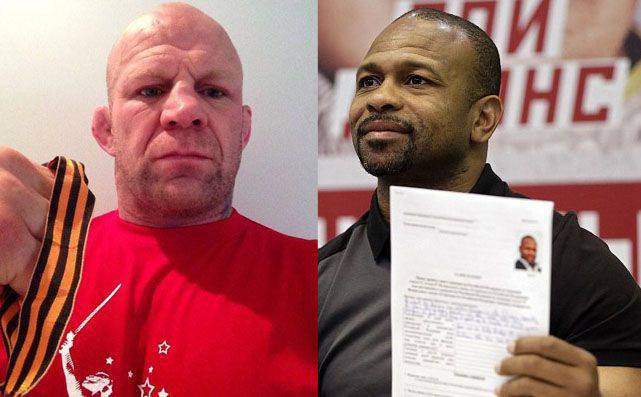 After information about obtaining citizenship of the Russian Federation or about the desire to obtain it by American (and not only American) athletes, confrontation on the Web became apparent. In a number of cases, compatriots (Russians) said: they say, what do you believe in this Jones and Monson? .. No, they say, they have no tender feelings for Russians and Russia, this is all solely because of the promotion of sunset their careers are professional athletes. Can we accept this? Hardly. There is no point in arranging a "daisy" about whether they love us with fiery love or do not love, if only because from love to hate and from hate to love, as you know, one step ...
But about the "PR" can speculate. Well, even if foreigners wake up in Monson, Jones, Vick Wilde and others. The desire to further promote themselves to foreigners, does this have something "criminal"? Politicians are often satisfied with much more energy-intensive PR, forgetting after the elections both about these promises and about the fact that they are politicians in general, and not wiping pants on leather chairs. These sportsmen don't claim and don't need political laurels (tea, not Gaidar and not Saakashvili ...).
Each of them does his job, and in fact he does excellently, and much more effectively than many politicians advertising Russia, creating its positive image. Is this not a variant of that very policy of soft power, when one speech (even if not a fight, but a regular interview) of the renowned Roy Jones, famous all over the world, can be an excellent hook for "storytellers" from CNN or Voice of America?
The fact that an American citizen, and a well-known citizen - an athlete (and not one, and not just an American) preferred Russia to the States - is, if I may say so, extensive trolling both for the States and for all those who are fighting with a liberal head about shouting the wall "From here it's necessary to bring down!" Or dump, then they will dump, but not far away, keeping the red book of the Russian passport in your pocket. As an example, the actor Anatoly Pashinin, who pours mud in buckets, but the passport remains with him ...
And with regard to the interest of foreign athletes in Russian citizenship, you can use a catch phrase: one is an accident, two is a coincidence, three is a pattern ... And if this pattern not only does not play against Russia, but brings its own advantages (recall at least three Olympic gold medals Korean Victor Ana, who brought Seoul to hysterics and mass trials in the style of "How did we miss it?"), then, as the modern youth says, thumbs up.