During the largest strategic exercises of the current year "Center-2015", the aircraft of the Far
aviation
Russian Tu-22M3.
Interfax-AVN
with reference to the press service of the Ministry of Defense reports that the crews of ten long-range aircraft take part in the exercises. Press service of the main defense department of the country:
Long-range bombers launched air strikes against ground targets at one of the landfills in the Orenburg region.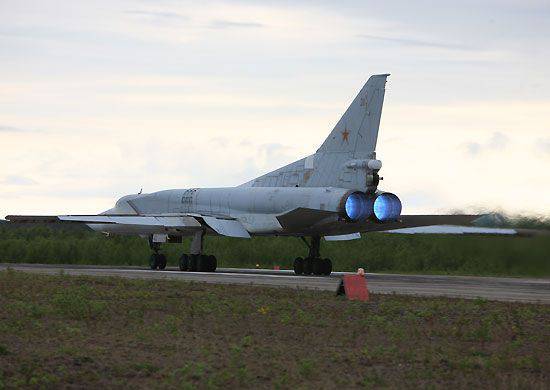 The preparation for ground-based attacks was carried out by specialists from the engineering and technical staff of the Dyagilevo airfield (Ryazan region). It was from this airfield Tu-22М3 and flew to conduct bombing targets at the landfill in the Orenburg region. Bombing was conducted from a height of about 600 meters.
In the exercises involved and the crews of the front bomber. Crews of Su-24 planes destroyed ground targets at the Totsk ground. From the message of the press service management and information of the Ministry of Defense of the Russian Federation:
The coordinates of the targets were already received by the pilots after the departure from the crews of the Su-24MR reconnaissance aircraft, which carried out aerial reconnaissance immediately before combat use and revealed camouflaged command and control points and the location of the conventional enemy manpower.
In total, crews around 2015 airplanes and helicopters are participating in the Center-170 exercise.