American military analyst David Ex reports in his blog that due to the expiration of the adoption of the declared number of the latest F-35 fighters in the US military, a "special" decision was made. According to Aks, the Pentagon is going to equip the US Air Force with F-35 fighter jets with an incomplete set of options. Adopt the US Air Force declared the number of aircraft with full option set in the near future will not work, because there is no money for it, and besides, not all of the "stuffing" of the aircraft passed the necessary refinement after a series of unsuccessful tests.
"Russian newspaper"
presents a translation of a fragment of a message from David Ax:
It was a trick that the US military did not want to publicize. In order to meet the deadline, the possibilities of the F-35 had to be significantly limited - in particular, due to its ability to fight on equal terms with the newest planes of Russia and China. The plane, which the United States plans to present in January 2017, will be a weaker version of itself.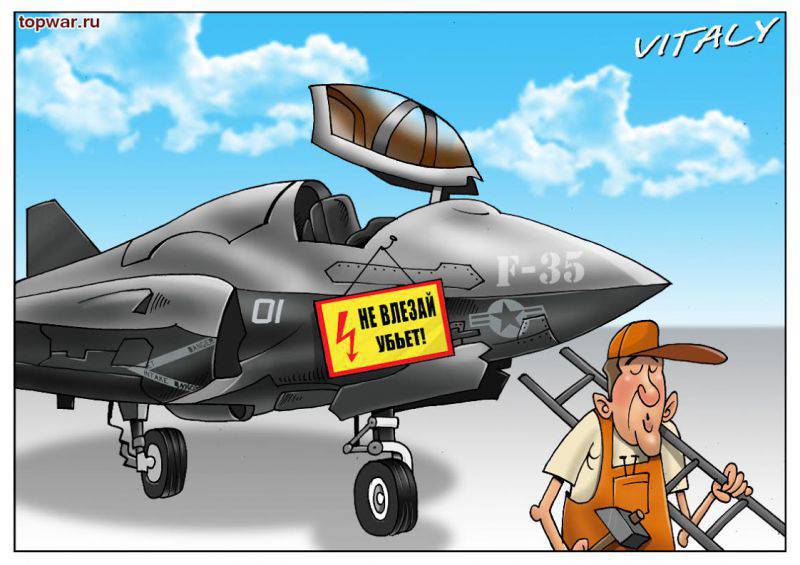 According to experts, full-fledged F-35 (with all previously declared functions) will be released in the series no earlier than 2019.
It is noteworthy that at about the same time as the Pentagon's decision to start purchasing "trimmed" versions of the F-35 for the US Air Force, the Israel Defense Ministry published information about the decision to upgrade the American F-35 on its own. So, on the Israeli portal
Globes
A material has appeared which says that Israel has plans to increase the range of the F-35 by about half, for which special fuel tanks will be used. These tanks, according to the Israeli portal, will not reduce the streamlined body and will be integrated with the fuselage.
Israel has previously purchased the F-19 35 aircraft from the US, and also signed a contract to purchase another 14 fighter aircraft of the new generation. In this case, the pilots of Israel to the F-35 have a lot of complaints.
Considering that the USA is selling abroad obviously "raw" fighters, which these countries themselves have to bring to mind, the "bearded" anecdote about the need to "modify the file" seems relevant ...