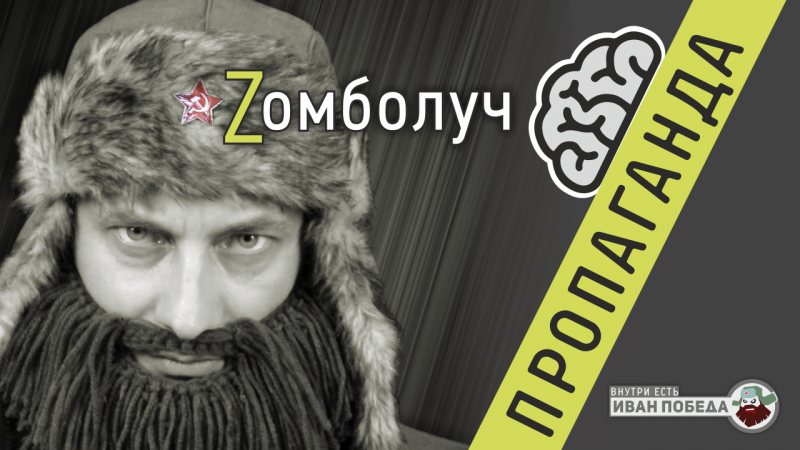 Hello to all of ours and not to ours. I am Ivan Victory. And this is my Zomboluch.
Propaganda. The word is so slippery and obviously not good. And if you are accused of propaganda, it means that you are not just a scoundrel, you are also a mean, deceitful and cunning type. Who planned to slap the pure and virgin brains of the viewer with terrible, terrible thoughts and ideas.
Listen carefully, yes my videos are propaganda. I even complicate this thought. This is deliberate and purposeful propaganda. I do this on purpose and on purpose. That's terrible!
But first, think about a simple idea, in this life, propaganda surrounds you everywhere. Even in the most innocuous advertising, igruhe, book, cartoon, or movie, some ideas and values ​​are being imposed on you. Somewhere it is done subtly, and where and in a very rough and primitive form.
You can not hide from propaganda, close your eyes or ears, propaganda will still get to you and will wash your brain. Rebuild it to fit your goals and objectives.
There is no good or bad propaganda. Propaganda is just a tool, a way to convey the right ideas, thoughts, values. But now these ideas, thoughts, values ​​are different. That they can be sorted into good and bad, useful and harmful, constructive and destructive.
Over the long years of the reign in our media sphere of the liberal media, you have been driven in by a simple, primitive, but false thought. That anyone who praises the state, the Motherland, and God forbid power, is a cunning propagandist. And he cannot do it sincerely, he is obviously paid for by Putin, Surkov or oligarchs. After all, voluntarily proud of their homeland and praise it can not be. This is not fashionable, it went, it is slavery. But to scold, say bad things - yes, this is from the heart ... this is the norm. This is a sign that an individual has free will. His enlightenment and nezombirovannosti.
The fact is that such people have already come under the influence of enemy propaganda. And they are the bearers of false values, ideas and thoughts. Although they may even think that it is their own thoughts.
Yes, I do not have all the power and means that have popular media or television. They know how to pick up the keys to your brain professionally. They are trained in this. These are entire areas of psychology and sociology. Their propaganda is more beautiful, it is broadcast by well-groomed journalists and popular personalities. Some of which do not even realize that they relay enemy propaganda.
The purpose of the enemy propaganda is to sow in your soul the despondency, malice, hopelessness, hatred. With the help of it, the thought is laid into your brain that you cannot win. And this is done so that when the time of X comes, you will not do anything, will not defend your Homeland. And he passed her, betrayed and justified himself, so that this is not the right homeland. She is crooked, cross-eyed, impoverished and poor; corruption and thieves are all around. Why do you need this?
Choose you
My healthy, correct and positive propaganda. Or someone else's, enemy. And it depends on this choice, where you and your children will live - in a Strong Great Prosperous Country or in a poor, dreary, hopeless territory.
That's it!