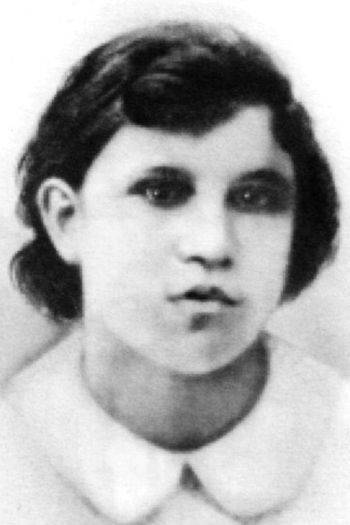 ... The text about the young heroine of the Great Patriotic War Ana Gaiterova was almost ready. I told him that Anya was born near Yelets, in the village of Dolgoe. After graduating from school, she received the profession of nurse, then became Voroshilovsky shooter. Soon the war began. Anya, who was sixteen years old at the time, joined the people's militia, then went into a partisan detachment.
When the Nazis were captured by Yelets (this happened in December of 1941), she went many times to reconnoitre the rear of the enemy. Blew up the German headquarters. Almost barefoot, in one camouflage coat, she made her way to the house, where the monsters locked the wives and children of the Red Army men to kill. She managed to quietly open the window and lead many of them to the forest. I didn't have time for everything - the German patrol prevented ...
When the fascists were driven out of the city, Anya pursued them along with her partisan detachment. 18 December 1941, eighty kilometers from Yelets, near the village of Russky Brod, the Germans launched a counterattack and the battle broke out. The fascist command threw a large reinforcement here. Ani machine gun shot continuously. But a fragment of a mine got into the machine-gun crew, for which the guerrilla Gaiterova was at that moment. She was mortally wounded. The guerrillas handed her last words to her mother, Anna Filippovna: "I am dying for freedom, for my Motherland ..."
"Legal three"
So, I wrote about Ana Gaiterova. And almost put an end, when suddenly an episode surfaced in my memory ...
We are eleventh graders. A Russian teacher explained how to properly fill in envelopes. I gave a task for the winter holidays: write her a letter and send it by mail. On the first school day, she brought a bunch of letters and began to "debunk" us: he put an extra comma, wrote a different street name with a small letter ... The last one took out a blue envelope and said to one of our trio, Igor:
"What a silly joke?" Why is your letter from the front? On the envelope you made nine mistakes!
"These are not my mistakes," my classmate suddenly replied. - These are the mistakes of the partisan who wrote the letter home. I just put my last name ...
This was Anino's letter! I remember exactly this rare, unusual surname on an envelope inscribed by Igor. True, then I knew nothing about the partisan Gaiterova and turned to Igor for information. He told me everything he knew himself. It turned out that during the holidays he went to his relatives in Yelets and was going from there to send a letter to our teacher. But I remembered that my grandmother once showed him a letter addressed to her neighbor, Anya's mother, Anna Filippovna. Grandma and Anna Filippovna were friends. Igor did not remember exactly how this letter came to his grandmother. Now, after so many years, I think that Anina's mother herself gave it to her neighbor. Indeed, in this letter there were a few words about her.
Igor exactly copied the address from the old triangle: "Elets ul. Pushkin 112. Apparently, the partisan was in a hurry, so she wrote the name of the poet with a small letter.
The teacher ordered Igor to perform the task anew. And she said that, be it in peaceful days, "there is a legitimate three."
Button
Children's memory is strong. Igor remembered that letter almost by heart and told it to me. I also remembered, even if not word for word. Here is its almost exact text:
"Dear Mom! I fight with beasts, and there's no end to it. Fascists are strong, but we are not discouraged, we are fighting with all our might. Be strong, mommy! Recently I was at Aunt Gali's house (this is Igor's grandmother), she wanted to look in, but she was afraid. In my pocket there were two crackers and a piece of sugar, so I could treat her kids. You're starving, and we have rations. There is even canned food, I eat well. She found Aunt Gali's house a button from her coat. I took with me as a memory of the house. Mom, if they kill me, don't cry. I will tell the guys to give you my things and products in the duffel bag. At the bottom of the bag put a button. I hug tightly, kiss you. Anya ...
This button did not get to Anna Filippovna. Probably, Anya dropped her while she carried with her to the partisan detachment.
Anya Gaiterova fellow soldiers buried in the village of Russian Brod. In that last battle, she destroyed more than seventy fascists and was posthumously awarded the Order of the Red Banner.
Almost child
I do not remember which historian once remarked: "There were practically only men in the German army. And in ours there are women, and almost children, and absolutely children. " And "almost a child" Anya won seventy adult men! What of the fact that she made a few mistakes, writing the address of the house?
In conclusion, I will tell another episode. Once in the partisan detachment, Ani turned out to be more than twenty seriously wounded at once. It is now unknown why there was no sanitary instructor nearby - maybe he died, or maybe he did some kind of task. All the wounded had to be bandaged, and the bandages in the detachment were not enough. Then Anya tore off her warm undershirt. Her fellow soldiers said that she had a spare, they say, my mother sent. And she wrote to her mother to take food if Anya was killed.