The exercise, entitled "Battle for the landing of amphibious assault on the unequipped coast" will be held in the near future on the Arctic island of Kotelny (Novosibirsk Islands). The official representative of the Ministry of Defense reports that military personnel of the new Arctic brigade formed in the Armed Forces of Russia in December last year will be involved in the "Battle" exercise.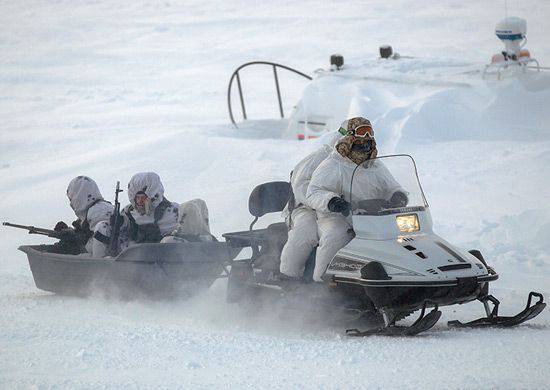 According to the head of the Northern Information Department
fleet
Captain 1st Rank Vadim Sergi, landing on the unequipped coast of Kotelny Island will be carried out from the sides of the large landing ships Kondopoga and George Pobedonosets. According to the legend of the exercises, the conditional enemy will confront the landing group, and the task of the group will be to consolidate on the coast with further advance inland of Kotelny and the camp. It is reported
RIA News
with reference to Vadim Sergu.
From the report:
End preparations for the doctrine called "Battle for the landing of the amphibious assault on the unequipped coast." For the first time, servicemen of the Arctic brigade will participate in the amphibious assault operation on Kotelny Island. As part of the training process, they completed a full course of amphibious training and had already developed certain skills when disembarking on the Yenisei coast near the town of Dudinka during an interspecific tactical exercise on the defense of an important industrial facility in the Arctic.
The plans of the Ministry of Defense - conducting training maneuvers in other Russian Arctic territories.