Ryazan Higher Airborne Command School due to increased threats this year increased the number of cadets to 1257 people, reports
MIC
with reference to the press service of the military university.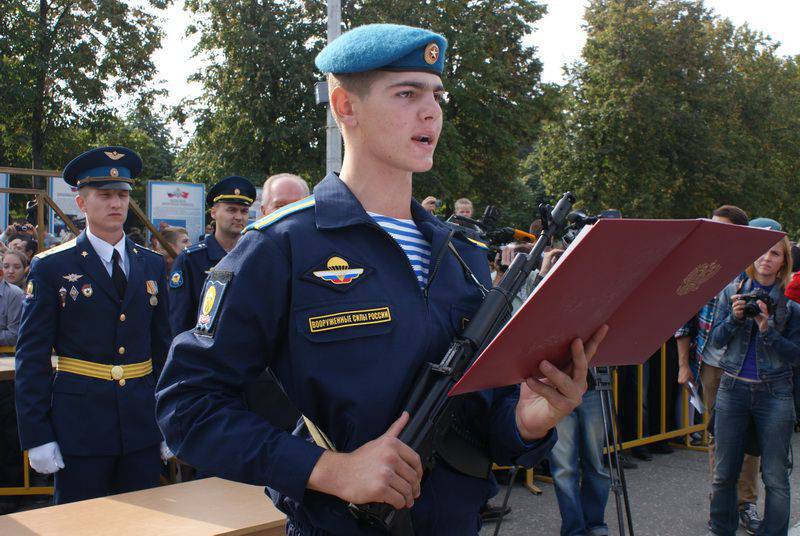 "For the second year in a row, we recruit more than a thousand cadets. This is due to the potential challenges and threats that are possible against our state. We only have 50 thousand. Km length of our border. Plus tasks in the arctic zone. Therefore, the state made a decision, taking into account the nature of modern armed clashes, to increase the proportion of special units and units of the airborne troops,
quoted by the press service of the Commander of the Airborne Forces Vladimir Shamanov, who spoke on September 12 at the ceremony of taking the oath.
The school clarified that "the set has increased by almost 20 percent compared to last year."
"The first-year students of the airborne faculty, the special-purpose faculty, the faculty of communications and the faculty of secondary vocational education received military tickets with a note about bringing to military oath. The total number of college recruits was 1257 people, including 447 in the faculty of higher vocational education and 810 in the faculty of secondary special education, "the message reads.
Earlier it was reported that by order of Shamanov every Wednesday in the school was declared "English". "International studies and the implementation of international tasks are related to the knowledge of this language. Therefore, Wednesday is the day when the whole school will speak only English, "said the commander.
He noted that 5 billion rubles had been spent on improving the educational process at the university in recent years. Recently, the Minister of Defense decided to allocate another 2-s billions "to create the most modern conditions for training officers."