The Security Service of Ukraine stated that its employees "prevented a terrorist act" that was planned to be carried out against the Minister of Internal Affairs of Ukraine Arsen Avakov. Representatives of the SBU reported that they allegedly established involvement in the preparation of the attempt on Avakov of such a person as Andrei Yangolenko, the commander of the ukrobatalona "Slobozhanshchina".
The submission says that Yangolenko was in charge of coordinating actions with the "gang group in Belgorod". It was in Belgorod, according to the Security Service of Ukraine, that the attack on Avakov was being prepared ... Where else ...
From the press service
SBU
:
The Security Service of Ukraine searched the criminal group that was preparing to kill the Interior Minister and a number of other contract killings in Kiev and Kharkov.
A large arsenal has been seized from attackers.
weapons
Four mines MON-50, 67 grenades, four rocket launcher RPG-22, three Kalashnikov assault rifles, the Mosin rifle, shotgun Mossberg, more than two kilograms of TNT in checkers, 18 electric detonators, night vision devices, optical sights, binoculars, rangefinder, more than five thousand cartridges of various caliber, edged weapons, silencers and machine shops.
Also during the search, two and a half thousand euros, 370 Swiss francs and two ampoules of the drug "butorphanol" were found.
At the same time, the SBU does not report that from such a vast arsenal "the attackers who developed the plan of the terrorist attack in Belgorod" were going to be used to attack the Minister Avakov. - Is Mosin rifle? ..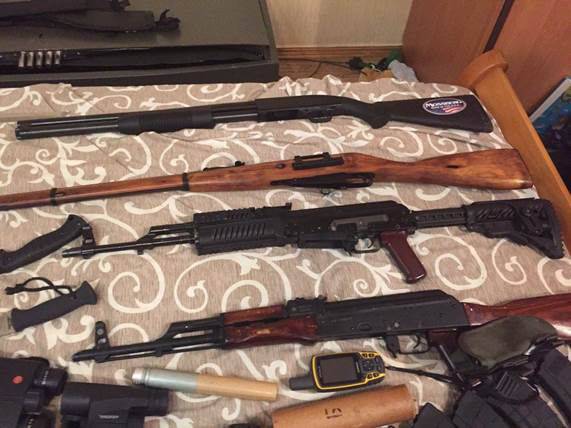 Meanwhile, there are reports that rallies are held in Ukraine demanding the release of Yangolenko. Ukrozhurnalistka and concurrently deputy of the Ukrainian parliament Tatiana Chernovol writes that the charge against the commander of the battalion "Slobozhanshchina" was fabricated.