Press Service of the Western Military District (ZVO) in the Baltic
the fleet
(BF) reported that BF marines began loading equipment onto landing ships during a joint exercise with the Belarusian military under the name "Shield of the Union-2015".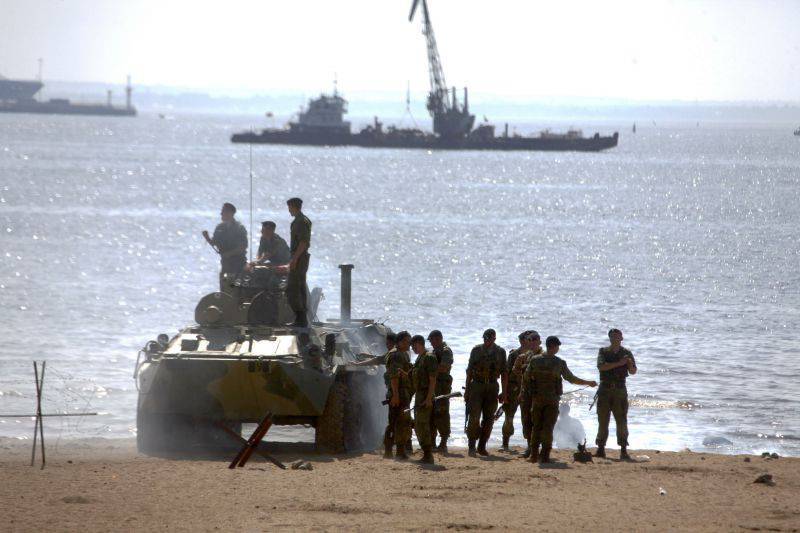 "In the Military Harbor of Baltiysk, the units of the marines of the coastal forces of the Baltic Fleet began loading military equipment on amphibious ships for sailing and carrying out a naval landing operation," the RIA press service reports.
"News"
.
For loading, the large landing ship Alexander Shabalin, the small air-cushion landing ships Evgeny Kocheshkov and Mordovia, as well as the landing boats Lieutenant Rimsky-Korsakov and Michman Lermontov, are used. During the sea passage, the ship's landing group will be covered by the "Resistant", "Quick-witted" and "Quick" corvettes, as well as the sea
aviation
. Then the active phase of the exercises will begin, during which the landing will be carried out on an unequipped section of the coast with live firing.
In addition, the press service of the ZVO noted that district motorized riflemen participate in joint exercises, which have already managed to work out actions to destroy the tactical landing of a conventional terrorist group.
"Motorized rifle company ZVO on infantry fighting vehicles BMP-2, reinforced
tanks
T-72B3, moved to the aid of the rear units, carried out the blocking of the conditional enemy's landing and fettered his forces in battle. Then the T-72 B3 tanks that approached the battlefield destroyed the landing with the fire of 125-mm guns, "the department noted.
Belarusian-Russian maneuvers "Union-2015 Shield" will last until 16 September. They involve more than 8 thousands of military personnel and about 400 units of military equipment.