Putin's main reform achievement is that he is equidistant from the Russian oligarchs. Already from the wording itself it follows that the oligarchs are something bad, like a disease, and intimacy with them, unlike intimacy with the people, is reprehensible.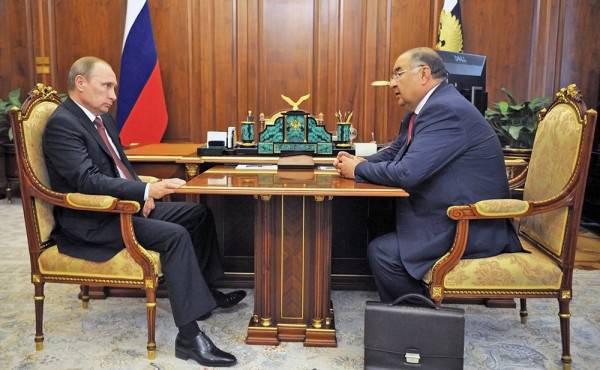 Question: why did he retire from this ungracious horde, but not remove it from the face of his native land?
Is this some kind of foul-smelling, but necessary, like a toilet in an apartment, pillars of our industry that help us live, albeit at an expensive price? No, it's parasites, bloodsuckers, live disturbing. For all the time of their domination, our production only fell under the applause of eternal whithers, such as for example:
"Alisher Usmanov is celebrating his 62 birthday today. One of the most progressive businessmen of Russia, on whose money the largest projects of the Runet exist and develop: Mail.ru, VKontakte, Odnoklassniki ...

I like this person, who at first turned himself into a big businessman, and then Russian social networks into serious platforms for doing business, developing educational and entertainment projects. If all the oligarchs had invested in Runet as Usmanov, we would have caught up with the US in terms of technology in 5 years, and their Silicon Valley would have moved somewhere in Sochi ... "
This noble Uzbek generously donates to our sport, culture ... But where does it come from? From the moon? From Mars? No, he takes everything from the so-called business - that is, from pumping out our blood from our own pockets. For example, from the Old Oskol Metallurgical Combine, which used to feed the entire Old Oskol and Belgorod Oblast, their education, science, industrial and social development. And now he feeds one mouth, hardly even knowing what is being produced there - just as the locals do not know how Usmanov used to get drunk by an industrial giant built by the works of the entire former country.
He squeezed such pieces, be healthy - and know he eats them. He got himself the world's largest private jet A340 on 375 seats, named after his father Burkhan; Dilbara superyacht, named after his mother; palaces, dimples ... And all his charity, pleasant to the natives - just a couple percent of the heat: here, as they say, give and not sin! And our son rejoices: what a good basmach, he took away a hundred rubles, he gave two. Breadwinner! Benefactor! But there are no Silicon valleys with such basmachis that they do not plow themselves, do not sow and do not build, but only bomb someone else's, we don't see them as our ears.
It would not have been so terrible if they had invested their profits in the construction of their industrial facilities — as the USSR did, as capitalists all over the world are doing now. But our oligarchs act as vacuum cleaners, exclusively: they suck up profits - and drive them offshore. Therefore, we have nothing close to the Soviet or Western industrial boom.
Back in 2004, the head of the Accounts Chamber Stepashin in his book "Analysis of privatization processes ..." proved like two times two that our privatization was predatory and disastrous for the economy. And the conclusion: yes, politically this privatization cannot be canceled, but under criminal law, everything that the oligarchs have stolen from the country can be returned to the rightful owner. However, Putin did not give this book a turn - but only equidistant from robbers, who saw in that the permission of further robberies in the form of raiding and other "takeovers."
From here and all production deadlock. Under all our big talk about transplanting from a raw needle to the "real sector" and import substitution, that sector is only shrinking. And no sanctions have anything to do with it: the farmers of France and the auto-builders of Germany are fighting to impose such sanctions, giving open space to the national manufacturer. And only our great and plentiful land cries bitterly, because it is forced to live on its own!
And the thing is that because of these parasites-oligarchs, any of our production new buildings are knowingly doomed. For whatever they build, these ghouls will be taken away with their thieving pear, which allows them to suck off any Old Oskol combine. We have not been building such plants for 25 years - and, in principle, cannot be built with these "equidistant" plants, which sow one more, perhaps the most terrible sin. They release a few more percent of their fat to bribe officials and security officials, that is, to fundamentally decompose them - and into politics that serves to decompose the natives. All films about the same identity of Stalin and Hitler and Soviet worthlessness, knocking out
historical
the soil from beneath us is being withdrawn by the money of the oligarchs. Well, or on the treasury, which are allocated by officials of the Ministry of Culture, bribed by the same oligarchs ...
But why, nevertheless, Putin does not fight with this horde, digging a hole for us - and does not even promise to fight at least once? At one time he pushed Khodorkovsky with Berezovsky - but instead he put forward other Abramovich, Usmanov, Vekselberg, putting a fat cross on our future.
Recently, Glazyev's plan for economic reform loomed — partial nationalization, investment in the same "real sector", etc. But what's the use of such plans - without eliminating those who were not affected by Stepashin's fundamental work? Putin, it seems, is not going to eliminate them in his own age - it means that there is no hope of living through force, and not at the last gasp for the majority of the current people.
Is he afraid of these basmachs? But how much can they tremble? Well, I already nladlivalsya amused, profited - and it's time to leave for yourself some kind of "demobilian chord", which the whole country is waiting for slow breathing. But he still hesitates with his "cunning plan", long overdue as an existential choice: either - or. Or the whole country, which now worships him - or those oligarchs, about his real relationship with whom we do not know anything.
And here is a crazy thought: maybe he is just fine with them - and nothing better would be desirable? Usmanov finances the social network that glorifies him, and he gives the country he promises to be torn apart by this Usmanov ...
And all this frantically reminds me of the fable of Grandfather Krylov "Bream", with which I will end this sad text:
In the garden by the master in the pond,
In the beautiful spring water
Bream were found.
They frolicked around the coast,
And the golden days seemed to them to roll.
Suddenly
To them the master ordered to let loose about fifty pikes.
"Have mercy! - says it, then hearing, friend, -
Have mercy on what you're up to?
What to expect from pike good:
After all, there will be no bream here.
Or greed you do not know the pike? "-
"Do not waste your speeches, -
Boyar answered with a smile, I know everything;
Yes, only to know, I wish
What makes you think that I am a hunter to Bream? "