Greetings to you, my dear readers. My mood today is like that of an independent Jew who came from Israel to his native Odessa. Remember, since the old, pre-war times
история
? The Jew put a suitcase at the Odessa railway station and said: "Odessa, I do not recognize you." And then he looked down, but there was no suitcase ... "Now, Odessa, I recognized you."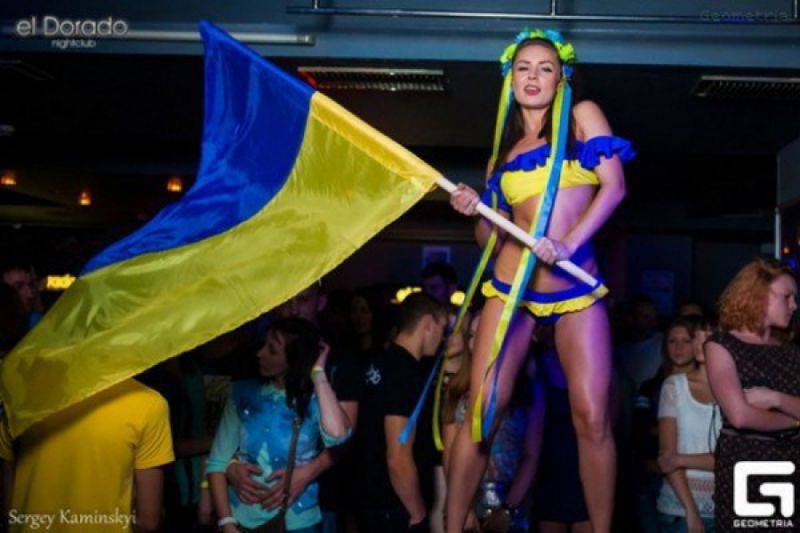 In the same way, I learned Kiev now. With my cockroach had a row. The main thing because of what? Because prostitutes. You are shouting that you are not looking for material for your notes, but you run hustle and bustle about women every night. No, it's nice, of course, when a woman after so many years of marriage together still considers you to be a sexual giant, but ... I still have eyes. I look in the mirror every evening. So that means conform.
To be honest, with the beauty I somehow not very. But charming. A sort of cockroach Frunzik Mkrtchyan. Yes, and from dating with the "left" cockroaches do not refuse. But baby you under the chitin, this time was clean as the morning air in a clean field ... Already flowed all. And received. In short, I began to understand.
Understood on his head. Now on your all this and pour. So that means life has become ... Well, I don't know how you will perceive it.
So, as always in such cases, my cockroach talked with her friends. And what is the main topic there? That's right, the main thing for women is how unsuccessfully they got married. What other good husbands, and what they have ... Not very good.
Here is one caught. On these same ladies very easy behavior. And we, it turns out, got our prevention scandals.
How many talked about a quick entry into the EU? Right. Lot. And not on Independence started. However, "things are still there." Moreover, this very truck was sucked into the quagmire, and it became almost impossible to push it. But in one we became Europe. Or almost steel. I'm talking about some frantic liberation of Ukrainians. Emancipation in the lowest desires.
Do you want to kill? You are welcome. Do you want to "crush cattle and quilted jackets" - become a pravosek or security official. Do you want sex? Sure, not a problem. State for vile desires. It even leads me to a stupor. Especially scary for our youth. Do you know about the organization "Free because they know"? And we have such an organization. And supported by her embassy of the Netherlands.
So, this organization has already spread its network throughout Ukraine. In Kiev, Odessa, Krivoy Rog, Zhytomyr, Vinnitsa, Ukrainian youth are taught how to properly perceive and name sex minorities. And the posters? I love you! And I love you too! With same-sex physiognomies ...
It turns out that while I was "odysseil", a festival on physical love was held in Kiev. In both. Shocking workshops and trainings awaited in the Garden of Desires park in Kiev. Some girls from the pole taught to dance striptease. Other young ladies clearly showed on a dummy how best to make a love massage. Lovers of "hotter" showed "role-playing" games. Anyone could participate in the process. Many young Ukrainians allowed themselves to be tied up and put on collars. In the same "Garden of Desires" were conducted and group classes on the Kama Sutra.
Nothing like? Well, from the Bible? People in antiquity had a couple of such cities. Liberated in full. So that even Europe was terrified. According to statistics from the International Organization for Migration, over the last 2 of the year, every fourth confused person in Europe is Ukrainian.
Survived. Judging by the stopped enterprises, they have forgotten how to work. Heads too. But other places began to work in Stakhanov. So, that the European states began to put the walls little by little before our citizens and especially citizens.
In Switzerland, for example, the entry of Ukrainian dancers is prohibited. The local authorities decided that there are not so many "dancers" in the country.
The German edition of "Bild" about Ukraine recently responded and is completely intolerant, calling her a country confused. In the text of the article, the correspondent referred to a personal conversation with one of the Ukrainian night butterflies. He said that in Ukraine more than 100 of thousands of women sell their bodies. Upon learning of such a blatant publication, the Foreign Ministry of Ukraine sent a note of protest, and the publication had to apologize.
For many Ukrainians, body trade has become the main source of income. "Buy" confused in Europe costs from 80 to 100 euro per hour. And in Ukraine - two to three times cheaper. That's because Europeans buy tickets and go to a new valley of sex tourism. At the same time, the Turks seized the palm of the Europeans. The male population of this country loved the hot Ukrainian girls so much that they organized a special, separate service for them.
In short, though not in my direction, but the Cockroach is right. And then it will be even darker.
Why? Yes, because the moral standards of Ukrainians have changed. Remember, in a very recent past, how was pimps treated? Even in a criminal environment. And today, many politicians on this "chopped cabbage." Example? You know, I will bring. Kiev mayor with his brother owns a nightclub. And 150 young Ukrainian women work there. "Carry art" in the masses of the pole with the gradual scattering of the undergarments. And not only "dance", but do not shy away from other services for clients.
Our radians are already quite seriously talking about the need to legalize prostitution in the country. Yes, and sex tourism brings some money. So, we will develop the industry. By the way, in Kiev it is planned to install street booths for sex. Analogs of such structures have long been located in Austria, Switzerland, Germany and many other advanced EU countries. Already in September, on the streets of Kiev, patriots and patriots will be able to satisfy the craving for love right on the spot. City authorities will take care of this.
Fu ... It seems to let offense. Yes, not my topic. I do not like to have sex. I just love. And this is completely different. And it's a pity that the difference in terms of loving and having sex for many has disappeared. Why? I do not know. Probably because it is easier to "earn" on instincts. Yes, and almost no work.
And now in the Parliament! We are still cockroaches. So, we know more than others.
I walked in the NSDC. He listened, looked, looked. Because what you will read now is my subjective opinion. I did not see the papers, but conversations ... While conversations.
Ban Turchinov recently expressed a new old idea. Russia must withdraw troops from the Donbass under the Minsk agreements. And ... from the Crimea.
Some readers now smiled skeptically. Like "you hole from a donut, not Sharapova." But in vain. No offense to the Great Russians, but with my eyes you have to look in all directions, and not just wherever you want. Otherwise, or sneakers, or devour to hell.
In addition to Turchinov, he overheard one of the big heads in the SBU. The conversation concerned ... separatist lists. Yes Yes! Those same separatists who are now holding back the Ukrainian Armed Forces and the punishers in the Donbas. So, these lists are already in the SBU. From where I do not know. But obviously not from ordinary fighters. And obviously not from citizens loyal to Kiev.
Something has changed in the leadership LDNR. Something not perceptible.
By the way, many today are thinking about registering a party of the head of the People's Council of the DPR in elections. Registration is. But this party leader will not participate in the elections. Because the elections will be held according to Ukrainian laws. A party registration gives the prosecutor's office of Ukraine legal grounds for checking candidates. And, as the prosecutor's office said, the party leader will be recognized by the separatist. So, it will be under investigation. Like this.
And now what we talked about, comparing known facts. Someone from the leadership of the people's republics decided to play his game. The scheme is simple. We conclude a separate agreement with Kiev and slowly hand over Novorossia. Poroshenko, fulfilling the Minsk Agreement, announces an amnesty for the militias. But that's the trick. The amnesty will concern the Ukrainian militia. On the rest, those who come from other countries, the jurisdiction of the Ukrainian president does not apply.
Then leaked information from financial organizations LDNR. We get an article for this category for mercenary. And this, according to the Criminal Code of most countries, is life imprisonment. One payroll statement in the army of any republic does just that.
However, again, according to the SBU, something did not grow together. Not yet grown together.
The clerks say that in the DPR, mass enrollment has now begun for the party of the old new leader of the People's Council. Why did it happen? Why did Lt. Col. Tolstoy, better known as Givi, suddenly become kindled to become a party? Why does the National Assembly of the DPR urgently decide on the participation of the military in the elections? What about the opportunity for the military to combine service with parliamentarians?
In general, the Kiev cockroaches believe that the struggle does not end. The fight only inflames. And not only in the Donbas, but also in the Crimea. Not for nothing Pastor remembered him.
And the most disgusting, now really "got out the ears" of those who steers this mess. Business, nothing personal. And politicians are just pawns in a business game.
Well, again rolled on serious topics. But in our life so much fun. Especially for the Russians.
As you know, probably, Silvio Berlusconi came to Crimea for a private visit. I arrived not just like that, but to visit Putin. I will not describe any protocol activities. Well, the fate of politicians like that. They even work on vacation. That we can just look at the ships embankment, or there go somewhere in a hundred and fifty. Politicians cannot do this. They attend. With a visit.
So, those who have been in the Crimea, will agree with me. It is impossible to consider a full-fledged Crimean rest without visiting the famous "Massandra". September 11 Putin brought Berlusconi on this tour.
Politicians in the Massandra Palace went down to the main cellar with the largest wine library in the world. The general director of "Massandra" showed the politicians the most valuable exhibits of the collection - wine, whose age is approaching two centuries. "Can this be drunk?" Berlusconi was surprised.
Having received an affirmative answer, the former Italian prime minister admitted that he wanted to drink and immediately received an invitation to the tasting room.
That's it. Crimea began to play its role in Russia's foreign policy. And it pleases. The world gradually, albeit with the help of Putin's authority and Massandra's wines, understands whose land it is. Well done Russians. And you have a president that your country deserves. I envy.