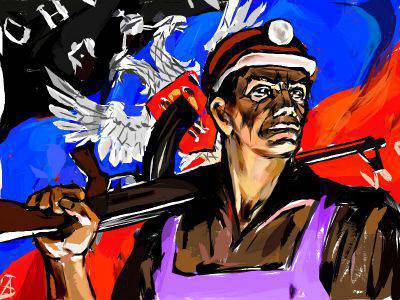 According to the already established tradition, before we begin a new cycle of materials, we are doing something like an introduction. Or, if you want, the preface.
Our subsequent materials will be devoted to the New Russia (despite the fact that this term is a little out of daily use, or it is derived). But since our materials will be somewhat specific, here are the answers to some questions that arise almost after each of our publications. It does not matter, we write together or separately.
1. On whose mill the water flows.
We say once and we will not repeat again. We pour water on the mill of New Russia. The one that started to be organized a year ago. And both took a direct part in this process. One with personal experience and
weapons
, the second with cunning, the support of readers of "Ferris" and the truck. Here to each his own, who on what he studied. But they took the most direct part.
And precisely because they took this most direct part, and did not sit exactly on the perch, that is to say on the couch, and did not try to be clever with it, this is what gives us the right to express our opinion and analyze with our heads what is happening there now.
And what is happening in the territory that we call Novorossia with stubbornness of maniacs, we do not like. For very, very many reasons. And we are going to talk about them as openly as circumstances allow. But more about that below.
Some readers vividly expressed their discontent with the alleged change of opinion. Especially, by the way, a certain Odessa, who allegedly lives in Donetsk, and a resident of Kiev, who allegedly lives in Lugansk. You can say anything, but the IP gives. But God be their judge, our caravan one horseradish will go wherever the leader sees fit.
Yes, some change of direction has occurred. But not because we are tired of jumping with shouts of "High live New Russia!", But because such global changes are taking place in Novorossia itself that only an abnormal or a zombie will continue to ride. And since we are almost normal and not zombies, we will write what we see ourselves and what people send from there.
2. "Said" A "- say" B. "
So once I wrote to the Banshee one not very happy reader. Yes, from the flow of information that we receive, not all can be published, as much as we would like. For a very simple reason: as with the doctor, the journalist must have the principle of "do no harm."
People trust us, and sometimes they share things that are painful. And they say such things in their hearts, which they then begin to regret. And yes, I want to, oh, how sometimes I want to throw it out, because it is simply necessary to know some aspects of life there. But it is impossible.
Having said "B", you can safely send a person to the basement. This is at best. And it happens worse. There, they say, the DRG Ukrainian as a walk at home. And people just disappear. As for example, Sasha "Combat" Taranenko, commander of the battalion "8 company" and SVD "Berkut" disappeared. Just took a man and disappeared. As in the center of the city journalist Dima Hau disappeared in broad daylight. But if Dima was "found", then Alexander cannot be found for more than two months. But we are looking for.
Therefore it is necessary to veil. In order not to harm. And since we respect people who share with us information, in particular, which runs counter to that on TV, we will try not to burn them further.
3. About the readers themselves.
It is clear that we do not write for our own pleasure, but in order to read. And in order that if you do not give the "hot" information (and this is not the format of our site is designed), then at least properly delivered analysis and conclusions.
Some materials, completely ignored by the main consumers of our work in Novorossia, oddly enough, brought very peculiar results. People started to come out to us from there and confirm much of what went on in the discharge "I, of course, could be wrong," "perhaps under certain circumstances," and the like.
Yes, the articles about Purgin and Pushilin have not been reprinted by any DNR website. No one. And, it should be noted, they took materials with enviable regularity. And then - zero. This says a lot, and we will return to this issue in one of the first publications.
But the Internet shut up his mouth quite difficult, even in the DNI. So find. And we were impressed by one letter as the topic of a future article. Just a short quote, let's go back to the rest.
"The fact that we still have some kind of mess here is everyone knows, or I hope that we know. But it is very important to know what is happening and understand what is happening here."
So we work as if on two fronts. And the fact that we write, even if it is not to everyone's taste, is called "objective opinion".
If someone does not like what we write, it is not clear that there is no "drive" in the form of burnt
tanks
, winning stories and other things - do not read. Do not spoil your mood. Read about Syria, for example. Syria is not very interesting to us, this is big politics, besides, Syria is where, and Ukraine is at hand. Especially with Banshee. So we will still give her a lot of attention.
Why - in one of the first publications.
Yes, from the Ukrainian-Donbass theme, everyone is already getting tired. But our opinion - everything is just beginning. And the continuation may follow not quite what we all counted on a year ago.