The information noise of the last week, turning into hysteria regarding the presence of Russia in Syria, prompted me to go to the Stratfort website and search for what they published after all.
After giving Strathfor your email address on this page: https://www.stratfor.com/sample/analysis/confirming-russias-expanded-presence-syria,
You literally in a few minutes will receive a short report on the e-mail with a portion of satellite images confirming something in the opinion of Strtafora analysts.
I do not know what analysts saw such an extraordinary (or they have even more convincing evidence besides these pictures), but, in my opinion, these pictures confirm only an incomplete update of a part of the military airport. Which indicates anything, up to the fact that Assad finally had the money and time for this airfield ...
Judge for yourself (the translation in the pictures, I hope, is not needed; the language of potential "partners" needs to be known at least at a minimum level :))
Further, the text of the article:
Summary:
The deployment of Russian troops in Syria may be an attempt to support the government of President Bashar Al-Assad or an instrument of pressure during confidential negotiations. In any case, it will be increasingly difficult for Russians to avoid blurring the mission's mandate.
[probably referring to fighting ISIS],
as they strengthen the support of their faction in the Syrian conflict.
Analysis:
A satellite survey of the Bassel Al-Asad International Airport in Latakia, Syria, confirms reports of regular Russian military transport flights to the Syrian airfield, where Russians are creating a base for operations.
[I note the indiscriminate, actual recognition and imposition in the analysis of the opinion that the Russian troops
ALREADY
in Syria and are preparing some operations ...]
The satellite imagery taken on September 4 shows the newly built air traffic control points; In the vicinity of this station, a new asphalt was recently laid, construction of transport and logistics structures is also under way, and accommodation of mobile residential units (complexes) is possible. Construction is carried out throughout the airport; the surfaces were leveled and new structures erected. Excavation work is visible along the entire length of the Eastern airstrip, probably within the framework of "improvements to the airfield for the possibility of receiving heavy transport aircraft."
Actually the pictures themselves: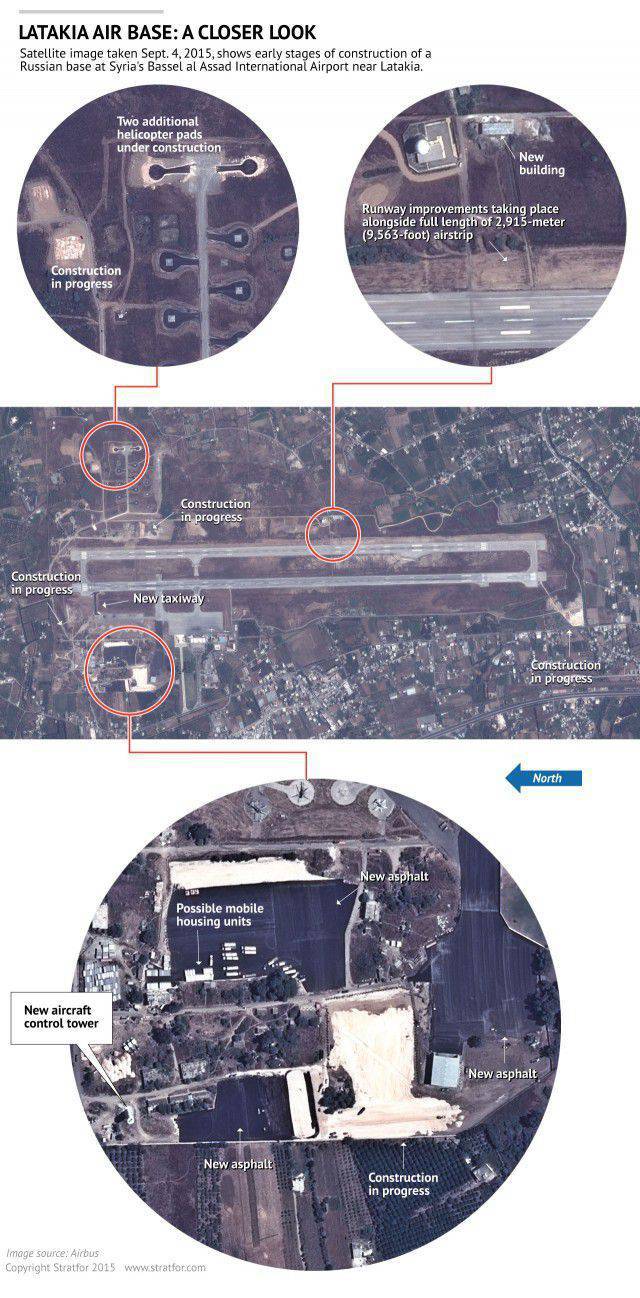 Is not it extremely convincing evidence? But then again ... is it Stratfor himself? So, they have something and heavier than vague shots of Syrian asphalt ....
Ps Yes, it is completely incomprehensible (well, in fact, everything is clear ...) free dissemination of information, since it is clear in terms of licensing, confidentiality, terms of use and other things that Stratfort cannot simply reprint and distribute information. In addition, a free subscription goes only to a narrow number of topics ... for everything else - a paid subscription.