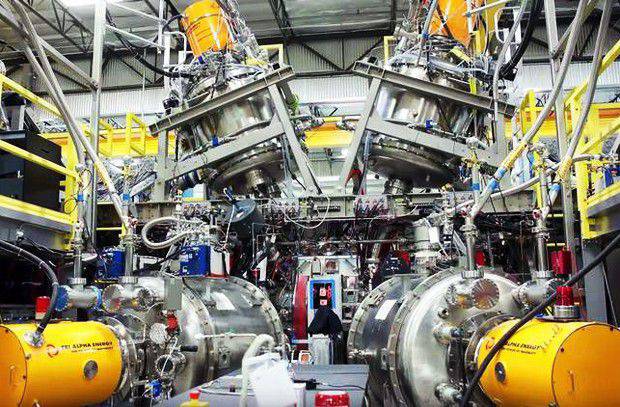 What can we expect from thermonuclear energy, and what is not worth it?

At the end of August, world media spread around the message of the American company Tri Alpha Energy, which announced a "significant breakthrough" in the development of its own fusion reactor, an alternative to the world's most popular tokamaks. The engineers working on the project stated that they managed to keep the plasma hot to 10 mln ° C for 5 ms - there was simply not enough energy for a larger system.
Tri Alpha Energy has notable Russian roots: as it became known, Rosnano owns shares in one of its foreign subsidiaries. Russian scientists also play a significant role in this project, so the recent breakthrough is their merit. So, the most complex injectors for installation are designed and manufactured at the Siberian Institute of Nuclear Physics. Budker SB RAS. According to Aleksey Beklemishev, Candidate of Physical and Mathematical Sciences, who participates in the creation of these injectors, such a task is hardly within the power of scientists from other countries. We talked with him about how the Tri Alpha reactor differs from tokamaks, how they can be used to produce gold and about the possibilities of thermonuclear energy in general.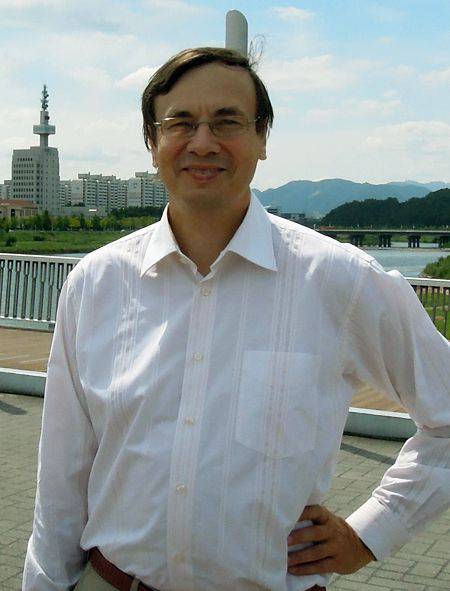 Alexey Beklemishev. Photos from the personal archive

"It is said that various reactor variants — tokamaks, stellarators, and so on — are different plasma confinement methods that physicists are trying to master for controlled thermonuclear fusion. What distinguishes the Tri Alpha project in this series?

- Both tokamaks, and stellarators, and the solution that the creators of Tri Alpha work out, are not so fundamentally different: they all use magnetic plasma confinement. The plasma in them is maintained in a quasi-stationary state, that is, it is maintained for quite a long time using an external magnetic field.
Pulse systems that use ultrashort and super-power laser flashes are significantly different from them. There everything happens in the smallest fractions of a second - in fact it is not "burning", but a series of tiny thermonuclear microexplosions. In addition, there is a range of intermediate options.

- What are the main differences between the scheme that Tri Alpha is working on and the more familiar tokamaks?

- The configuration of the magnetic field in Tri Alpha is about the same as in the tokamak: these are closed force lines forming a "donut" or torus.
Let's remember that plasma consists of ions and electrons. Electrons are nimble and fast particles, and if they can "run away" from the plasma, it will rapidly cool down. Fortunately, the electrons are charged and can move only along the magnetic field lines. Therefore, the classic approach to electron retention is to close the magnetic field lines into a torus. So it is implemented in tokamaks, and in stellarator, and in systems with reversed field - such as in Tri Alpha.
However, if in a tokamak this field is formed by complex systems of superconducting magnets, cores, and windings, here this toroidal bunch forms right inside a small plasma "cloud". This solution gives the main advantage of Tri Alpha - the advantage of compact size. If a powerful tokamak, such as the one under construction ITER, forms a toroidal clot the size of a house, the Tri Alpha installation in its most large-scale performance creates a plasma torus with a radius of about two meters.
Systems with a reversed magnetic field are more compact, cheaper, and potentially more efficient than tokamaks. The theory predicts that some promising thermonuclear fuel cycles in tokamaks are unrealizable in principle for a number of reasons. Combustion of deuterium-tritium (DT) plasma in them can be achieved, but deuterium-deuterium (DD) fuel, and even more so proton-boron-11 (pB) in tokamak cannot be used.
These fuels are much more profitable in terms of energy output, ecology, and other factors. But they require a much greater efficiency of plasma confinement by the magnetic field than is available to the tokamak. However, in some alternative systems, including those with reversed field, plasma confinement can reach the desired level. Hence the hopes that are associated with projects such as Tri Alpha.

- What is the role in all this play injectors, the development of which you are busy with colleagues?

- Their role is enormous, and they are needed for reactors of any type, be it ITER tokamak or Tri Alpha. First, in order for the thermonuclear reaction to go, the plasma must be heated. Secondly, some losses of particles from it are inevitable in any case, and the deficiency must be constantly replenished. Thirdly, which is especially important for toroidal systems, it is possible to maintain an electric current by injection into the plasma. All this requires injectors: their task is to "inject" into the plasma pre-prepared and heated particles.
It is not easy to make, because we have to limit the plasma to a magnetic field in order not to let the particles out. But it does not let other particles into the plasma. Therefore, we must "throw" them into the plasma in the form of neutral atoms, which practically do not react to the magnetic field, and only then convert atoms into ions. Moreover, they have to be supplied at a sufficiently high speed so that the atoms have time to reach the central regions of the plasma before they lose the electrons and become ions.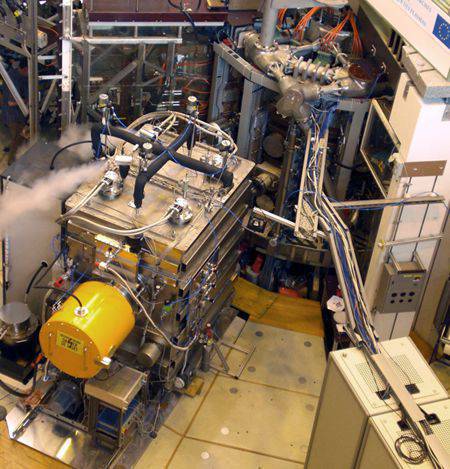 The atomic injector produced by the INP, currently installed on the TCV tokamak (Switzerland). Photo: Alexey Beklemishev's personal archive

For large reactors, such as the ITER tokamak or the Tri Alpha system, constant operation of the injectors is required, and at high energy levels. Injectors require powerful, often in size, they are even larger than the reactor itself. In addition, there are diagnostic injectors. They use a stream of fast atoms not to "feed" a thermonuclear reaction, but to study the plasma and everything that happens inside it.
This is a great science and high technology in its pure form. Development of injectors is a very difficult technical, technological and scientific task. We deal with it both for our plants operating in Novosibirsk and for a number of international projects for the past 15 – 20 years. I think our team is the world leader in this area. Therefore, the Tri Alpha project has become one of our customers. Moreover, the customer is very profitable: they require unique injectors, and they are ready to finance the development of the technologies necessary for this. It turns out that we do our scientific work, develop high technologies, collect highly qualified personnel and even earn good money from it.
- If we are talking about Tri Alpha, then just recently the media was full of reports that the authors of the project managed to make a huge and important step forward. How important is this achievement?

- By and large, it is that the Tri Alpha team has achieved the results that it promised its investors. The work of this project is organized in stages, and at every step they have to achieve certain results, demonstrate them to investors, confirm that things are developing in the right way - and only after that get new multi-million funding for the next step.
Accordingly, what we have seen recently is, in general, PR-hype, raised in order to convince investors of the need to allocate 300 million dollars to the next stage of work. However, for this hype there are quite good reasons.
Remember, we said that the Tri Alpha reactor is a system with a reversed magnetic field. The volume of the plasma torus that exists in it is relatively small. Plasma very quickly loses a certain number of particles, cools and disintegrates. And only recently, the developers of Tri Alpha for the first time managed to achieve a stable existence of a plasma "donut" all the time while their installation was working - until the energy stored for the experiment was over. At the same time, all plasma parameters remained at the same level.
In other words, in keeping hot plasma, the authors of Tri Alpha came to the hospital. We can confidently assume that in the future, when the plasma is heated to even more severe temperatures that are required for fusion, they will be able to keep the plasma in this state. This was one of the problems inherent in all installations with a reversed field, and was solved for the first time. By and large, this is indeed a serious achievement, proof of the principle that the chosen approach may ultimately work.
As we have said, tokamaks are limited by the rather low plasma confinement efficiency, and they will not be able to implement thermonuclear reactions on the most promising types of fuel. In Tri Alpha, they threatened more: theoretically, they plan to get about ten times better plasma confinement and will be able to realize much more "advanced" reactions, up to proton-boron-11.
The most important feature of this reaction is that its energy is released in the form of charged particles and gamma quanta, which, unlike neutron radiation, are easy to screen. Hence the unique proposal of Tri Alpha: "pure thermonuclear", energy without neutrons and without radioactivity. However, there is a fundamental difficulty in implementing such an approach. This is the required temperature: if the "deuterium" thermonuclear fusion effectively works at the plasma temperature 100 – 300 million degrees, then for proton-boron-11 the temperature is needed once in 20 higher. Huge temperatures force the plasma to radiate actively, and it almost quickly loses all of its energy in the form of X-rays. Such a plasma cannot burn on its own, it must be constantly energized from outside, in particular with the help of injectors.
In general, the release of energy is a completely separate and important conversation. The fact is that in thermonuclear reactions it occurs to a greater degree in the form of neutrons and all kinds of ionizing particles — protons, gamma quanta, etc. And this energy, of course, is dangerous both for the people working here and for the equipment ...
Even physicists are very reluctant to experiment with deuterium-tritium plasma. 20 years ago, such experiments were carried out in the United States, after which the tokamak had to be dismantled and buried: it became radioactive, and it was too dangerous to use it further. Tokamak JET in the UK worked for a short time with tritium, after which he stopped for a long time for maintenance. To really get a thermonuclear output of energy more than costs, we need installations with complex and expensive protection.
Therefore, when the ITER tokamak, which is currently being built in France, will switch to the "tritium program" of work, it will be fully transferred to automated service. Around the installation will be only robots that will perform all the necessary work. And even so, a special protective "blanket" is being developed for ITER, which will cover the entire installation and will delay radiation and neutrons.

- In your opinion, which type of reactors will eventually "win" and will be used in future thermonuclear power engineering?

- I think the ITER reactor will eventually work approximately the way its developers conceived, and in the right time will even reach the planned power level. The problem here is not in physics, but in economics: even when ITER starts working, in itself few people will need it. In other words, it will be possible to get a controlled thermonuclear reaction - but this will still give too little in terms of the commercial use of thermonuclear energy. ITER participants understand this themselves, so after it, a new and even more immense DEMO project has been conceived, the task of which will be to demonstrate an economically viable scheme of a fusion power plant.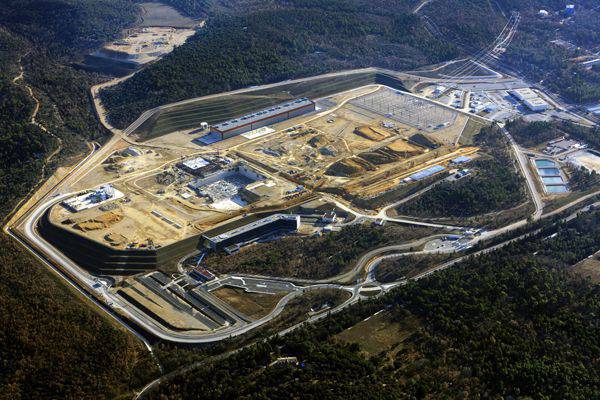 ITER tokamak under construction. Photo: iter.org

Such power plants based on tokamaks will be able to generate several gigawatts of energy (like modern large nuclear power plants and hydroelectric power plants. - RP.). These will be huge, complex engineering systems in design, construction and management, orders of magnitude more complicated than nuclear power plants. Not every country is capable of such a scale, and not everyone needs it.
In general, we will get quite limited use when not the cheapest electricity. Therefore, it seems to me that although it is quite worth waiting for success from ITER,
история
Tokamak as an energy source on this may end. Unless there is some other implementation of this concept.

"But then the meaning of the work in the field of controlled thermonuclear fusion is unclear. Why learn to control the plasma if we get expensive and "radioactive" energy?
- In fact, energy is far from the only area of ​​potential use for controlled thermonuclear. Even dangerous neutrons emitted by the reaction are extremely valuable for some areas. In fact, the cost of these fast neutrons far exceeds the value of gold.
If they put a definite target on their way, then they can be used to "transmute elements" into targets — to realize on an industrial scale the dream of the alchemists about transforming some substances into others. Speaking in modern language, we can get some isotopes we need or destroy others, harmful and dangerous.
Prospects for the creation of such an installation for the "afterburning" of radioactive waste from radioactive production are quite close. If you still have to wait until thermonuclear energy, I think, half a century, then the "after-burner" will most likely appear in 10 years. It is estimated that such a facility will be economically and practically justified when the efficiency of conversion into neutrons of the energy supplied to a thermonuclear reactor reaches at least 10%. And this bar already looms in front of the developers quite close.
Following this may appear a system that is called a "fuel developer". It requires approximately 50% of the efficiency of energy conversion into neutrons. Here we will be able to produce important isotopes in practically industrial quantities - to produce valuable nuclear fuel, turning thorium into a mixture of isotopes with uranium-233.
In addition, the concept of hybrid nuclear fusion reactors is being actively promoted, a major proponent of which is the head of the ITER Council, Academician Evgeny Pavlovich Velikhov. It is understood that the thermonuclear facility will produce neutrons, and those will power a highly efficient and safe fast neutron reactor.

- According to you, the developers of Tri Alpha planned each stage of their future work. Does this plan have some kind of foreseeable ending? When can we wait for the promised "clean fusion"?
- The problem of Tri Alpha is not only in the reactor and plasma confinement. It is required to solve an incredible number of scientific and technical problems. It is necessary to find a highly efficient way to convert the x-rays emitted in the reactor into electricity. It is required to bring the energy efficiency of each element of the system to the maximum possible - by the way, injectors are particularly relevant. Currently, research is underway to achieve efficiency "from the outlet" for 85 and even 90%.
As for the plans of Tri Alpha, you need to remember that they managed to achieve a stationary state only now. In the past, the experiments were not so successful, and the plasma parameters were frankly low. She fell apart too quickly. Many changes were made to the design of the experimental setup, and they managed to realize its full potential. I hope that now Tri Alpha will receive funding for the next C-3 installation, and our new, more powerful injectors will be on it.