Against the background of Poroshenko's continuing statements that the number of "friends" of Ukraine supporting the president's policy is growing almost exponentially, materials appear in the Western media, causing Poroshenko to fidget nervously in the presidential chair. So, on the most "free" and "democratic" radio station of the world - "Radio Liberty" - once again went into the material in which journalists told about the lies of the President of Ukraine. The idea is that Poroshenko did not fulfill these election promises and did not get rid of the business, while retaining possession of several companies and business projects.
From the material
«Radio Svoboda»
:
President of Ukraine Petro Poroshenko still owns one company directly and ten more - through the closed non-diversified corporate fund "Prime Asset Capital".
In this case, "Radio Liberty" refers to the state register of Ukraine.
Journalists of the western radio station, whom they already wanted to accuse in Kiev of "pro-Kremlin", if they had not remembered the "record" of the Radio Liberty list, which is hardly at all related to Moscow's loyalty (it's not for media loyalty to Moscow that was created):
The structure of Poroshenko's business holdings did not change much in more than a year of his presidency, although during the election campaign he promised to get rid of business assets, except for the 5 channel.
Recall that a few months earlier, journalists of the same radio station published materials about the presence of Poroshenko real estate in one of the zones of the national reserve Kiev-Pechersk Lavra.
In Ukraine itself there is hardly a person who is not aware of the fact that Poroshenko is still in business and owns protected areas (as well as "factories, newspapers, steamboats"), in fact being an oligarch in the presidency. But if in Ukraine it is well known, for what purpose can the western Radio Liberty publish such materials?
The goal can be one - to probe the ground on the subject of the "democratic" turnover of the top of Ukraine from some puppet characters to others. And if this is not a direct drain, then it is very similar to the fact that it is creating favorable conditions (evidence base) to justify such a drain in the near future (or not so soon?).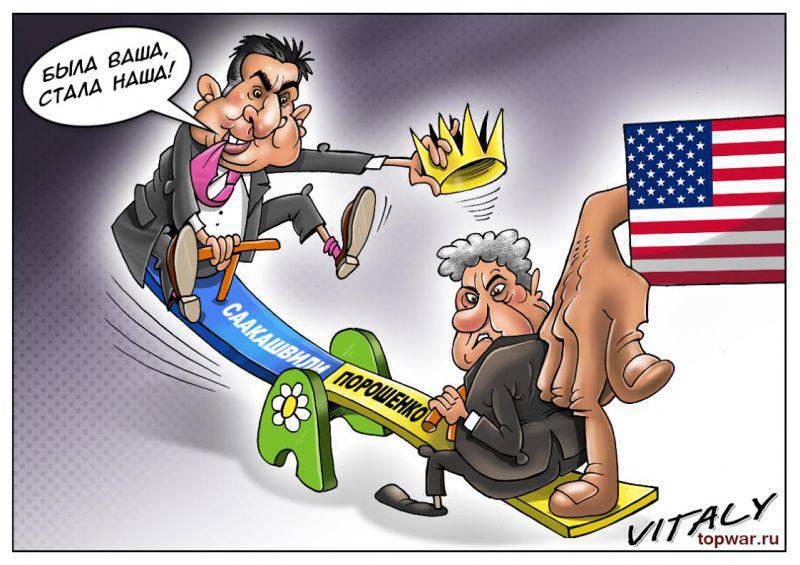 At the same time, the increasing number of petitions concerning the promotion of Mr. Saakashvili, published on the website of the Presidential Administration of Ukraine, also draws attention to itself ...