Specialists of the Russian manufacturer of electronic equipment "Rikor" created an unmanned aerial vehicle (UAV), which has unique flight characteristics for its class, thanks to a hybrid layout of engines with variable thrust vectoring.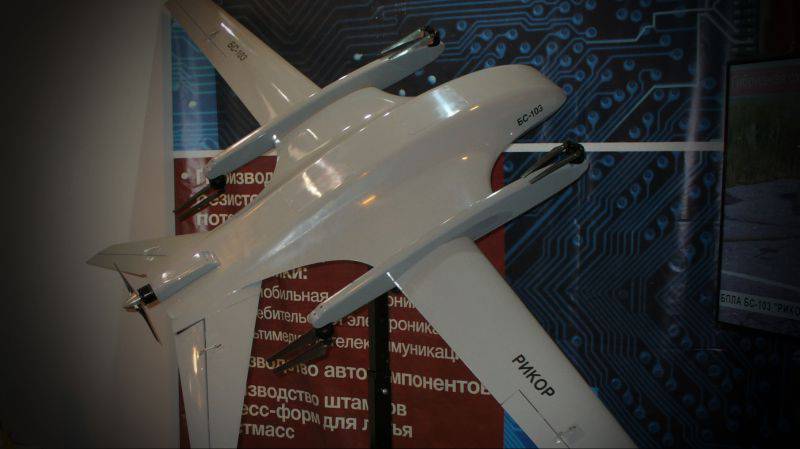 "UAV" Rikor "can take off and land both vertically and horizontally, which is not typical for most devices of this class. The flight can take place both as in an ordinary aircraft (horizontally), and in the hang mode (as a quadcopter). At the same time, take-off devices are not required for take-off, "reports the Rikor press service.
ROSNAUKA
.
Another feature of the new Russian drone is the ability to quickly change the flight configuration using additional aerodynamic elements and suspensions in order to optimize the vehicle for the specific task.
"As part of the course on import substitution, the development and production of unmanned aerial vehicles in Russia are now a priority area of ​​scientific and technological activity. We are currently considering options for optimizing the cost of a drone to reach the maximum number of potential customers, "said Boris Ivanov, vice president of Rikor.
The wing span of the Rikor UAV is 2.8 meters, length is 1.4 meters, flight weight is 11 kg. The horizontal flight speed of the vehicle reaches 100 km / h. It can be airborne for up to 150 minutes. The device is equipped with five brushless electric motors: four of them work in the hang mode, vertical take-off and landing, while the fifth take-off works with the horizontal take-off.
The UAV was created taking into account the requirements of federal agencies, logistics companies and enterprises of the oil and gas sector.