Ukrainian Prime Minister Arseniy Yatsenyuk proudly announced his meeting with Polish President Andrzej Duda and said that "Poland is with us!" At the same time, Yatsenyuk once again spoke about Ukraine's desire to become a member of the European Union, adding that Ukraine began to achieve "certain economic success ".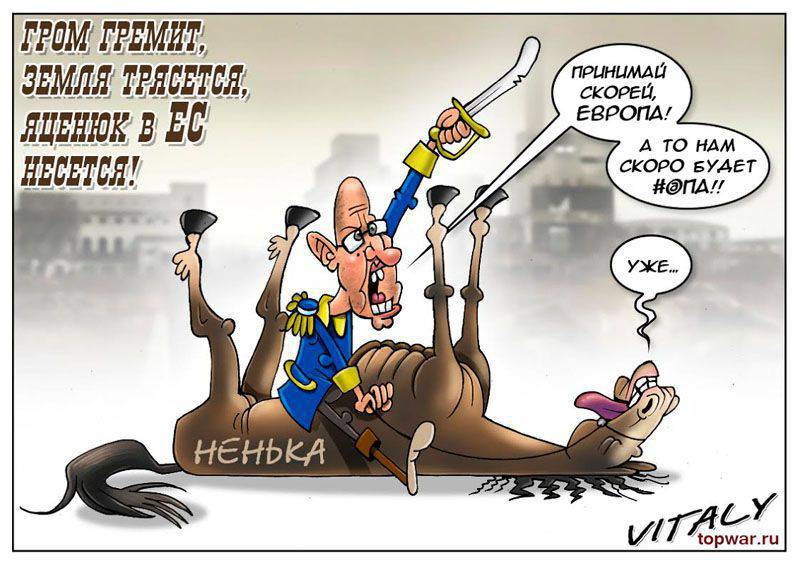 One of the economic "success" achieved by his Cabinet, Yatsenyuk considers the "reduction" of inflation to 57%. At the same time, Yatsenyuk does not report what kind of inflation was in Ukraine lately, if it "fell" to a level that is several times higher than the inflation rate of the 2013 sample of the year.
The Economic Statistics Service of Ukraine reported on other "achievements" of Mr. Yatsenyuk's government. Thus, the rate of decline in exports reached an absolute record in all recent years - the average drop in Ukrainian exports is estimated at 35%. Against this background, it records a decline in Ukraine's GDP in 14,5%. Forecasts of economists suggest that by the end of the year, a country's GDP may lose about 16% while reducing industrial production by more than 25%.
If we add a record unemployment for Ukraine (11,5% among the total economically active population and more than 23% among young people), then we can say that with such indicators Ukraine is, of course, "expected" in the European Union ...
During the meeting with the Ukrainian "partners", Andrzej Duda proposed expanding the so-called Norman format by representatives of Poland and the USA.