During the international military-technical forum "Army-2015" a presentation of the armored car "Patrol-A" was held, which stood out among other vehicles due to its unusual color, reports
"Messenger of Mordovia"
.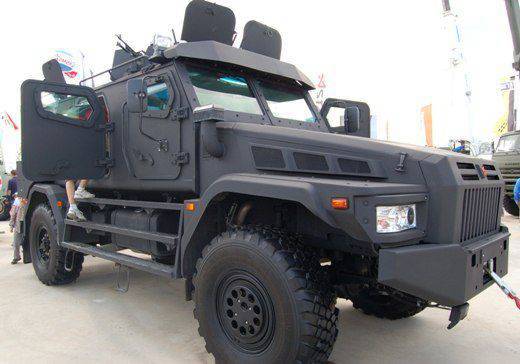 "If other cars were green or sand-colored as usual, this brainchild of Asteys CJSC appeared to visitors as black as night. I must say that for those who are closely following the creation of armored cars in Russia, this model is known from other exhibitions where equipment for power structures was demonstrated, "the publication notes.
The main purpose of the Patrol-A armored car, created on the basis of KAMAZ-43501 with the wheel formula 4х4, is the transportation of personnel of law enforcement agencies. Its capacity is 10 people. In addition, the armored car can be equipped with various special equipment, as well as used as a tractor.
Booking a car protects against 7.62-mm caliber AKM machine gun and RPK machine gun. Also provides protection against explosive devices.
The version of "Patrol-A" presented at the forum is equipped with a domestic power unit and transmission. The weight of the car is 12.7 tons, and the maximum speed on the highway - up to 100 km / h.
"Patrol-A" is easy to learn, operate, repair and maintain. There were reports that, in addition to the Internal Troops of the Ministry of Internal Affairs of the Russian Federation, they also became interested in the Russian army, "the newspaper notes.