What distinguishes an ordinary architect from the chief architect of modern Kiev? The first is set up to create their own architectural works, and the second is sharpened for dismantling the masterpieces of other authors. So, the chief architect of the Ukrainian capital, Sergey Tselovalnik, announced that in Kiev there are "too many" architectural objects, which simply by definition must be dismantled in connection with the current law on de-communization. Such objects Kselovalnik counted 145, complaining that their dismantling needed a lot of money.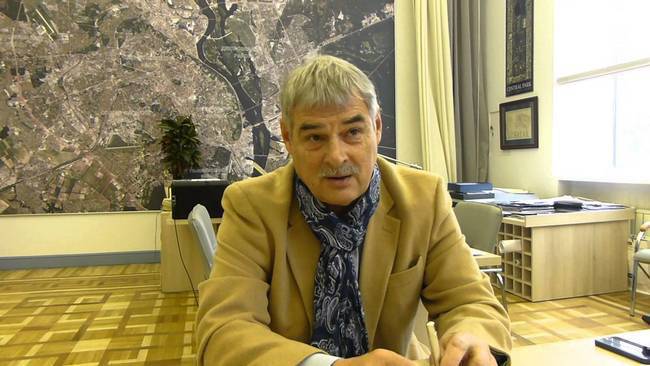 Tselovalnik quotes Ukrainian edition
"Today"
:
We counted only in Kiev 145 monuments that need to be demolished. This is a huge amount and cost. They are dedicated to Soviet leaders and are being demolished. By law, even on the Walk of Fame, monuments must be demolished to those people who are immortalized there, because they served in the KGB.
One of the works of architectural art that the Tselovalnik proposes to demolish is the Arch of Friendship of Peoples, established in Kiev in 1982.
It annoys the chief Kiev architect, but mainly the Kiev radicals, the inscription on the monument - "To commemorate the reunification of Ukraine with Russia."
Kissman:
I consider this arch useless. What friendship is it if Russian troops came to our land with
tanks
and is there a real war?
Kissing on this is not going to stop. In his opinion, the ideas according to which it is necessary to dismantle the shield with Soviet symbols at the Kiev Motherland are weak ... The main Kiev "architect" offers to demolish the whole sculpture! .. However, Tselovalnik adds that for complete dismantling from the Kiev authorities not enough money ...
If we demolish, then the whole sculpture, but then the question arises, where to get the money for it?
Today's interview with Tselovalnik's journalists concludes:
The love of music helps me a lot in my work, because I graduated from music school in piano and played the violin. I love animals. Now I have a Yorkshire terrier named Gabriela, but I affectionately call her Masyanya. She charges me with a positive!
That is, reflections on the demolition of architectural monuments created by the genius of other people - this is positive? How then is this "architect" different from ISIS militants who are ruining
historical
legacy - in Syria? ..