To develop a promising underwater weapons need coordination and cooperation

The concept of the development of marine underwater weapons, approved by the Minister of Defense of the Russian Federation in 2012, lit the green light for the development of new weapons and the modernization of existing serial models of weapons and military equipment, the creation of a scientific and technical reserve. How are things going?
Today, the Navy faces a lot of tasks, including ensuring the combat stability of strategic submarines, the fight against enemy multipurpose submarines and the prevention of their entry into combat positions.

Divide and unify
Before answering the question, with what weapon to solve such problems, it is necessary to understand where it will be used.
As is known, there is a zone of use of anti-submarine missiles, a zone of destruction of a submarine with a torpedo weapon, a zone of self-defense. Such a distribution of effort allows you to create a continuous field of destruction of the enemy in the entire range of distances. This is the zonal principle of the use of weapons and military equipment. But you should not forget about the interaction with the supporting systems.
"With the traditional construction and use of weapons, we cannot achieve integration with underwater lighting, communications and other lighting systems," says Vladimir Pirozhenko, PhD in Technical Science, leading research officer at the Naval Scientific and Technical Research Institute of the Naval and Military Academy. "In order to effectively accomplish a combat mission, all this must act in a single complex, which is confirmed by our research."
The enterprise "Region" is working today to ensure such integration. When creating weapons and military equipment to fight torpedoes and mines, they managed to combine control, detection and destruction systems into a single small-sized anti-submarine complex designed to destroy submarines in the near zone, as well as destroy torpedoes attacking the ship. This, in particular, about the complex "Package-NK" (range of destruction to 20 km).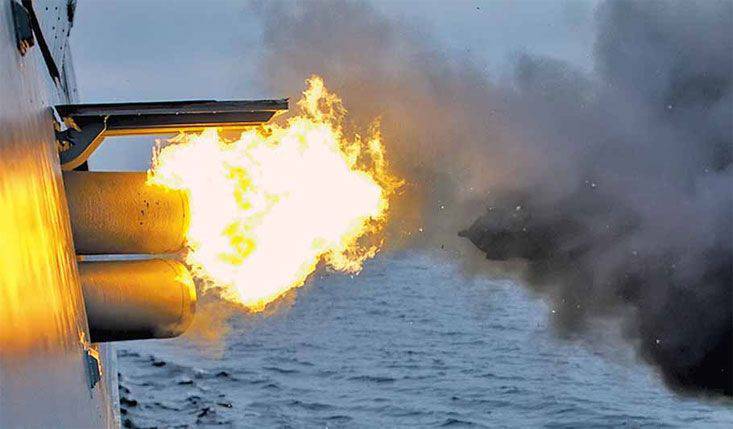 He, as noted at the Army-2015 forum, is not yet fully integrated with the general underwater lighting system. Acoustics must now have their say.
Of particular importance when creating such complexes is given to the system of search and destruction of enemy weapons, other underwater objects. The new integrated system Alexandrite-ISPUM, which is being created at the same enterprise, has its own acoustics, an underwater vehicle for search and destruction of mines, a sonar for circular view. Now Alexandrite-ISPUM is undergoing state tests, there are good prospects for its adoption. But you have to think about solving the problem of the universality of the use of the system. So that she could work on various warships.
The noise of the enemy's submarines today has sharply decreased, and in response to this, our defense complex is trying to separate systems that are not advisable to combine in one building. There is a tendency to separate the functions of destruction and detection, which gives the weapon improved tactical and technical characteristics. But sometimes we essentially reinvent the wheel.
In the past years systems were created that perfectly solve today's tasks. However, for various reasons, at some point they were out of sight of the leadership of the Navy and the Ministry of Defense. This, in particular, about the self-propelled remote-controlled apparatus "Mayevka" (ship and container modifications), which is not in use since 2009. So is it not better to solve the problems that have arisen with its fine-tuning (modernization), rather than creating a new weapon with comparable TTX from scratch? Moreover, if you do not take measures, it will take several years and the modern apparatus will become morally obsolete, and the funds invested in it will be buried.
There are problems with the unification of marine underwater weapons. So far, its rather large nomenclature leads to the dispersion of funds, although some new samples are already ready for launch into the series. For example, an 124-mm caliber product can be used to combat stand-alone, unmanned underwater vehicles, enemy submarines, and underwater saboteurs.
"It is only necessary to resolve the issue of its unification, which should be reasonable, as well as universalization," Vladimir Pirozhenko believes. "It's proposed to take 533, 324 and 124 millimeter gauges for basic samples." According to him, we have created quite a lot of weapon guidance systems, over which the mass of defense industry organizations continues to work, but these samples do not replace each other. But now, according to experts, it is necessary to go more boldly along the path of ensuring the modularity of products. It took the Navy, say, a torpedo not six, but six meters in size - please! For the "defense" this should not be a problem.
In fairness, we say that modular weapons and military equipment are gradually appearing in our country. We have already talked about a product of 124 caliber as a base sample. From this we can make, say,
aviation
version of the torpedo, multiple-charge mine ammunition of the Medusa type or any other. We must follow this path in the creation of other types of underwater weapons, which guarantees significant cost savings.
NPO Splav, for example, managed to launch the production of such weapons in a modular version of 122, 140, 212, 300 mm calibres. This fully applies to batch installations: if you want - you charge 300-mm products, if you want - another caliber. However, the introduction of new weapons is extremely slow. The warships of the Navy are still forced to load before going out to sea, sometimes excessive, and most importantly, various-sized ammunition for all occasions, which cannot be foreseen in advance.
We repeat: today, the demand is growing precisely for a universal weapon that could solve various tasks both under water and on its surface. And this in turn will significantly reduce the range of weapons. But so far the situation remains the same as it was many years ago: the fleet is in the wake of the defense and the old, but now familiar, IWT supply schemes.

Do not swim - kill
What is the situation with anti-diversion weapons (EITI)? At present, the task is being solved utilitarianly with the help of explosives, in particular grenade launchers and grenade launchers. They have their advantages. But there are also disadvantages: violate the secrecy of the performance of combat missions. So, you need to think about non-traditional (non-fire) means of destruction.
Today there are several similar ways to protect ships. These are the so-called acoustic waves, electric shocks, etc.
"The idea of ​​cathodic protection of surface ships, which use the electric field of a ship to fight corrosion, was born at our institute," says Vladimir Pirozhenko. - It is this electric field that helps to fight with underwater saboteurs. Increased voltage causes them to float to the surface.
Our "partners" go this way. In 2004, a similar patent on the use of the electric field was registered in the USA. It appeared already after a similar system was proposed in the Scientific Research Institute of Shipbuilding and Armament of the VUNC Navy "Naval Academy". Another thing is that we approached this somewhat lightly, without fixing anywhere, without having issued a patent. In general, in the development of weapons and military equipment, our defense enterprises often go their own ways, without any interaction with each other. "
As a reserve officer, who took part in the round table "Marine underwater weapons: realities and prospects," said the tele-control issue: "In many cases, it is solved. We even have products that are exported. In particular, we manufacture an excellent fiber optic channel, which is installed to the customer. "
The device provides high-quality remote control at high speeds. You just need to understand: this is not just a string that comes from a torpedo. And above all, ensuring integration at the level of the hydroacoustic complex. And for weapons of caliber not only 533 millimeter, but 324. Italians and Americans follow the same path, as this dramatically increases efficiency.
Or take the same device search, detect and destroy "Maya." It has a container version and can be produced in a short time to ensure the modernization of the combat crew of minesweepers. Moreover, the pace of delivery of Alexandrite-ISPUM does not yet provide a solution to the most acute task of the software. Moreover, "Mayevka" is not opposed to "Alexandrite-ISPUM". That has its advantages, the "Mayvka" others.
"The enemy is afraid even of our old Waterfall complex," Pirozhenko is convinced. "Therefore, there is no doubt whether we need such anti-submarine missiles or not."
As for the ultra-small sea underwater weapons, then talk about the optimality of the caliber, for example, 127 millimeters is too early. The caliber of order 200 – 210 millimeters will dramatically improve the combat characteristics of the weapon, to ensure unification, including promising anti-torpedoes. If you go this way, then ultimately the product can be very effective. But here we again come to the telecontrol. This means that an appropriate test base, firing statistics, etc. will be required. The US Navy is moving in this direction, relying primarily on test data, including in the Arctic.

Who will write TK
Gleb Tikhonov, head of the department of Concern MPO-Gidropribor, OJSC, raises the question of developing and improving ship-based and airborne torpedoes, although this is a problem of all naval underwater weapons. Moreover, it directly affects the problem of import substitution.
What is the state of the existing ammunition, in particular the MNT-1 anti-submarine aviation torpedoes? They were developed back in 60 – 70, and production was discontinued about 25 years ago. All ammunition is on large bases, in arsenals. The torpedo still retains excellent fighting and driving performance. But to extend its service life is impossible, not to mention the reproduction or modernization. First of all, due to the collapse of industrial cooperation - after the collapse of the USSR, a number of enterprises remained outside the Russian Federation.
Single-purpose torpedoes in service require prolongation of service life. Their modernization has not been carried out for many years. In the Navy, it was long overdue to overestimate and update all available ammunition.
In general, the analysis of the scientific and technical reserve of the Navy and the Ministry of Defense shows its deplorable state. The stock of developments of the times of the USSR is over, and new ones can be counted on fingers. The lack of state funding for a long time had a negative impact on defense enterprises, on research, and on the creation of promising models of weapons and military equipment. It is not surprising that in the production of a number of naval weapons and military equipment, we seriously lose to Western countries. Suffice to say that all modern torpedoes abroad are equipped with broadband homing systems.
"We approached this task in the ROC" Lomonos "and were ready to implement our proposals," shared Gleb Tikhonov. "But, unfortunately, the work was stopped for reasons beyond our control."
It is clear that the head of the department due to corporate ethics can not tell everything. But apparently, this is our attitude in general to all sorts of innovations, which is associated with the risk of investing, the uncertainty of launching into a series of products, and adopting them into service.
The absence of the GOZ for many years affected the intellectual potential of the defense industry. Enterprises - developers and manufacturers of weapons and military equipment have lost qualified specialists at the age of 30 – 50 years - the main striking force. And the endless cuts and optimization of scientific research institutes led to the elimination of a powerful laboratory-bench base.
If earlier it was difficult to find a person in the rank of lieutenant commander in a naval research institute, now it is impossible to find someone who would write an intelligent tactical and technical task. At that time, people who had gone through all the lower stages of the service ladder, participated in campaigns, shooting, and training exercises worked at the scientific research institute. Now the situation is radically different.
"There are TK, which, to put it mildly, are not always fully justified," explains Tikhonov. - In previous years, work was constantly carried out to analyze the combat potential of a potential enemy. Opportunities for foreign weapons and directions for their development were identified. This, in turn, made it possible to objectively evaluate with whom it would be necessary to fight, with what weapons to confront. Today, such works are not carried out, although there is an urgent need for them. "
Another problem is far-fetched, unrealistic deadlines for the development of weapons and military equipment. Even abroad, they tend to drag out. From the beginning of the statement of the problem and the writing of the TZ to its realization in the metal, 10 – 15 has passed years, or even more. As an example, the American torpedoes Mk-48 and Mk-46, the development of which began in 1956, and ended respectively in 1966 and 1972, can be cited. The process of their planned modernization in the near, middle and long term takes (until the next model appears) about 50 years, which is a lot. There is something to think about us. On the one hand, it's good that the weapon has met the requirements for many years. On the other hand, if necessary, it should be quickly modernized or written off without legal delays.

Deep tasks
It is time to unite the efforts of all specialists, customers and defense enterprises to create a comprehensive, scientifically based program for the development of marine underwater weapons, coupled with the tasks and plans for shipbuilding.
In order to provide aviation with a light anti-submarine torpedo, it is necessary to carry out short-term OCD (1,5 – 2 of the year). A number of systems have already been tested. So, there are all prerequisites to quickly launch a torpedo in the series. For this, it is necessary to restore production at one of the main enterprises where it was previously minimized. Otherwise, our aircraft will remain without torpedoes.
"We will have to reconsider the TTZ on the ROC Lomonos," said Gleb Tikhonov. "We need to decide what is more important: mass and dimensional characteristics, speed, range, or something else." In his opinion, a lot depends on the customer - the Ministry of Defense. If the speed of the torpedo was indicated at five knots less, it could have been in development at least six months ago. An increase of five knots will now require additional OCD.
Finally, it is important to provide for the possibility of a baseline assessment and the elimination of obsolete weapons during their lifetimes, approximately up to 40 years, but no more.
It is time, experts say, to abandon the use of heavy torpedoes. Why? "We developed a torpedo Т2-01, which can be used from a surface ship," says Tikhonov. - This allows you to fully switch to the zone system of using weapons, which will consist of a torpedo missile and, accordingly, a torpedo used from a torpedo tube. "
As we see, there are more than enough problems in the condition and operation of the Navy's weapons. It is important to think up a coherent system of their solution, an effective plan for modernizing and creating modern designs. The Ministry of Industry and Trade has created the Council of Chief Designers of the Navy, where these issues can be considered in the near future.
As for the scientific community, it has its own suggestions. They boil down to the following:
1. To work out the feasibility of intraspecific universalization of sea underwater weapons and reducing its type, which will significantly reduce the cost of weapons and military equipment, and reduce ammunition.
2. Implement the requirements for the modular design of weapons and military equipment for individual units, taking into account the previous standards.
3. To recommend comprehensive research on the integration of marine underwater weapons into a single weapon system, target designation and detection.
4. Conduct research and development to create systems that provide remote mining with high accuracy, as well as ultra-small-scale multipurpose underwater weapons.
5. Include in the program of military shipbuilding the development and construction of four specialized experienced combat submarines in the interests of testing underwater weapons.
6. To form an interdepartmental working group on the search and analysis of innovative, non-traditional ways of developing marine underwater weapons.