A group of officers of the European command of the US Armed Forces (USAREUR) conducted a survey of key logistics hubs of Germany, Poland and Latvia. According to the results of the three-day voyage, they concluded that in the event of a conflict, it would be difficult to protect the Baltic States with the help of heavy equipment, which the Pentagon and NATO rely on, due to inadequate infrastructure and terrain, reports
Look
with reference to the American edition of Stars and Stripes.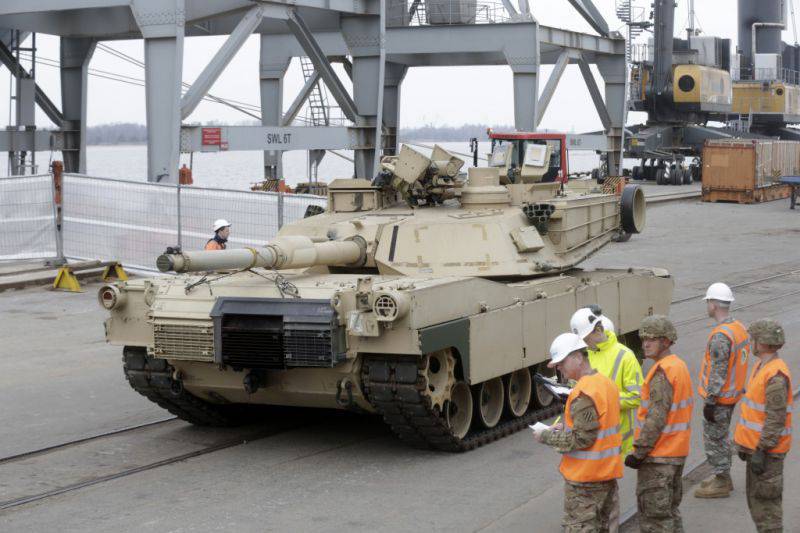 "During the three-day feverish Terrain Walk, USAREUR servicemen and representatives of other US and allied state commanders visited everything from ammunition depots to major German and Latvian ports, which are the most important supply chain nodes. What they saw turned out to be a "tangle of calls," the newspaper writes.
"In Estonia, a tank moves off the road and can immediately get bogged down in the swamps that are so fond of a large population of moose," says military engineer Steven Dovgilevich, who was part of the group. - A limited network of roads throughout the Baltic states and a lack of wagons strong enough to transport American ones is a problem.
Tanks
. True, the place where such platforms in abundance is known is Russia. "
"But I'm not sure that she (Russia) will be ready to lend us cars if necessary," the officer joked.
Another difficulty, he said, is "local railways that have a" Russian gauge "other than European width, which means an overload from train to train and requires special equipment."
And another problem is the presence of Russians on the railways of Latvia and Lithuania, which supply their forces in the Kaliningrad region.
"The US Army also lacks mobile bridge systems that would allow heavy equipment to be transported across numerous European rivers. Some NATO allies have such capabilities, but at the moment USAREUR does not, "writes the publication.
Earlier, the commander of the forces in Europe, Ben Hodges, said that speed was needed to prevent the Baltic army from seizing the Baltic states. "The ability to quickly move troops gives American political leaders additional options in the event of a crisis," he said.
Next year, in order to shorten the supply chains in the Baltic States, around 250 tanks and other combat vehicles will be deployed. "Finding additional ways to deploy equipment, ammunition and equipment will be crucial," - said the command USAREUR.
"The call list also includes a reduction in the waiting time for obtaining, through diplomatic channels, permission to move ammunition across borders. The political leadership of NATO is doing this now, "Stars and Stripes reports.
Following the "Walk", the officers recommended that the American command "rethink the types of weapons that can be used in the region", possibly in favor of lighter machines like the Stryker.