From 9 to 12 in September, the 10-I International Exhibition of Arms, Military Equipment and Ammunition Russia Arms Expo 2015 will be held in Nizhny Tagil.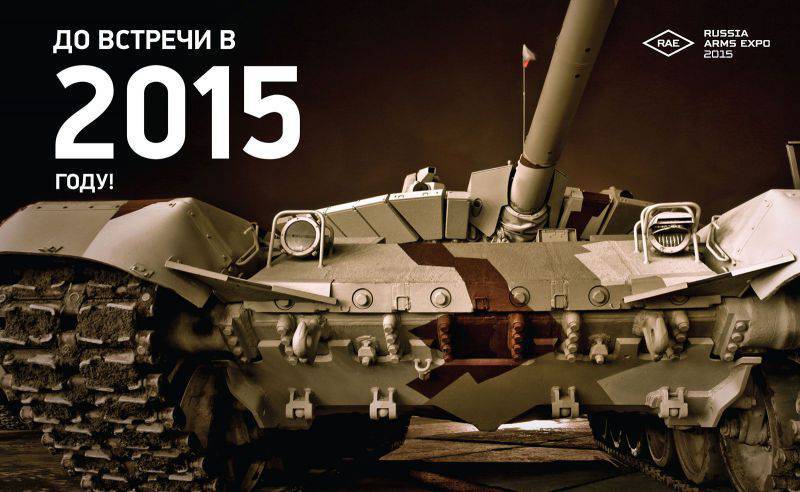 "In 1999, the first weapons exhibition Uralekspoarms took place. Initially, its international status was assumed, but the matter did not go on for a long time. The exhibition was developing, but the provincial patina did not leave it for more than ten years. The situation began to change with the creation of the concern Uralvagonzavod. Thanks to the general director Oleg Sienko and his assistant Alexei Zharich, the exhibition has completely changed, has truly become international. A new name has appeared - Russia Arms Expo, or abbreviated as RAE, "writes
"Russian newspaper"
.
This year the event will be held without extensive foreign expositions, largely due to the sanctions against the Russian Federation imposed by Western countries. But you can see a lot of new products developed by Russian companies.
In particular, the T-14 Armata tank and the heavy BMP created on its basis, the Kurganets-25 armored vehicle and modified versions of the well-known BTR-80, BMP-3 and T-72, which have not yet exhausted their potential, will be shown for the first time. The organizers promise that for all the news, detailed, although within the acceptable, information will be presented. For example, one of
News
appeared a few days ago: the crew and paratroopers of the Kurganets-25 BMP will be able to stay inside the car for several days, for this not only water and provisions are provided, but also a toilet.
"The demonstration of the capabilities of military equipment is a real and very effective performance with its own drama. Viewers will be able to see the tactics of the battle, which uses the entire arsenal - from small
weapons
to various types of wheeled and tracked vehicles, artillery,
aviation
и
drones
", - notes the publication.
Also within the framework of the RAE-2015 exhibition a rich business program is planned. The first day will be a round table of the Committee of the Federation Council on Defense and Security, the State Duma Committees on Defense, on Security and Anti-Corruption, on Property Issues, as well as leading representatives of the defense industry complex, who will discuss the topic "On the priorities and problems of implementing state policy in military production. "
The exhibition in Nizhny Tagil will bring a lot of specialists from almost all countries of the Middle East, Latin America, Africa and Southeast Asia. According to representatives of Rosoboronexport, a number of important negotiations are planned.