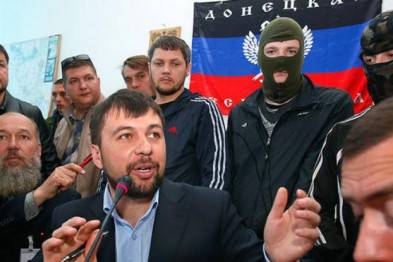 Honestly, I didn't want to comment on what is happening now in Donetsk, but reading the articles of some analysts and bloggers still forced me to do it.
I recently returned from Donetsk, where I worked for almost three months. Communication with servicemen was not in vain, and real information about what is happening in the republic, you want it or not, it has been postponed in memory.
Why am I doing this? Oh yes! Reading the latest articles about the coup, I noticed one fact. They are all, even Ischenko, trying to convince me that this is a purely political conflict. It seems that the DNI is such a caramel republic, where everything is fine. There are no organized criminal groups attached to the power, there are no cash flows that go nowhere, there are no basements and wringing out, etc. Everything is fine there. But Pushilin and Purgin just didn't have a bit of a match for political views. And Pushilin, it turns out, is convenient for the Kremlin, because it fulfills orders, and does not argue like Purgin. And Purgin, it turns out, built the Novorossiysk fairy tale ... That's the type of dreamer. And why did Gubarev show up? And of course with the words about what kind of Synga Purgin ...
Gentlemen, is this your pink circus for whom it is intended? On the overwhelming mass of the people? Yes, of course, in Donetsk, the war has gotten everyone so much that people have only one dream - that everything ends, but this does not mean that the residents of the DPR are delighted with lawlessness. They do not want ordinary gangsters to come to power following the war with the Nazis. Moreover, if these bandits seem to be "coordinated with the Kremlin." In addition, in the DPR, I have not met a single person who would say at least one good word about Pushilin, etc. As for me, I would not trust him to guard the chamber pot.
I have a really cognitive dissonance between what I have seen and heard with what we are trying to teach the Runet. You should not look for the "hand of the Kremlin" in the Donetsk events. This, I'm sorry, just insults the Kremlin. The Kremlin definitely has no hands that grow from such a place. Too .... everything is clumsy. Not that the Kremlin could not arrange a change of power - but (thank God) such delightful idiots do not do these things for the time being. And the more belated are the belated attempts to justify the action of the putschists.
Sorry for the emotions. Just got it.