Last weekend
aviation
the Arab coalition inflicted massive attacks on the capital of Yemen, Sana'a and the province of Al-Jawf in the north of the country, reports
RIA News
with reference to the agency Sputnik.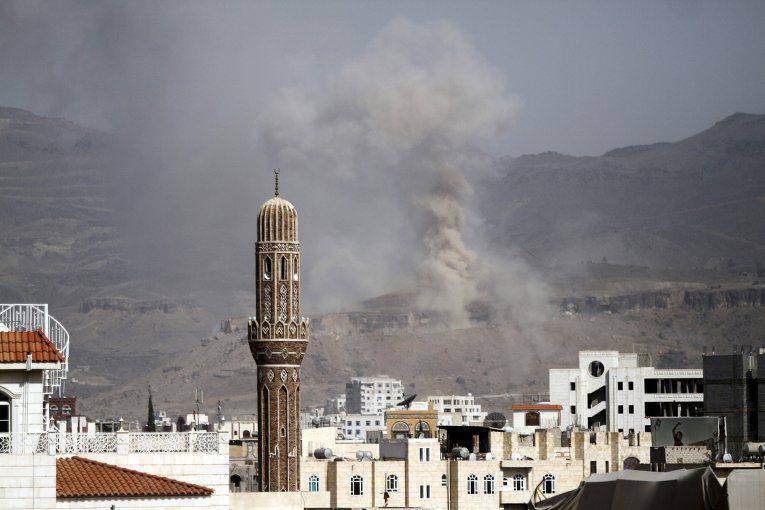 "The capital of Yemen, Sana'a, on Sunday was subjected to an unprecedented bombardment by the Arab Air Force coalition of Arab countries. The purpose of the air strikes became objects of the Shiite rebels (Hussites) in several parts of the city at once - they included missile brigades in the Jabal-Atan area, as well as Sana'a International Airport. The blow was also inflicted on the presidential palace in the center of the Yemeni capital of Sana'a, "the agency said.
In the village of Al-Yutma in the province of Al-Jauf, an airstrike fell on a tent in which a funeral was held by a local resident who "died in the Safer training camp as a result of an attack by the Houthis," the agency reports and notes that this blow was probably mistaken. Reported 25-ti killed and forty wounded.
Earlier September 5 blog
bmpd
reported a rocket attack on the camps of the Arab coalition in the province of Marib by the Hussites. According to data from various sources from the shelling, "killed the United Arab Emirates 45 soldiers, five soldiers of Bahrain and 33 soldiers of the Yemeni anti-Hussite forces," writes the blogger.
According to Reuters information referring to the Hussites, "the rocket they fired struck an ammunition depot in a military camp in the province of Marib, where coalition forces were gathering troops and equipment in recent days, which resulted in the deaths of dozens of military personnel from the UAE and their local allies, and also to the destruction of armored vehicles and helicopters "Apache". " According to local residents, the camp continues to burn.
According to unconfirmed reports, the camp was attacked by a rocket complex "Tochka".