The head of the volunteer battalion of the "Organization of Ukrainian Nationalists" (OUN) Mykola Kokhanivskyi said that the OUN activists could go to Kiev to release previously arrested supporters, and the command of another Sich battalion ordered its soldiers to arrive at the base in the Ukrainian capital on Tuesday, RIA reports "
News
».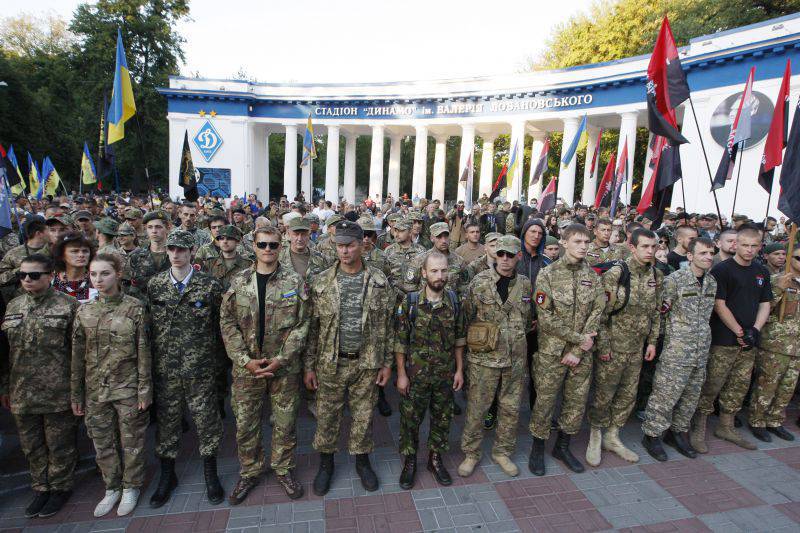 In particular, on the OUN Facebook page, it is noted that all the cells and divisions of the organization should be "ready to go to Kiev for the release activities" of the battalion fighters detained by law enforcement officers. And on the page "Sich" a message appeared on the social network, calling on all the fighters of the battalion to arrive at the Kiev base at 10: 00 on Tuesday.
It is worth recalling that last Monday, the Ukrainian parliament adopted in the first reading a bill providing for amending the constitution regarding decentralization. After the voting, riots broke out at the building of the Verkhovna Rada of Ukraine: three law enforcement officers were killed in the clashes, and even more 150 people were injured. According to the Minister of Internal Affairs of Ukraine Arsen Avakov, the organizer of the unrest is the nationalist party "Freedom". Currently 16 active participants in the events are in custody, two more - under house arrest.