Poroshenko on Saturday evening, in an interview with Ukrainian TV channels, voiced three scenarios for the development of events in Ukraine, one of which he called radical: he envisages an offensive of the Armed Forces of Ukraine, a military liberation of the territory and a march on Moscow.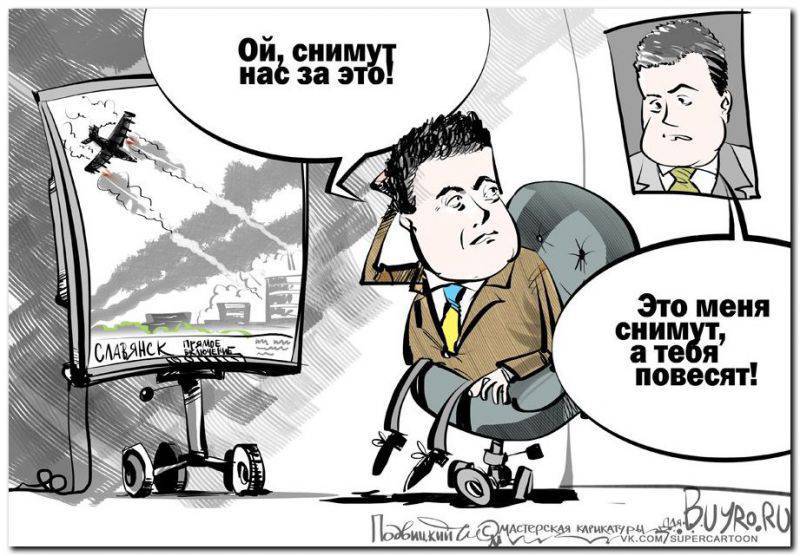 Apparently, again without snacks and in quantities incompatible with reasonable life activity.
Pyotr Lekseich often puts it in, we are used to it. But this, speaking in diplomatic language, is of concern.
"There are three options, three scenarios for the development of events. The first scenario is radical: an offensive by the armed forces, a military liberation of the territory and a march on Moscow ..."
We in Russia in such cases say: "It is necessary to eat." For a start, reach Donetsk or Lugansk, Mr. President. Ik!
Undoubtedly, the Ukrainian army over the past year has passed some evolutionary path. That is, from an oak tree, in principle, they have already peeled off, but to dig a new ukromore is still not suitable. What kind of Moscow are we talking about? It is necessary to set either real goals or a smaller vessel. They say it helps.
"Second position: to build a wall, give a part of the territory - we will live without Donbass".
And without a wall in any way? No, really? Is the wall a symbol of greatness and square now? We will not dig the sea, so at least we will build a wall ... Weeping Great Ukrainian Wall. And we will cry for a long time, because all the remnants of undeveloped loans will go to her.
"But I, as president of Ukraine, will not trade. And this, if you like, can only be with another president. I will not even give anyone a piece of Ukrainian land."
Yeah ... Taki apologize, and agricultural holdings from Israel, Germany and Finland bought land from anyone? I am talking about the Kherson region. Well, in principle, there really is, and does not smell pieces. Full hectares. Hundred.
Apparently, delirium trems. Apparently, there are two presidents. One does not give a piece, and the second hectares distributes. It happens.
"I will fight, do everything possible to return every land - and the annexed Crimea, and the occupied territories of Donbass."
And we will fight, Peter Alekseevich, naturally, to the last drop. It is clear that no blood. It is to blame, I do not know what you use there, but it is obvious that the thing is crammed. Now I break my head, what is the reason for such a high flight of thought. I would not refuse to "soar".
"There is a way to ensure the restoration of Ukrainian sovereignty, the Ukrainian authorities in these territories, this path is called the Minsk agreements. In order to very simply reveal them - this is a cease-fire, the withdrawal of heavy equipment, the release of the hostages, including our heroes Oleg Sentsov, Nadezhda Savchenko ..., the involvement of the OSCE in order for them to monitor the implementation of the Minsk agreements, these are programs of humanitarian, cultural, social development and infrastructure, this is the withdrawal of Russian troops from the Ukrainian territory and the restoration of Ukrainian control over the uncontrolled section of the Russian-Ukrainian border. "
So what's stopping you? They didn't stop the fire, didn't take the equipment, don't let the OSCE work. Or is it all, in your opinion, should Russia also do? This is the Russian army, which occupied the Donbass? So find it first is necessary. And not at the bottom of the vessel above, but in the fields of Donbass. Weak?
"If fake elections are held, if the cease-fire is disrupted and a large-scale offensive is organized ... this will mean that Russia has abandoned the obligations that it assumed by putting the Russian president's signature under the Minsk process."
Well, he took and spoiled everything. Fake elections - this is how Rada chose? By the principle of "pay and fly?", Or something else? Or as in Kharkov, where a really strong opposition, even by a court decision, is not registered for an election?
Who can disrupt the cease-fire if the APU cannot calm down for a single day? And who will organize a large-scale offensive? Mini-army LDNR?
The impression was that Mr. President was talking about Ukraine. That's when it turns logical.
If Ukraine conducts fake elections (and judging by the incoming information, it will hold with an extraordinary scale), if Ukraine frustrates the cease-fire (and it has not yet begun to observe it), if Ukraine starts a large-scale offensive (and rumors, again, have been going for a month) then yes, Putin put his signature in vain for the Minsk agreements.
But we all know that and so. Ik!