In this article I would like to speculate and express personal thoughts about such a phenomenon of modern life as private military companies (PMCs) and about the possibility of their appearance in Russia. Strictly speaking, PMCs created by Russian citizens and staffed by them, already exist, so to speak, in nature. But they are created as foreign enterprises, and taxes are not paid in Russia. In particular, recently in Nigeria such Russian PMCs were pressed for allegedly illegally bringing their weapons to fight sea pirates. Later it turned out that the bribed Nigerian officials were carrying out an order from competing PMCs to remove the Russian company from the market.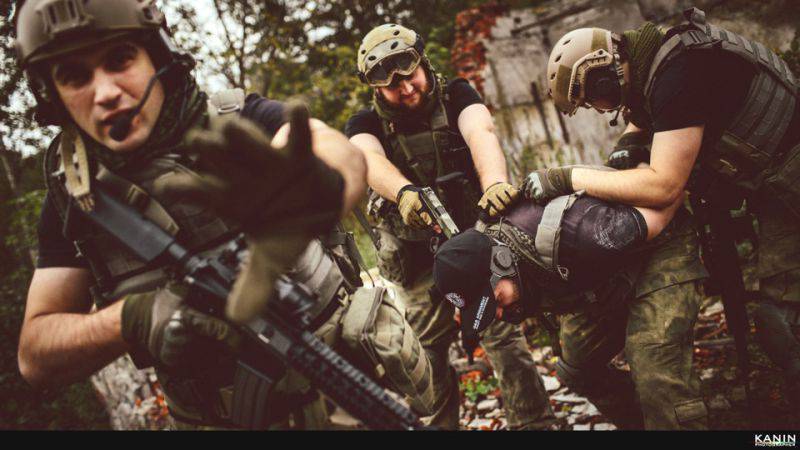 Let me remind you a little about
historical
facts. The first modern PMC was organized in England by veterans and special forces of the British Special Airborne Service (CAC) in 1974. The retirees decided that it was quite possible to earn a decent living using the unique military training and military experience that they had gained over the years of service. The initiative turned out to be in demand and picked up! Today PMCs are actively working all over the world, the market for their services costs from 100 to 300 billion dollars a year and constantly captures more and more new areas. PMCs guard facilities of oil and mining corporations in troubled areas of the world. For example, in Africa, Chinese PMCs deployed 40 thousand of their employees to protect Chinese enterprises. Large American and European PMCs guard the military facilities of these states abroad. They help friendly countries to build and train their armies, train, organize supplies, communications, logistics, and even directly participate in hostilities as highly qualified specialists and advisers.
A few years ago, the whole world put on the ears of Somali pirates. Against them, the most powerful fleets of the world sent their ships, but there was no sense. But now in these places they took up the security of PMC ships, and everything somehow calmed down ...
Going back into history, we can almost with full confidence say that it was Russia that most likely gave rise to such a phenomenon as PMCs! And she did it brilliantly! I mean a Cossack by the name of Ermak Timofeevich and his squad ... After all, it was them who were hired at the time by the merchants of the Stroganovs to protect their Ural factories from the raids of Khan Kuchum, and then they equipped and sent them to finish off the khan for good. Ermak dealt with this, after which he presented immense Siberia to Tsar Ivan the Terrible. And all this happened when not only the USA, but even the British Empire was not even in the project!
Or another example from the 19 century. During the war with the Turks, Count Loris-Melikov, the closest associate of the Tsar-liberator Alexander II, turned to the Caucasian abreks, who continuously fought with the Russian army. He invited them to join his volunteer detachment, promising rich booty in the war against the Turks. And they agreed! The Russian army received reinforcements from desperate and experienced fighters, and the Caucasus became calm in their absence.
From the latest facts, it should be noted that the bills on PMCs are discussed in State Duma committees, and President Putin, in 2012, positively assessed the possibility of organizing such companies in Russia. Therefore, now in our press and the Internet there is a discussion on PMCs, in which they argue furiously, proving to each other; it is possible or impossible, worth or not worth, good or bad, in our opinion it is or not in our opinion ...
Moreover, this dispute affects not only the topic itself, but again raises issues that, too, once worried many, but then temporarily subsided. I mean disputes about which army is better for us: draft or contract, or can private security companies be resolved ...?
There are many comprehensive arguments in these disputes, and I can hardly say anything new. I just personally want to dwell on one aspect, which, in my opinion, was not considered enough ... In the sixties of the last century, a pre-war American film titled "The Fate of a Soldier in America" appeared on Soviet screens. It described how a group of young American war veterans of the First World War returned from her heroes, showing themselves in battles as brilliant soldiers. And the homeland couldn't offer them anything after that, except dull stagnation in obscurity. And then they rallied into an armed gang, which began to engage in looting, smuggling, fought with competitors and the police, using front-line skills, until it was destroyed. However, this is nothing new. In the history of any country there are episodes when soldiers returning from wars became criminals. And our own history abounds in this. Here are the most famous cases ... The famous Leningrad thug of the time of the NEP, Lyonka Panteleyev, was a dashing red commander in the civil war.
In the Smolensk region in the villages, it is still possible to talk with the old men who were children during and after World War II. And they tell in detail how, after the war, young heroes-soldiers returned to their kolkhozes with orders and stripes from wounds. As some of them began to drink in hopeless poverty and hopelessness, while others were stocked
weapons
Which mountains were in the forests after the battles and partisan sites. After that, these guys robbed local shops, warehouses, collector cars, presented to relatives and friends, came in the evenings to dance to the accordion on the village dances. And then they piled their wild heads in clashes with detachments of internal troops.
With 1959 began Khrushchev cuts in the Soviet army. Thousands and thousands of young officers were simply thrown out of it without any privileges or prospects. And after some time, gangs of daring armed raiders appeared in the major cities of the country, who committed large-scale robberies and very effectively fought with operatives in their attempts at detention. Militiamen put a lot of their best people while curbing these "officer gangs."
Recall the 90s. Rampant then gangster fueled to a large extent and at the expense of former war veterans Afghans. A little later, those who returned from the Caucasian Wars went to the gangs. During the recent trial of the Orekhov group, it became known that its backbone consisted of athletes and former special forces soldiers. This moment is well reflected in the sensational TV series "Brigade", where the main character is a former sergeant of the border troops, and the killer sent to him by the main competitor is a former commando who fought in Chechnya.
Since the last years of the Soviet Union and to this day, disputes periodically have been going on: which army is better for Russia — professional contract or people's draft? They also offer a mixed version, but in my opinion, this is just the same conscript army with an increased percentage of contract soldiers. So in these disputes, supporters of the draft army constantly use the word "mercenaries", arguing that the fighters serving for salaries are unable to be steadfast and loyal fighters of the Fatherland, and they can even betray him if they pay more ...
In principle, I think such an opinion in Russia has the right to life as a reflection of the genetic memory of the time of the civil war, when gangs of all political colors were strolling along the former empire, tormenting the defenseless population. The basis of these gangs consisted of veteran deserters, who easily passed from one chieftain to another, if that one had a "gold reserve" more.
But on the other hand, in our army all officers, warrant officers and contract sergeants live only at the expense of the army monetary and clothing allowance, that is, they are the very same "mercenaries" who, moreover, are completely under the command of the soldiers-recruits, training from them dumb subordinates.
Particularly violently in Russia sounded the topic of "mercenarism" after the permission of private security companies (private security firms). Opponents predicted that now all sorts of moneybags would recruit private armies and begin to dictate their living conditions to everyone and everything, right up to the state. These sentiments in their electoral speeches were periodically taken into account by the then Moscow Mayor Luzhkov, loudly asking: "... And to whom do thousands of private security guards in Moscow obey ...?". So who remembers that now? Private security companies earned and very quickly wiped out a massive vandal racket, when street crime groups, including crackling teenagers, tried to get tribute from petty traders and entrepreneurs, threatening to destroy their property. The police could not do this, but the private security forces were able to do it, but now they are just ordinary watchmen who cost those who hire them much cheaper in all senses than the former "criminal roofs".
And what is, by and large, PMCs? Yes, basically, the same private security companies, only immeasurably larger scale, and they work exclusively outside their countries. And their rapid development now, with the active support of state structures in their countries, suggests that they are capable of bringing many clear and potential benefits to the state.
What foreign PMCs are now doing, I have already listed above, and in Russia they could become that place of attraction for former warriors, who are organically inherent in aggressive courage, making them the best fighters, but also not allowing them to fit into civilian life because of high self-esteem . Because of what they too often realize themselves as leaders of the underworld. And in PMCs, they would have their usual adrenaline, excellent earnings and universal respect in society, and even old-age pensions, disability benefits or families with the loss of the breadwinner. In addition, I want to elaborate on yet another possible benefit from PMCs, which so far few people have mentioned ... I will begin gradually.
When the Fatherland is in danger, the efforts of the whole people are required to save it. To accomplish this task, conscription armies are conceived and created, in which people serve temporarily who give patriotic duty to the Motherland but do not want to make a military career. But empires are created and kept by armies of pure professionals! And I do not need to be reminded that in the Russian Empire the army has always been a draft ... Yes, it was. But when the empire was created, the soldiers in the call were selected by lot and then served 25 for years, and in retirement they left the fortress. Yes, even had the opportunity to curry favor with officers, having received a noble rank. In the British Empire and in the United States, peacetime armies that were solving imperial tasks were always made up of professional volunteers who signed contracts for long periods of service. So in the United States, before World War II, a volunteer soldier was obliged to serve in the army in peacetime for at least 25 (!) Years in order to receive benefits for length of service. But when a big war came, professional armies turned into a base for the rapid deployment and training of draftees after the start of the nation-wide conscription. Because every ordinary professional was made for recruits by an authoritative and experienced junior commander who was able to quickly train his subordinates. Thanks to this system, the US literally six months after the Japanese attack in 1941, they were able to deploy an efficient army of one and a half million soldiers from the 200 thousands that existed before, burying the Japanese plans to invade their territory.
Especially in this respect, the example of Germany is indicative. After capitulation in the First World War, she was allowed to have an army of no more than 100 thousand soldiers. German generals created a professional army of just such a number, but the rank-and-file soldiers in it were much smaller than officers and non-commissioned officers. The soldiers themselves were selected very carefully, there was an excess of volunteers. And then they were trained in the training program for non-commissioned officers, and non-commissioned officers were trained as junior officers. As a result, when the former restrictions were lifted under Hitler, all officers were promoted to the rank, all the rank-and-file professionals became non-commissioned officers, and non-commissioned officers became lieutenants, and in several years this personnel reserve created a military vehicle from draftees that shook them to the ground. the whole world.
Based on these historical examples, I believe that in many countries the creation of PMCs is encouraged, including because maintaining and maintaining the combat readiness of modern armies is enormous and, most importantly, unproductive. And here, please, the best warriors retire to "free bread" in PMCs and continue to maintain themselves in the best possible form, mastering new types of weapons and new tactics. At the same time, they not only do not cost a penny to the state budget, but also solidly replenish it with taxes from their activities abroad, helping to defend the military-political and economic interests of their country there. Plus, mastering the newest types of the most popular types of weapons in real combat and diverse climatic conditions, they give the military-industrial complex reliable information to improve and increase the competitiveness of its products.
In our country, after the second Chechen war, President Putin told on television how trained fighters were gathered "from the pine forest" all over the country to go to Chechnya in order to somehow prevent the terrible losses that occurred during the first campaign. And then exist the PMCs with their personnel potential from constantly combat-ready "wolfhounds", and we would not have such shame ...
OWS opponents indicate, they say, look what is happening in Afghanistan, in the Middle East, Ukraine, and PMCs are involved in this, so is it not immoral to allow them? If you continue this logic, you will have to remember that the FAA's Nazi missiles brutally smashed the British once, and the Americans brutally burned the Japanese with atomic bombs ... So what? In this case, our country should not acquire nuclear weapons?