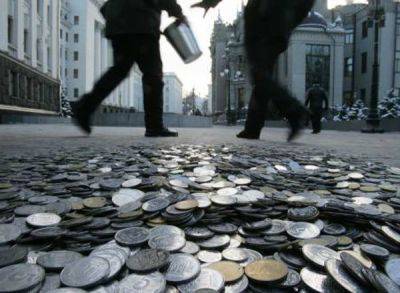 I want to share one, it would seem, and so obvious life observation. It will be about December 2014 of the year, or rather, about the wild depreciation of the ruble and its general "dumping" by our citizens.
Let me remind you in brief. Around October 2014, the dollar and the euro under various far-fetched pretexts (just do not need sanctions, they have acted for more than one month at that time) suddenly, but gradually accelerating, began to grow. And in the final, on the New Year, currency prices have reached just record heights, the numbers are different, but I personally saw the dollar rate in 80 rubles.
Despite the 2008 crisis of the year, as it turned out, our citizens found quite a bit of savings in December of 2014, which these citizens rushed to spend in a rush, until the savings once again turned to zero. I am not judging people of anything, I only sympathize with them. We all have reinforced concrete grounds for not believing our government when it comes to our personal savings. I will say right away that I was lucky, because at the time of all these events I did not have savings, and there was only a loan.
Prices for goods purchased at the old exchange rates, cunning sellers inflated to the skies. Price tags in stores have not printed, they did not have time to write them.
However, people, hoping to get at least some benefit from their rapidly-zeroing funds, bought up everything.
But further - more interesting. After at least two months of rampant prices and a collapse of the ruble (who thinks that the ruble's depreciation in relation to world currencies is not a collapse twice, it can no longer be read), our brave power suddenly worried about the "decency" of sellers, and let prices not reduced, but stabilized.
And the people, of course, felt a concern for themselves and exhaled a little bit - well, at least prices do not grow further.
Now let's try to understand what really happened and summarize some of the results.
So, what we have in the bottom line:
1. For reasons that are incomprehensible (to me personally), the ruble exchange rate collapsed twice (rounded up to the whole). Consequently, real wages "fell" at least one and a half times (assuming that we also have something of our own, although since the prices for energy carriers are tied to the world ones, this "our own" also became more expensive). Just in case, I specify: each of us began to earn at least 30% less than before, without good reason.
Once again - I beg you not to drag in sanctions here, the conversations of our government and "business" that the ruble should be devalued have been going on for three years at least, look in the media, you will find. The first "expensive" ruble prevented the budget from executing, the second - driving oil abroad. In general, it seems to me that the sanctions for our government are simply a gift from God, she (the government) has already written off so much for this business and will write off so much more ...
2. In fact, all the savings of citizens of our country were withdrawn from these same citizens for a pinch of tobacco, but at the same time completely voluntarily.
And I do not invent, look at yourself, do you personally, compared with what was a year ago, did you go into savings plus savings?
3. Well, and the worst - the situation is not corrected in any way.
Prices are rising again, the ruble rate is falling again (now the reason is cheap oil, which prevented the ruble from rising when oil became more expensive - a mystery not for my mind), the media report about the failures of attempts to isolate Russia, the quickest shedding of golden rain from China, no less soon the collapse of the United States in particular, and NATO as a whole ... And there's no end in sight.
I just don't hear and I don't see the answer to one question: when will it be better for us, for us, and not for the United States, Europe, and the Middle East?
I do not need hysterics about patriotism, my duty to the motherland, unlike many sofa warriors, I still give up, and I perfectly understand the need for strategic projects, re-equipment and so on. I have a simple question to our government: why did my salary depreciate at least one and a half times?
Answer, servants of the people, how did it happen if you only think about Russia day and night?
We seem to have had a contract with you: we elect you (well, or at least pretend), and you work for the good of the country. Or am I confused? So what kind of benefit is this when people have been deprived of all money and their salaries have been reduced?
After all, what really happened: the state in the person of the Central Bank stopped supporting the ruble, and if budget funds were used for this support, which, excuse me, are not mine, and will never be mine, then this time for real (and at the same time unreal) the price of the ruble was paid by ordinary people.
And look how everything turned out perfectly: the state treasury, carefully preserved in dollars and euros, doubled in ruble value out of the blue; business is good (for exporters it is necessary that their own currency cost nothing); and the authorities are glad, but now they have these rubles to settle with their own people, like shit after a bath. There really is this one, how is it ... well, people, that's what it's called! In general, this people has lost their savings, so it is not the first time, let's say that these are all the machinations of the American imperialists, they will believe where they will go.
In my opinion, it was just a brilliant operation to withdraw money from the population. Under the pretext of various horror stories, people were forced to "voluntarily" give up all their savings and settle for less.
The question arises: why to aggravate the already tense situation? I suppose that so many snouts have already climbed into the great trough called "the state budget", that there is not enough food for everyone, and it is impossible to cut the snout effectively. Yes, and with food lately interruptions.
At the same time, a rare question to the authorities "And what did you do to prevent this from happening, and who is to blame?" Are instantly buried with accusations of "non-patriotism".
We are absolutely fair to talk about the hypocrisy of the West, when the ugly debtor state teaches everyone how to live, and at the same time frankly robs everyone, and the rest pretend that everything is as it should be, we blame them for cowardice, inability to honestly and objectively evaluate everything that happens. And what are we better? Yes, our own power has done exactly the same to us! And now, with our own hands, we stop any criticism in our address. After all, any vote is not in favor of our government a priori bought by the West.
As they are saying now: "It's not time to figure out now how it happened and who is to blame - now we need to do something!" Well done! And why should they understand how it happened and who is to blame, if they already know it: just look in the mirror!
During the times of I. V. Stalin, who was truly respected by me, if someone had done something wrong, then it would be something SOMETHING would be done by ANOTHER person. And with the first one, there would be a lot of time, effort and resources to figure out: why NOT SO and WHO IS GUILTY.
But this, as our government says, is not our method. With such methods, we are sorry, and we will come to executions, and how then to steal? In a sense, the welfare of the people to take care? No, no, we are not China, and we are not the USSR ...
I do not know the true reasons why the Central Bank decided to buy people off, but I know that this is unacceptable. In fact, we again experienced the 1998 default of the year, only in slightly smaller volumes - then the dollar did not grow two, but three times, I still remember well how it was.
I do not in any way call for overthrow, revolution, Maidan - any such "action" will lead to the complete loss of the country. Those Americans will not miss this chance, as it was in the nineties.
I urge, first of all, the authorities to recall their obligations and, in the end, to start working for the benefit of the people and the country. It is time to cease to be celestials and realize that we live in a world in which even an unintended error will immediately be used by real-life enemies. It's time to start living in a new way: the official must "plow", not "be." Responsibility for an official should be several times higher and inevitable than for an ordinary person.
But this requires the will of the same government, we need a really working justice system, we need a government idea! And what about us?
And we have one of the first laws - on the immunity of "lawmakers". Taburetkin and Krasnotapochkin are actually victims of prosecutorial arbitrariness (I personally spit at all this farce), but I personally have never heard anything concrete about the state idea, even from the first person of the state, except for declarative statements.
Personally, I am not an agent of the CIA and all other intelligence services, I don't receive grants from anyone, I consider myself a patriot and hate all our home-grown liberal burglary and thieves (as, however, not ours either), but I leave my the right to ask those who call themselves "servants of the people." What did they do to make our country and our people better off?
In my opinion, as long as it turns out somehow not very, I will say frankly - it turns out only worse.