TsKB them. Alekseeva completed work on the conceptual design and began to develop the technical design of heavy ekranoplan A-050, reports
MIC
With reference to the head of the enterprise Georgy Antsev.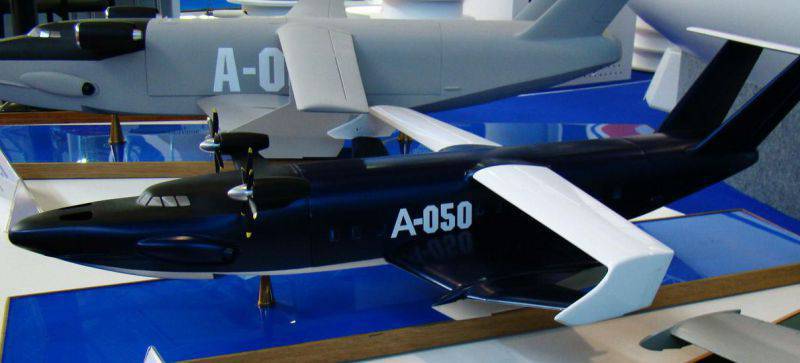 "Works on the A-050 ekranoplane takeoff weight of the 50 t order are carried out within the framework of the development budget of the enterprise," Antsev said.
He noted that "the level of preparation of the project today is such that the company is ready to begin construction of the head sample." In parallel, negotiations are underway with potential customers of the machine.
"Most likely, it will be a foreign customer," said Antsev. - A-050 ekranoplan is ideal for the Federal Border Service, for the Ministry of Emergencies, for the Federal Guard Service, for patrolling the near zone in the interests of the Naval
fleet
».
"A-050 will be equipped with fully Russian avionics and modern navigation and aerobatic complex, developed in conjunction with the Aviation Equipment Research Institute," he said. - The ekranoplan has very good aero-hydrodynamic characteristics. He successfully passed the tests in the wind tunnel and at the hydro channel. "
According to Antsev, the Central Clinical Hospital in recent years "has risen to its feet: many different levels of research and development have been carried out in the speed fleet, in the wing, in the cavern and in ekranoplans, including in the interests of the Ministry of Defense." "TsKB them. Alekseeva regained the former laboratory and bench equipment, almost completely restored the laboratory research and, in part, production potential, "he said.
Help CCB:
"The A-050 marine ekranoplan will have a take-off weight of 54 t, carrying capacity of 9 t or 100 passengers. Cruising speed will be 350-450 km / h. Seaworthiness during takeoff / landing - 1,5 m. Power plant - starting engines P-195 x 4500 kg (as on the Su-25 attack aircraft) mid-flight - TV7-117СМ x 2500 hp (as on the IL-114). Flight range will be 5000 km. "