Global Firepower portal has published a regular ranking of the armies of the world. The rating reportedly takes into account the nuclear potentials of states, the economic security of armies, geographical factors affecting the use of armed forces and other aspects. For each of these points, an army of a state was assigned a certain coefficient, and, based on a general analysis of the coefficients, a rating table was created.
In the top three rankings
Global Firepower
Army of the United States of America, Russia and China. The Israeli army, according to experts who analyzed the potentials of the army, did not make it to the top ten, taking a position in the 11 rating. The army of Ukraine was put on the 25 line - this is between the armies of Sweden and Singapore. It should be noted that in the previous rating of the Global Firepower APU were placed four lines higher. The army of Belarus in this list is in 45-th place, which is two positions above the line, which is determined by the army of Argentina. And the army of Estonia is called the weakest army among the NATO member countries - 108 is a place from 126.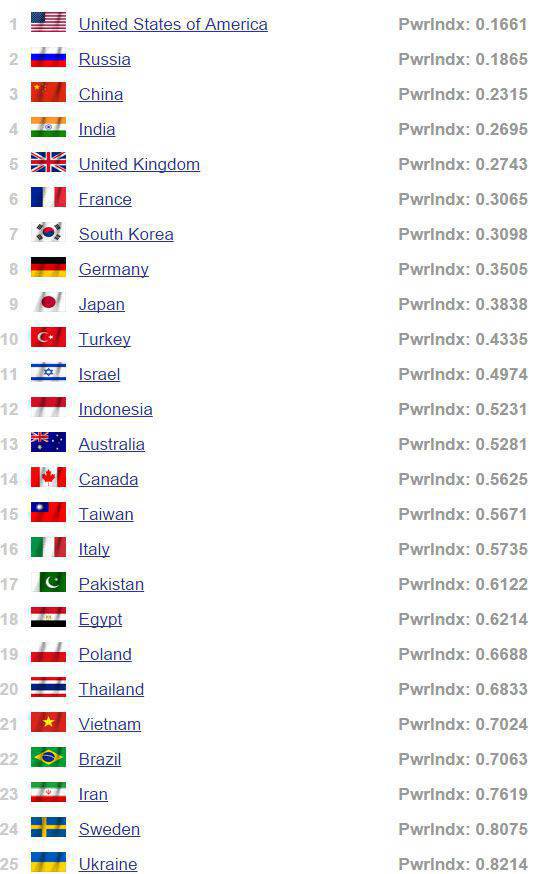 If you believe the data presented in the Global Firepower ranking, the Russian army holds the lead in number
tanks
. The portal reports that the RF Armed Forces are armed with more than 15,3 thousand tanks.