In 2015, at the Daryal mountain range in North Ossetia, around 800, intelligence officers from the Southern Military District received special training. It is reported by the press service of the Southern Military District. Preparation was carried out in a stream format. In total, there were three flows for mountain training this year - 200-300 military personnel in each.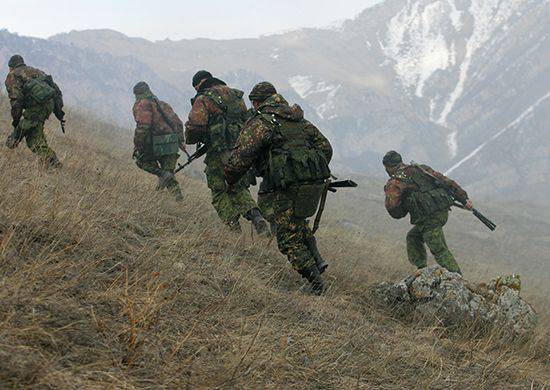 The training course for each stream lasted about two months. During this time, the scouts acquired the skills of action in the rear of a conditional enemy in the highlands. At the same time, the use of various types of skills
weapons
, including special firearms and cold. They mastered the units of military equipment, the latest means of conducting mining intelligence.
From the message
Press Service of the Southern Military District
:
The scouts learned to overcome rocky areas of varying steepness and difficulty using climbing equipment, to make crossings over mountain rivers and canyons during the day and at night in any climatic conditions.
Particular attention was paid to instilling intelligence skills of survival, life support and camouflage while performing combat missions in the mountains of the North Caucasus.
In the final part of the exercise, reconnaissance groups were invited to participate in peculiar duels between the units. In addition, the servicemen climbed Mount Arau (Arauhoh), whose height is 2680 m, and also performed exercises on landing from Mi-8AMTSH helicopters onto a limited area.