The Ministry of Foreign Affairs of Ukraine commented on the statement of the Investigative Committee of the Russian Federation that the international law and legislation of the country allow the Russian office to investigate criminal cases of war crimes in the Donbass.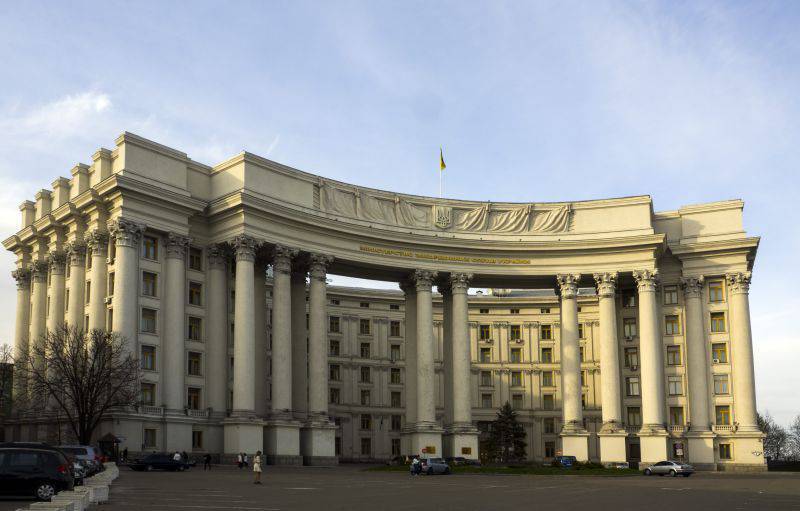 "The statements of the Investigative Committee of the Russian Federation once again cause outrage in Ukraine - they have nothing in common either with international law, or with reality or common sense. There are no grounds for the Russian Federation to apply its jurisdiction on the territory of Ukraine, except for the investigation of the crime of aggression, which is carried out by Russia against our state, "reports the Ukrainian agency RIA
"News"
.
According to the Ukrainian side, such an investigation can only be carried out against the top military and political leadership of the Russian Federation, and it is the Russian authorities who are responsible for numerous destruction and casualties among the peaceful population of Donbass.
International humanitarian law stipulates that countries are obliged to find and bring to justice those responsible for serious violations of the Geneva Conventions from 1949, as well as additional protocols I and II to them from 1977, or in any way involved in war crimes . Prosecution of such persons and their extradition for trial in the territory of another state should also be carried out.
The statement of the Ministry of Foreign Affairs of Ukraine was commented by the official representative of the Investigative Committee of the Russian Federation Vladimir Markin:
We understand, though without sympathy, the personnel problems of the department in Kiev, which is trying to fulfill the duties of the Ministry of Foreign Affairs. The study of international conventions aimed at preventing genocide and other war crimes is, indeed, difficult for those who build their careers solely on the possession of the sovereign movement, which eliminates the need for any more knowledge.

We know that in the next version of the "state power" there is no distinction between "war crimes" and "war crimes", which is in the official languages ​​of all civilized countries. Apparently, this is also a problem of the perception of its procedural status of the "sovereign elite". At the same time, I would like to remind the staff of the Kiev misunderstanding that ignorance of international laws does not exempt from responsibility, and also that the Foreign Minister of the Nazi regime, von Ribbentrop, was hanged by the Nuremberg Tribunal as a war criminal. The fact that such a tribunal for war crimes in the Donbass will take place and the evidence collected by the TFR will form the basis of a harsh sentence - there is no doubt.