The German army, formerly one of the largest and most well-equipped, faced serious problems due to underfunding in recent decades, according to an article published in the journal National Interest.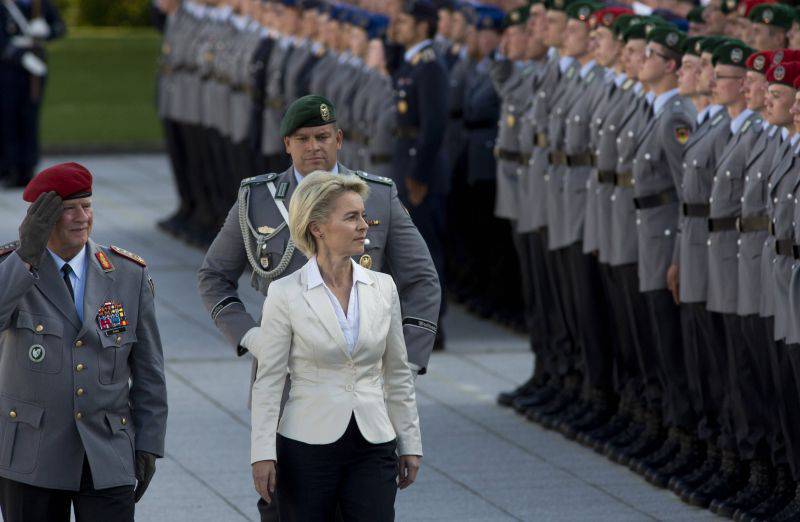 "After the unification of the FRG and the GDR, the military budget was cut, the number of military equipment was reduced by 75%. Now Germany spends about 1,2% of GDP on defense, while NATO recommends maintaining military spending at the level of 2% of GDP, "the article quotes
RIA News
.
The author cites the main problems faced by the Bundeswehr due to lack of funds:
1. Germany had to cancel the "large-scale procurement program for Eurofighter Typhoon fighter jets, and at the moment only 109 aircraft of this type are in service with the German Air Force." Last year, the lack of spare parts led to the fact that only 42 machines remained in combat-ready condition. And because of defects in the design of the fuselage, the life of the fighters was halved.
2. "The underfunding was reflected in the Eurofighter Tornado fighters, which are in service with the German army. In August, 2014, it became known that only 89 of the 38 aircraft are in working condition, "the author states.
3. As a result of excessive savings, the number of basic
tanks
Leopard II. There were 225 of them left, while in West Germany there were more than two thousand cars.
4. "Problems also arose with the G36 assault rifles. Since 1996, the Bundeswehr bought 176 thousands of G36 rifles, but later during the fighting in Afghanistan, it turned out that rifles lose accuracy in the long skirmishes. Perhaps this problem was not obvious to the army in peacetime. But it is still difficult to understand why the defect was not noticed before, "the magazine notes.
5. The lack of funding was fully manifested in the course of the NATO rapid-reaction forces training exercise that took place in Norway in February: "German soldiers had to use sticks instead of machine guns," the newspaper reminds. It turned out that the soldiers were transferred
weapon
from other parts of the Bundeswehr, but it was not enough for everyone.
"This situation in the Bundeswehr raises the question of whether Germany is capable of fulfilling its obligations to NATO," the author concludes.