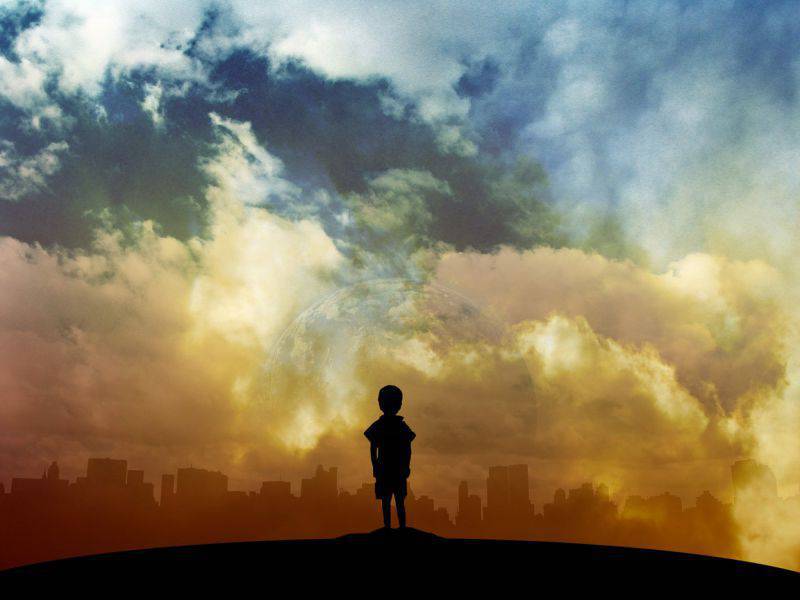 Thousands and thousands of reasons to be ashamed of watching us from newspapers, websites, reports, radio and television. There is shame. And the facility is found. You just need to give up all this and say: "This is not me. That's not mine".

I love talking to people about dreams. I love to read about dreams. I love to hear about them. For dreams, almost everything can be said about a person or a society.
There are many different genres of dreams. There is science fiction - about starships, about protein synthesizers, traveling and mastering the planets. Soviet - about the struggle for the exaltation of man. Or capitalist - a desperate adventurous struggle for a place under the sun. "Planet of Storms" and "Indomitable Planet." Strugatsky and Harrison. One genre, and what a huge difference!
Or here's a fantasy. Or a marvelous genre of "popanstvo", caused by a strange and characteristic for Russians, the desire to alter their own
history
.
And here is a little dream again. Dream expressed Oleg Kashin. She talks a lot about dreamers.
They celebrated the Olympics, and even the press critical of the Kremlin notes the high quality of its organization, and state television says that Russia has shown itself open to the world, and Merkel flies to Moscow and sincerely happily embraces his friend Vladimir, and there are no stickers about Obama on Russian cars Only about the grandfather and the victory is, and no "can repeat."

The ruble is stable, oil is expensive, supermarket shelves are full of hundreds of varieties of the finest European cheese.

Sometimes, in order to trample something, you don't need to jump at it with fists and angry denunciation. Sometimes it is enough to just truthfully supplement.
So I will just continue.
It was a friendly football match between Spartak Moscow and Metalist Kharkiv (or Arsenal - I don't care). Ukrainian fans with flags and symbols passed through the streets of Moscow. Among them were the ultras who participated with the burning of people in the Odessa House of Trade Unions. The police did not intervene.
The deputies of Ukraine D. Yarosh and A. Biletsky visited the Echo of Moscow radio station - the leading Echo Buntman congratulated them on the anniversary of the ban of the Russian language and asked about national policy.
Prime Minister of Russia D. Medvedev met with his counterpart A. Yatsenyuk. Talk about gas discounts was held in a friendly atmosphere.
An article by I. Farion on the full support of the population of Crimea of ​​the ban on education in Russian and the replacement of Russian was published on the Novaya Gazeta website
fleet
to american.
And so on.
Is the picture described above by O. Kashin worth enduring the inevitable attachments to it in the form?
Is freedom from the need to be polite with these vile mugs, frankly speaking, a few conditional hardships that we endure?
The price of a dream is what is important to understand and present well before inviting someone to dream the same with you. Do not you give out something about yourself that no one needs to know?
But the advice from a dreamer. Also interesting:
Just stop treating the Russian Federation as your state. It is not yours, not ours. It sat on our heads without asking us if we want this. It exists independently of us, the only form of its interaction with us is its police structures. The man who was killed at the Dalniy ATS - if he were alive, would he also say that he was ashamed of the police?

Let the Russian Federation be ashamed of the Russian Federation - it's not us, it's not related to us. This is a foreign state, it is hostile to any Russian person. Saying that you are ashamed of him, you stand on his side. Treat him like ISIS - are you ashamed of ISIS?

Seductively. Oh, how seductive. How easy it is to get rid of shame.
Yes, Kashin and I are ashamed of different things: he is ashamed of the fact that they put Sentsov in prison, and I, for letting Vasilyev out. His friends are ashamed of the fact that Stomakhin is sitting (for what? He just simply called for killing and discriminating the Russians), for me because of the insult based on the nationality made by the media, Ernst Kudusov and Alfred Koch did not sit down.
And for the fools and the road ashamed. And for the lack of hospices. Not enough schools, kindergartens, hospitals. Education, honesty, conscience is often and often lacking.
I have under the windows all the edge of the forest dirtied. The citizens rest and leave traces of their rest everywhere - packaging, paper, bottles, barbecues.
Disgusting. It's a shame for fellow citizens.
Our prefect is trying to pave our way through our forest. And all the while trying to pretend that the residents of our area very much agree with that. It is a shame for the prefect.
Thousands and thousands of reasons to be ashamed of watching us from newspapers, websites, reports, radio and television.
There is shame. And the facility is found. You just need to give up all this and say: "This is not me. That's not mine". Those who want to stop feeling ashamed - you just need to step aside. Those who do not want to have a common country with thieves, fools, corrupt officials, criminals - you just need to move away.
For those who do not want to mess, you need to move.
For this it is not necessary to enter into liberalism. It is possible on the contrary - to enter into something patriotic. You can even in the Soviet. Or nationalistic. Taste. The main thing - to abandon this country.
The solution is so easy. So simple. So seductively elementary.
Move away. And do not interfere.
Because there are those who calmly refer to the blood and dirt on their hands. There are those who are not afraid to get dirty. There are those who are not tormented by shame.
And they have to deal with this country.
And you with your "this is my country", with your still working and living shame - you can stop this business. Of course, they can pass through you too, but this will increase costs. And these people - honor the rate of return.
So yes - embarrassing.
But we are not going anywhere. Because this is all ours.
And with dirt, and with ill-bred fellow citizens, and with Vasilyeva, and with roads and fools, but also with Pskov paratroopers who did not leave the scientists. With hopes and graves of ancestors. With Stalin and the Terrible, with Seraphim of Sarov and Sergius of Radonezh.
All this is ours.
All this is us.
And even if we are still far from perfect, we have not yet become hell, floor cloth, or regimental regiment I have described ...
And our shame, our ability to be ashamed is needed precisely by this country and ourselves. Our people and our children.
And we will not give up this shame to anyone and will not exchange anything for anything.
Peace - dead.
And the country - to us.
And imagine that there was no Crimea. That is, it was, of course, but it remained an autonomous republic within Ukraine, and Aksenov still sits at the threshold of the Verkhovna Rada, to which he will never be elected, and the prosecutor Poklonskaya is visiting the Crimean grandmother no longer in the prosecutor's dress, just staying, without any ambitions ...