EU officials have decided to extend anti-Russian sanctions until March 1 2016. The document was prepared at a meeting of the permanent representatives of countries belonging to the European Union. 15 September, as expected in the EU, the decision will enter into force after its approval by the Council of the European Union.
European politicians have tried to argue the extension of anti-Russian sanctions with regular statements about "encroachment on the territorial integrity of Ukraine from Russia", as well as about "raising the sovereignty of Ukraine by Russia". An interesting argument, especially considering the fact that the EU, together with the United States, did everything to ensure that Ukraine really lost its sovereignty ...
Simultaneously with the EU, anti-Russian sanctions were also announced in Washington (and this is understandable ...). Moreover, Washington is announcing the expansion of the sanctions list, adding to it those Russian companies that are either involved in defense production or allegedly violated the nonproliferation agreement
weapons
, "Transferring technology to the DPRK, Syria and Iran." It turns out that the United States is now trying to write a fairy tale that Assad "created the atomic bomb" ... Everything is in the spirit of "Powell's test tube" ...
The list of companies for which the United States imposes sanctions includes such as:
Rosoboronexport, Tula Instrument Design Bureau, NPO Mashinostroyeniya, MiG Corporation. The full list is presented on
American Government Gazette website
.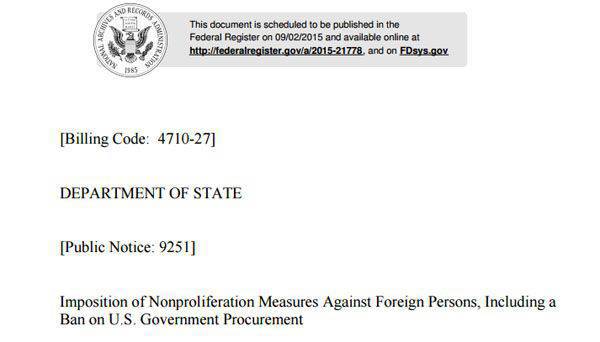 Considering the fact that Russia is the second (after the USA) arms exporter and makes a strong competition to American companies on the world market, American sanctions look like another desire to put a stick into the direct and main competitor of the wheel. At the same time, the United States themselves are pushing Russia to make deals with partners using national currencies and to refuse to receive payment in US dollars.
Washington introduces sanctions against not only Russian companies. Thus, companies from the DPRK, Iran, Sudan, Syria, the United Arab Emirates, China, and even a NATO ally, Turkey, are on the updated list (and the list is being created from 90).