A publication appeared on the website of the Ministry of Internal Affairs of Ukraine, in which officials in police uniform try to declare that drunkenness in the Ukrainian army, the National Guard and the border service is a provocation of "the enemies of Ukraine". The submission says that Kramatorsk police officers detained a man who allegedly was in the "DPR militants" (militia) detachments and was performing tasks to "discredit the Ukrainian military."
In an article published
on the website of the Ministry of Internal Affairs of Ukraine
it is reported that the young man "lived at the checkpoint" and often abused alcohol, wearing pre-uniform Ukrainian border guards. From the message of the press service of Kramatorsk GO GUMVD:
Because he joined the ranks of the illegal armed group, the young man was fed and promised to pay money. He lived at the checkpoint.
Periodically, the fighter carried out another specific task - in the building of the captured executive committee, he was given a uniform on which were distinctive signs of Ukrainian border guards. The task before the Kramatorchan was simple was to use alcohol and discredit the Armed Forces of Ukraine by their behavior.
At whose checkpoint did he "discredit" the APU? - The press service of the Kramatorsk department of the Ministry of Internal Affairs does not inform.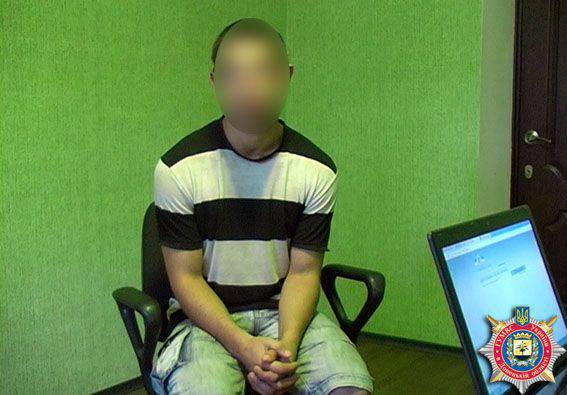 And in the costume of Poroshenko with the imposition of makeup (for performances before the people) did not the young man change clothes? ..
Now the detainee is held in Ukraine under Article. 258-3 "Creating a terrorist group or organization" of the Criminal Code of Ukraine. What kind of terrorist organization did he create - "Freedom" or, perhaps, the "Right Sector"? ..