The FSB of the Russian Federation represented by FGKU "Military Unit 55056" has placed a tender for the purchase of 6-Ka-226T, which will be used as deck helicopters on patrol ships of the 22460 project, reports the blog
bmpd
. Ka-226T performed by "226.57" is indicated as the base model.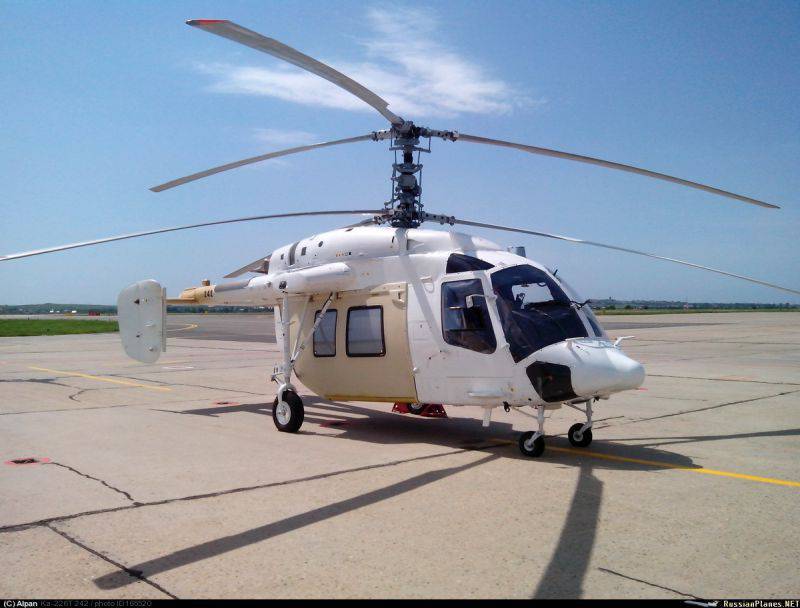 The third built Ka-226T in Anapa. June 2015
Under the terms of the competition, it is supposed to retrofit machines with "pivot rigs for fastening small arms with a caliber up to 7,62 mm", as well as retrofitting them with "night-vision goggles GEO-ONV-1-01". From the rescue equipment is provided winch SLG-300.
The customer proposes to modify the design documentation with the O1 letter to meet his requirements "with the consequent flight and strength tests to confirm the correctness of the chosen technical solutions".
The cost of the first car, taking into account the modifications, is defined in 601,6 million rubles. The helicopter must be ready before 1 April 2017 g. The price of mass-produced cars will be much lower: "in 2017g. - 328,7 mln. Rub., In 2018g. - 344,5 million rubles. The total value of the contract according to preliminary data will be 2,27 billion rubles.
The blogger notes that "by the time of the execution of the state contract for the Ka-226T, the coast guard will receive all the ordered 22460 CPDs by now (11 - at Almaz and three - at the Eastern Shipyard)".