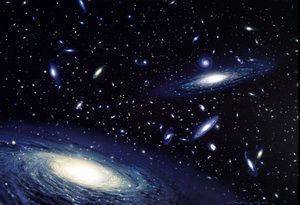 To recognize the infinity of the universe, with its eternal laws, every moment of its existence - shouldn't this happen when you grow up and get experience? Yes, perhaps this is exactly what happened in people in the distant past, and the awareness of the infinity of the cosmos and the infinity of development paths was present in the consciousness of an educated adult.
The connection with the laws of the universe and the awareness of being a speck of dust in the universe in no way prevented the development of egoism - a sense of superiority over their own kind. One could imagine this by damaging one's brain, then a person could come up with some kind of illusion, according to which something eternal and infinite universe opens up to him entirely because it is he, and not through his work, altruism and correct perception of reality - when each person is a part, a cell of a single organism, which is that small particle - a dust particle in the universe, subject to the general laws of harmony and development.
Only a person with a damaged brain, a mental handicap or underdeveloped, could plunge himself into the obscurantism of superiority and some influence on these most immutable and eternal laws. And what do we see? As a result of the selection and upbringing of a certain type of "homo sapiens", the planet is now flooded with degenerates - mental disabilities who have managed to immerse themselves in the most perfect spiritual stupidity, according to which everything that is ugly and deceitful, that which goes against the laws of the eternal and infinite universe, can live at the expense of their fellows, taking away general resources and destroying those who disagree with such global schizophrenia.
Such obscurantism is possible only in a perverted and sick mind, which is subject to constant mental processing - a kind of hypnosis, imposing the perception of beautiful scenery on the moldy walls of a musty basement. The functions of educating degenerates are entrusted to deceitful "spiritual" and religious teachings, theories of a certain superiority and chosenness, which are based on non-moral principles and spiritual values, which have been tested for centuries and praised by all sages.
stories
but exactly the opposite. At the output, we get a perverted system that has nothing to do with the laws of development and harmony of the infinite universe; on the contrary, we get a whole range of rules that inhibit and dumb society, reduce its number, poison and turn into unconscious slaves. The fact that this leads unequivocally to the global suicide of civilization cannot be understood by degenerates, but it is obvious that, being a cancer cell in the vast expanses of the universe, you should not hope for the mercy of its laws that support everything harmonious and progressive and destroy everything ugly and degenerative. Failure to understand this only indicates the mental illness of those who were appointed to look after the suicide of civilization under the legend of the future reign among the reduced and microscopic population.
The fact that the concepts of eternity and infinity do not mean anything to these spiritual monsters can be felt by everyone, because it is very difficult for any person to perceive this reality without plunging into a certain state (actually disconnecting from the imposed degenerative "values"). This is the groundwork of a modern system that brings up people in illusion and worship of certain invented attributes of "success and prosperity". Thus, everyone can feel for themselves how perverts hide reality from their own and our understanding, which reigns forever and extends endlessly.
We are turned into biorobots, perceiving only an illusion created on a speck of dust in infinity, in this "reality" there are rules of "development", driving a person to the world limited to this dust particle with its "values" and rules. And even that would be nothing (they would have coped with the time), if all this did not work under an accelerated program to destroy humanity, along with spiritual morons - "looking", who imagined themselves to be some kind of "supreme guide".
It's time to remove the madmen from the helm of civilization, there is very little time, we are right on the brink ...