Ukrainian authorities are considering a new military doctrine of the country. And today, Yatsenyuk, who is in Odessa at the opening ceremony of the X-Breeze 2015 exercises, announced that the new doctrine has already identified both opponents of Ukraine and the aggressors. As it turned out from the words of Yatsenyuk, Russia became a state that received two "statuses" from the Ukrainian developers of the doctrine at the same time: "adversary" - once, "aggressor" - two. It is reported by the news agency
Interfax
.
Prime Minister of Ukraine Yatsenyuk:
In the draft military doctrine for the first time in
history
independence of Ukraine identified opponents and aggressors, which is Russia.
Now the new Ukrainian doctrine should be discussed at a meeting of the members of the National Security and Defense Council of Ukraine, of which Turchinov is the secretary, and Poroshenko is the chairman. At the same time, it is reported that Ukraine will continue to demand from foreign countries that they officially recognize Russia as an "aggressor country."
At a time when Yatsenyuk was in Odessa, Turchinov visited the military lyceum named after I. Bogun, in which they study (among others) 8 children whose fathers died during the civil war in the southeast, and 36 children whose fathers are in battle zone now. In this Turchinov
рассказал
Lyceum pupils on how to win the "war with the aggressor":
It is possible to win this war only due to a combination of military art, diplomatic talent, civil responsibility, and having iron restraint and will.
Apparently, Turchinov himself considers himself the owner of all these talents ...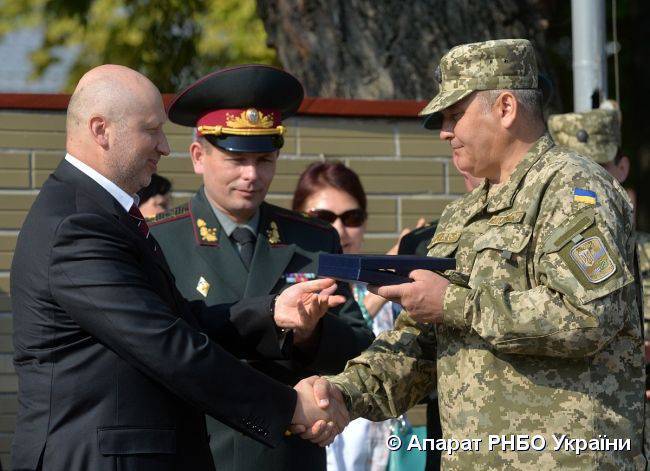 After this tirade, Turchinov handed over to the lyceum units
weapons
, which was delivered from the zone of the "ATO".