A spokesman for an extremist organization (in Ukraine is a party), the Right Sector, Artyom Skoropadsky, said that today's carnage at the walls of the Verkhovna Rada is a provocation of either the current authorities or "external forces". According to Skoropadsky, Poroshenko "repeats the path of Yanukovych." Skoropadsky also said that representatives of the "Right Sector" came to the parliament building to protest with constitutional reform, but the police "were the first to resort to violence."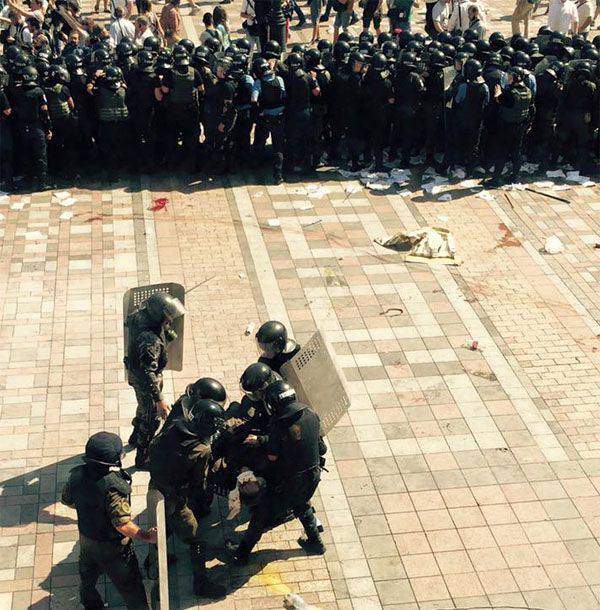 At this moment, there is known about one dead under the walls of the Verkhovna Rada in Kiev as a result of unrest, in which Pravoseki, representatives of Freedom, and other radicals took part. A soldier of the so-called National Guard conscript, who was wounded in the heart, was killed. Avakov, Minister of Internal Affairs of Ukraine, has already reported about a bullet wound to a serviceman, adding that the number of injured has exceeded 120 people:
122 of the wounded under the Rada, one dead - soldier of the National Guard, a gunshot wound to the heart. Including several people in serious condition. This is the result of abandoned several explosive devices on the part of people in T-shirts of the Freedom party who organized a fight with the National Guard under BP.
Mr. Freedom, how does "Freedom" differ from scum shooting our guardsmen at the front ?!

No political goals justify what you have accomplished today under the Rada. You didn't bring a meeting with political disagreements near Rada - you brought scum who injured more than fifteen fighters who had gone through the front! Four fighters with very serious injuries to the eyes, abdomen, neck and legs ...
The name of the deceased national guard - Debrin Igor Anatolyevich, 1990 year of birth. Place of birth - Kherson region.
Meanwhile, Skoropadsky mentioned above comments on the events in the center of Kiev like this (quote
Delphi
):
You see, we cannot specifically say that the authorities did it - they could have been provocateurs or Russian special services. We say that everything that happens today is caused by the activities of the authorities. The current vote is a betrayal of Ukrainian interests. We said we would protest, we went out and protested.
The representative of Oleg Lyashko's Radical Party, Igor Mosiychuk, known for his threats to kill Ramzan Kadyrov, said that "Poroshenko's anti-people policy provokes people to revolt."
Poroshenko himself at the same time was noted only by the fact that he had declared about the upcoming appeal to the Ukrainians in connection with the events under the walls of the Ukrainian parliament. And this preparation has been going on for several hours. Apparently, the entourage of the President of Ukraine is trying to compose a text that would "denounce" only "external enemies" in the deed ...