In Ukraine, they are trying to justify the allocation of billions of hryvnias to create the so-called "European shaft" on the border with Russia. Thus, the ex-foreign minister "Square" (2007-2009) Vladimir Ogryzko said that the "wall" that Yatsenyuk is trying to build helps to protect Ukraine from the "Asian horde". In the magazine
"New time"
There was an article for Ogryzko in which he writes:
A separate conversation is a wall between Ukraine and Russia; it is being built little by little and that is good. After all, it is along the eastern border of Ukraine that the civilization border between democracy and barbarism will pass.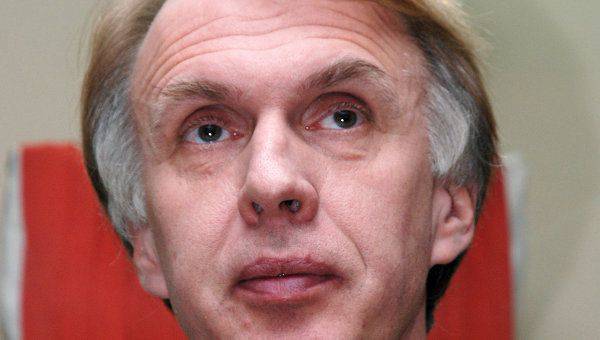 At the same time, Ogryzko did not specify from which side of the wall barbarism ... Not from the one where they cover tires with monuments to the victims of fascism and set fire to them, not from the one where people are being pushed into trash cans and sprinkled with flour, not from the one where create "black lists" of cultural figures and ban dozens of books? And this is without taking into account a whole series of war crimes ...
Bit:
(...) we simply need a wall. Unlike the Baltic countries, in which the territory of contact with Russia is relatively small, Ukraine has 1974,04 km of border with the Russian Federation in the east and northeast. It is through these territories, in which case the Asian horde will go to the West;
historical
examples of this already exist. Therefore, in our case, the wall should be more than just a symbol: it should be deeply echeloned, as military experts say, so that it cannot be broken through for no reason. It is necessary to build it, because democratic states can communicate with the current Kremlin regime only through the wall.
Meanwhile, the readers of the Ukrainian newspaper Novoye Vremya for the most part respond to Ogryzko with words that are far from supporting his theses.
One of the comments (user
Klopez dron
) (style saved):
Is it really not clear that isolating oneself from the Moscow "horde" will not work. This fencing off can only lead to the perfect impoverishment of Ukraine. Sooner or later, patriotic pragmatists who will establish relations with Russia and continue to trade for the good of both countries will come to power in Ukraine. And the hysteria that prevails now in Ukraine, especially among the Russophobic elite (Poroshenko, Yatsenyuk, Ogryzko (what is the last name)), is simply from stupidity, corruption and powerlessness.