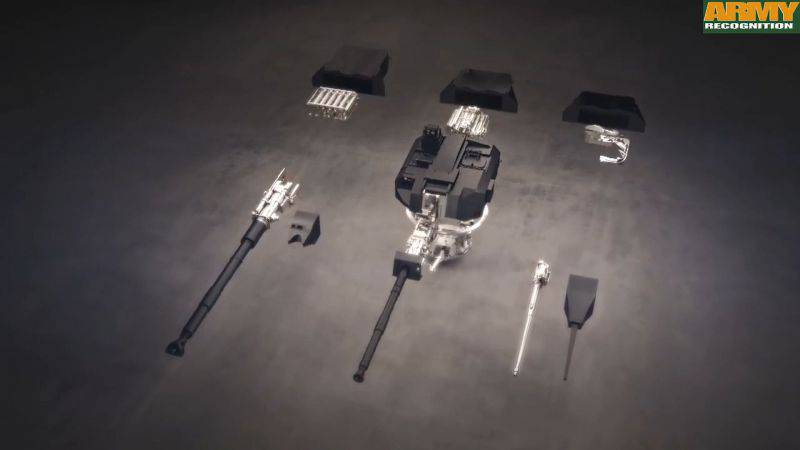 The CMI Defense Cockerill 3000 turret family with the largest 105 caliber on the left and the 25-mm cannon on the right
CMI Defense began mass production of its new modular and scalable Cockerill 3000 series towers for an unnamed overseas customer.
The tower, designed for armament caliber from 25 mm to 105 mm, is available in habitable and uninhabited configurations.
Each configuration has a single basic design, optimized for the largest caliber armament, but with a computerized fire control system (FCS), optical instruments, ammunition processing system, as well as gun and turret drives adapted to the installed weaponry. The human-machine interface, physical, computer, electrical and electronic architectures remain the same.
James Codl, commercial director at CMI Defense, said that "the use of an automatic loader allows our large-caliber weapons with low recoil force to be installed in a tower, which by physical parameters is very similar to a modern tower with a medium caliber."
The autoloader can be configured for a caliber from 90 mm to 105 mm, the turret and gun drives are expanded in order to "cope" with all the loads and configurations of weapons from 25 mm to 105 mm.
On the basic all-welded turret, made of aluminum armor, additional armor units with various combinations of steel, ceramic and multi-layered sheets can be installed in order to obtain maximum protection STANAG 4569 5 level.
The commander in the tower sits on the left and the shooter on the right. Each has a one-piece hatch opening back plus daily periscopes to increase situational awareness. If necessary, the commander can be installed on the roof stabilized panoramic day / night sighting system with eye-safe laser range finder.
Electric tower drives with dynamic obstacle avoidance function and manual backup branch.
The unified open electronic architecture of the towers of this series simplifies the process of modernization and integration of subsystems when the threat changes or new technologies appear.
CMI Defense has designed the base platform of the 3000 family to integrate a variety of sighting systems, but today only three sights are qualified.
These systems can range from unstabilized daytime / with enhanced image brightness sights to fully stabilized daytime / thermal imaging systems with a laser rangefinder. They are connected to a computerized OMS also developed by CMI Defense so that you can capture stationary and moving targets in any combat conditions.
As already noted, the basic concept behind the development of the tower was to change the weapons in the architecture of one tower, scaling the firepower to match the perceived threat levels. The machine gun is mounted coaxially with the main gun, the caliber and type of machine gun is chosen by the customer. If necessary, a remote-controlled combat module armed with a stabilized 7,62-mm or 12,7-mm machine gun or even an 40-mm automatic grenade launcher can be mounted on the roof of the turret.
Depending on the requirements, it is possible to install any type of grenade launcher installations with electropetrusions, including 66 mm, 76 mm or 81 mm. Another type of armament is anti-tank guided missiles, a container with them is mounted on the side of the turret.
Vertical guidance angles depend on the range of weapons installed, they vary from 60 ° for medium-caliber guns to 42 ° heavier weapons. The latter can, however, be used both in city battles and in melee combat.
The Cockerill 3030 tower was recently installed on the Desert Piranha 5 8x8 from General Dynamics European Land Systems and MOWAG, and was armed with the tried-and-tested XKUMNMX double-powered X-gun of the ATK Armament Systems company.
CMI Defense supplies special kits for transforming the turret with the MK44 cannon, which consists in moving from mm 30xXNNXX ammunition to 173-mm Supershot. This functional flexibility is noted in the designation of the Cockerill 40 / 3030 tower. It can be upgraded to 40-mm ammunition with improved impact on the target when firing air explosions.
The CMI Defense 90 mm Mk8 can fire a variety of ammunition and is currently in service with several countries.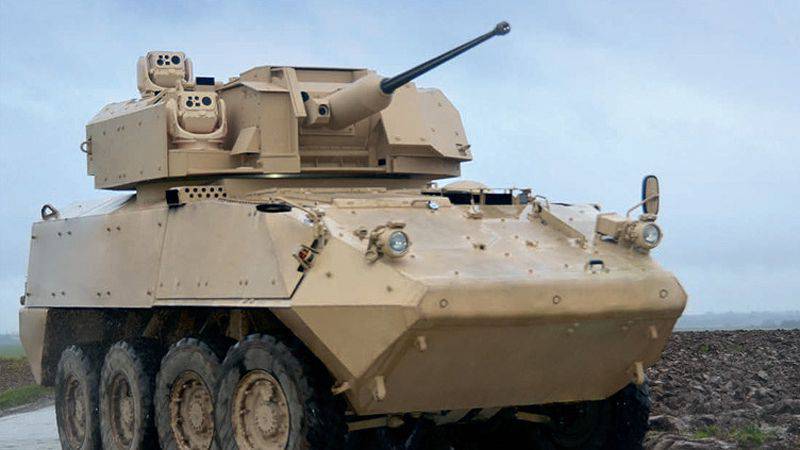 Desert Piranha 5 with installed CMI Defense Cockerill 3030 / 40 turret with 30-mm dual-feed MK44 cannon from ATK Armament Systems and two stabilized sighting systems
Extended Tests
A low recoil rifled 105-mm CV gun is installed not only in the CMI Defense CT-CV tower, but also in the Cockerill 3105 turret. She has already passed extensive tests on a variety of tracked and wheeled platforms. The 105-mm version is distinguished by an automatic loader mounted with the 12 or 16 ammunition mounted in the aft alcove of the tower.
In addition to firing all types of NATO-standard 105-mm ammunition, such as armor-piercing sub-caliber, anti-cumulative, high-explosive with a crushed warhead, the Cockerill 3105 can fire the Falarick anti-tank rocket through the barrel of a gun. A similar feature is also available for the Cockerill 90 3090 system.
The laser-guided Falarick missile was developed jointly with Ukraine and is distinguished by a tandem warhead designed to penetrate conventional steel armor protected by dynamic protection units.
Falarick has a maximum range of 5000 meters, the shooter keeps the target in the crosshairs until the very meeting with her. This rocket was successfully tested at test sites in Poland and the UK.
For training in work with a tower of the Cockerill 3000 series various computer simulators were developed. They range from traditional desktop simulators to networked computers and turret-simulators, which allow trainees to get the most realistic conditions possible.
A new family of towers is offered along with the already existing line of towers, which varies from the 30-mm Cockerill Protected Weapon Station (CPWS) tower to the XC-8 105 mm / 120 mm tower.
CMI Defense recently signed a memorandum of understanding on cooperation with the Korean Doosan DST to design and manufacture a tower in South Korea. The memorandum provides for the installation of the CMI Defense CT-CV 105 mm tower on the mass-produced BMP K21 in order to create a mobile lightweight
tank
.
CMI Defense also collaborates with PT Pindad to jointly develop and manufacture various towers in Indonesia from 20 mm to 105 mm.
PT Pindad has recently manufactured the first five of its new Badak 6x6 fire support platforms. They also installed a CMI Defense CSE 90LP turret, armed with a low-pressure Cockerill Mk 90 3-mm low-pressure cannon.
CMI Defense recently delivered a batch of Cockerill CSE 22LP 90 turrets for installation on Doosan Black Fox 6x6 light armored vehicles in service with Indonesia.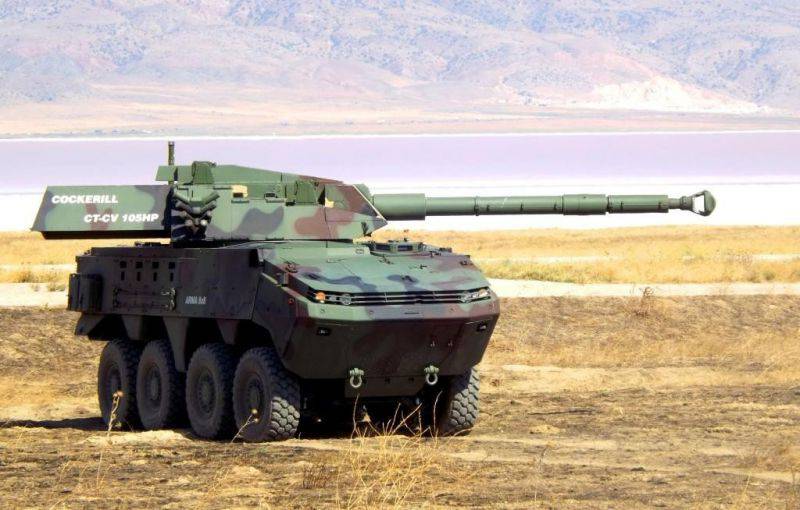 Arma 8x8 armored personnel carrier from the Turkish company Otokar with a CMI Defense Cockerill turret, armed with a CMI CT-CV 105 HP rifled cannon, which has an automatic loader in the rear stern of the turret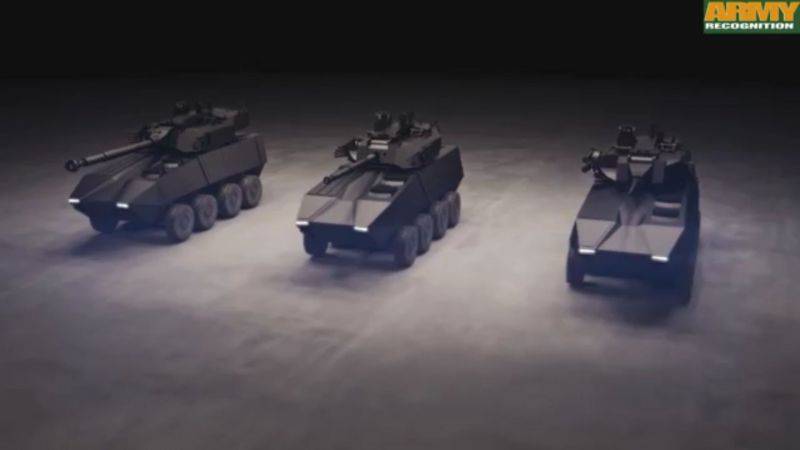 A typical family of light armored 8x8 vehicles with CMI Defense Cockerill 3000 turrets. From left to right: with 105-mm cannon, 90-mm cannon and 30 / 40-mm automatic cannon with ATGM launcher on the right side of the turret
Complete family of towers
Designation - Armament
Cockerill 3025 - 25-mm gun
Cockerill 3030 - 30-mm gun
Cockerill 3030 / 40 - 30-mm gun with the ability to convert to 40-mm
Cockerill 3035 / 50 - 35-mm gun with the ability to convert to 50-mm
Cockerill 3035 - 35-mm gun
Cockerill 3040 - 40-mm gun
Cockerill 3050 - 50-mm gun
Cockerill 3090 - 90-mm gun
Cockerill 3105 - 105-mm gun
Comment
Using a single common platform for armament calibers ranging from mm 20 to mm 105 is unusual. This approach may seem inefficient, since the overall platform in size and strength should correspond to the largest caliber. However, CMI Defense uses proprietary cannons with a low recoil force with automatic loaders, which in large calibers will reduce the crew to two people. CMI Defense states that any compromise is worth it if it turns out to be a heightened advantage for the customer, including lower cost of the entire service life and the diversity of the fleet of weapons used.
The widespread use of a common man-machine interface and physical, computer and electronic architecture potentially significantly reduces costs in the long run and increases combat flexibility.
The Cockerill 3000 tower is offered for installation on new tracked and wheeled platforms, as well as on existing platforms weighing about 20 tons in order to increase their firepower.
Cockerill 3000 Series from CMI Defense at IDEX 2015
Materials used:
www.janes.com
www.cmigroupe.com
www.otokar.com
www.youtube.com
www.wikipedia.org