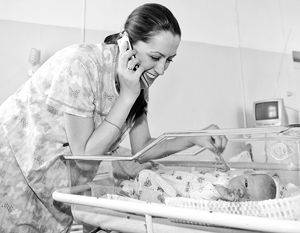 "We need a normal Russian multi-generation family with many children." With these words, demographers describe the only recipe with which Russia can avoid a demographic catastrophe. The fact that our country is threatened with a decline in the number of millions, indicates too many circumstances.
On Wednesday, an article in the Times made a lot of noise, referring to Yury Krupnova, chairman of the supervisory board of the Institute of Demography, Migration and Regional Development, who said that 2050 million people would live in Russia by 80. In an interview with the newspaper VIEW, Krupnov explained that there was a mistake by a British journalist: in fact, the scientist spoke not about 2050 a year, but about 2100. However, he stressed that in any case the situation is alarming.
"If we leave everything as it is, then by the average — not by the pessimistic, but by the middle scenario — by the end of the century we will have about 80 million people," he said. - We have a total fertility rate (the relative number of children per woman of childbearing age), which is now situationally high enough, maybe in the next two years to 1,7. And this is still good, because with current trends, in a few years there will be 1,5 – 1,4. In our 2025 year, women between the ages of 20 and 30 will be almost 70% less than they were in the 2011 year. "
"In order for reproduction and the number of population to remain at the same level, 2,15 is needed. As a result of the fact that a pit begins, we are worse off than in 90-s, we need 2,5 children per woman - so that the numbers just stay out of the blue! "Added Krupnov.
"Our officials can say that migration is not considered here. They can say, "but if in 2020, 100 million Chinese settle in Russia, this process will be different." I am not discussing whether we need a million or 100 millions of Chinese. It's about demographics. Demography is the reproduction of the population on its own. You can't bring 30 to millions of people from Central Africa and say that our demographics have improved.
This is an obvious thing, and the fact that the government is hiding it, stating some nonsense - first of all, Mrs. Golodets - in my opinion, this is the main problem. She says that we have an increase in the birth rate and we have coped with demographic difficulties. They say everything is fine with us, and the birth rate has grown over the last six years. But she grew up with a very low base. The problem is that Golodets does not say simple things that require the demographic and political mobilization of our country. We, by the way, will have 2025 million less than the working-age population by the year of 10. And this is not only a question of economics, but also a question of the army. We are experiencing a demographic catastrophe. It's like a man who had a stroke yesterday, they say that he is healthy, because yesterday he could not move, and today he is moving his little finger, "he said.
The problem, however, is characteristic not only for Russia. "As a result of aggressive demographic policy, France has managed to bring its coefficient to almost two. America has a growing population. The structure of the population is changing in the direction of not only white Protestant. Yes, a lot of migration, but not more than a third, and the United States is an immigrant country by definition. In Germany, extinction - 1,4 – 1,5. In Japan, the extinction of the country is being discussed as a key process.
When migrants come to Paris, in the first generation the number of children is sharply less, in the second generation they correspond to the reproduction mode, which corresponds to the reproduction regime of the country, that is, cultural attitudes. Today we chat about Asia, about Africa, and in 15 – 20 years there will be the same problems. This is a worldwide problem. And Russia needs to become a leader in solving this issue, "he believes.
Head of demography, population and migration at the Russian Institute for Strategic Studies (RISS), editor of demographia.net portal Igor Beloborodov makes more alarming predictions with regret.
"Yury Vasilyevich is a well-known optimist," he told the VIEW newspaper. - After 2025, we will have such a strong failure, which will not be compensated with absolutely nothing, that all this
история
will get a snowball effect. Today we have about 11 million women aged from 20 to 29 years. Already by 2025-m their will be two times less. And there is no expectation that these women will give birth to more of the current generation. Each subsequent generation gives birth to fewer children. It would seem that there is nowhere less, but in fact the practice of such states as Singapore, Japan, South Korea, the provinces of China Hong Kong and Macao shows that there is still much to fall. As in society, while maintaining anti-family tendencies, there can be an effect of mass voluntary abandonment of children. "
"The current birth rate does not even ensure the reproduction of the population, even a simple change of generations," he stressed. "But in order to preserve it, women who will live in the 2025 year will have to give birth to twice as many children, that is, only for the birth rate to remain at these absolute values ​​— 1,8 – 1,9 million people a year, which for Russia few will have to give birth to 3,4 – 3,5 baby per woman. "
However, in the UN report 1999, it was predicted that, according to the average scenario, the population of Russia in 2015 would be about 135 – 136 million.
"This forecast has not come true, but if you look at what happened, millions of migrants entered the country," Beloborodov explains. - From 1992 to the present, the natural decline in population in our country - the difference between the dead and those born - was more than 13,5 million people. If this were not at least partially compensated by migration, there would be a different picture. We are the second in the world to receive migrants. In addition, the Crimea became part of Russia, and this is more than two million people, and also reflected. So there are no particularly happy trends here. If you look at the structure of fertility growth in recent years - he was, no one denies it - then it was provided by the same republics in which there was a good birth rate anyway: it grew in the North Caucasus, in Buryatia, the Tyva Republic, Yakutia, Yamalo-Nenets district. In the territories where the Slavs live compactly, the situation is depressing. "
As reasons, scientists cite a low level of public morals and a lower religiosity of the population compared to previous times.
"We need to rely on a large multi-generation family, however improbable it may seem. If by the year 2035 half of the families are not large, it's very difficult, almost unbelievable, we'll have a negative population growth, "Krupnov says. - We need a normal Russian multi-generation family with many children. This is the main task, the main national idea. Everything else is about nothing or direct sabotage. "
"Previously, hunger and plague were the restraints, and now cultural attitudes. One child in a family or a childless family is considered almost as the preferred lifestyle of the Russian and world population. It is cultivated, "he concluded.
"Reproductive behavior is defined by such a concept as the need for children," expressed his opinion of Beloborodov. - This is when a person feels discomfort, if he has fewer children than he wants. 65% of families we have one child. This is sufficient dominant for most. Because already several generations live according to this model, practice abortions, divorce, change each other. Many generations who have not had brothers and sisters, they do not know what it is. About a quarter of our children grew up in single-parent families; by definition, they have no experience in building harmonious marital relationships. This has already been eradicated, and the situation will have to be remedied by radical measures, but, alas, some of them may be unpopular, because they are in discord with the anti-family consumer lifestyle that they have already managed to impose. "