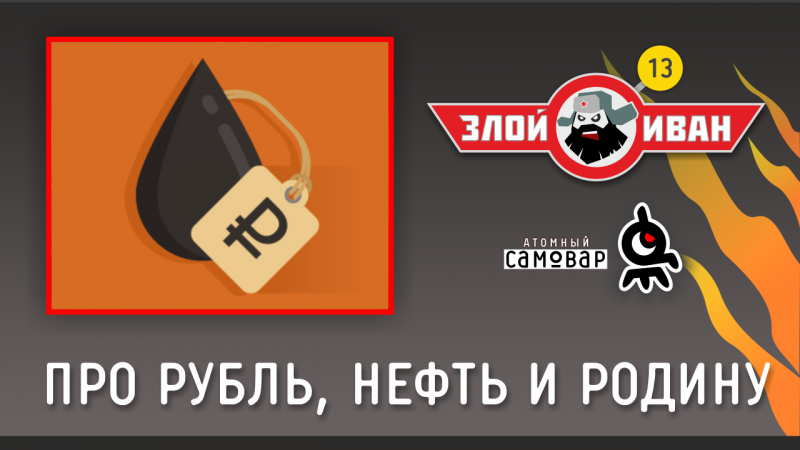 Hello to all of ours and not to ours. I am Ivan Victory and today I say very important things.
Ahhh! Oil collapsed, the ruble falls! Prices are rising! Sanctions! Economy in tatters! We all will die! Pair topple! TV channel Rain races with the RBC channel bury the ruble, purposefully inject and predict the most horrible torments for Russia and the Russians. At the same time, they do not even hide their gloating and satisfaction with the ongoing processes.
Around the world, russophobes held their breath, holding their sweaty fists. Their close-set eyes gleam from the shy flame of hope that is growing in them. After all, they waited so long for this. Someone even opened the champagne beforehand. Everything! THIS country is a scribe!
And in every city, village or village, millions of queues of scared Russians are lined up for exchanges. The population in a panic buys the remains of frozen hedgehogs and suits because of this fight. Matches, salt and soap have long been eaten, but there was no money left for cereals, bread and canned food. Everywhere we hear moans.
In this place, I unsuccessfully tried to squeeze out a mean tear from myself. =)
Set aside a panic! And let's figure it out. First, about the ruble. Yes, he falls.
Oil falls, and the ruble falls. It seems logical. And no one else gives an explanation. And let's dig deeper. And we will count a little ... and we will consider debts.
Russia's external debt is only 17% of GDP. For example, the US debt exceeded this year 100% of GDP, England 400%, Germany 160%, France 235%, Norway 200%, and Australia 150%
And now on the fingers. Russia has all the cheat codes for winning this strategic game. We have a small external debt compared to any of the countries of the West or the United States. We have a trade surplus. That is, we sell abroad more than we buy from there. We have endless resources, minerals, metals, oil, gas. We are among the world leaders in fresh water. We have the largest territory with innumerable biological resources, developed industry, powerful energy, its own scientific school, a strong army and navy, and a technically educated people. Yes, and in the end we can destroy all life on the planet several times! =)
Our assets are not numbers in computers. And Russia's GDP is not calculated on the basis of sales of marijuana or the cost of the services of prostitutes and speculators. And on the basis of real things that can be touched, felt and exchanged for anything that we want.
So, this is not our crisis. This is a crisis of the USA and Europe. They are bankrupt, they owe so much money that such amounts simply do not exist on our planet. Right now, before our eyes, the collapse of the entire world liberal capitalist system begins.
Unfortunately, we too will be sausage. For many years, Russia has been integrated into the global economy in the naive hope of becoming an equal partner. So it will not be easy. But compared to other countries ... Russia is in chocolate!
What am I summing up? The ruble is undervalued. It has nothing to do with the cost of oil or the budget. A drop in oil has become a cover. A cover for a large-scale radical restructuring of the entire Russian economy. The low exchange rate of the ruble reliably blocks our domestic market from imported products and goods. Anti-sanctions work here with additional measures. The state openly cleans its market of foreigners. Huge and quite solvent market. That is why they start wars, revolutions and coups. And this market is released for our domestic producers.
Yes, the depreciation of the ruble will affect the standard of living of each of us. True, attempts to keep the ruble rate would lead to the collapse of our economy. Massive unemployment and poverty. Therefore, the state is forced to take unpopular measures.
All this hysteria with the dollar started, hoping to warm up discontent. This is the last attempt of the collective West to win this battle. He has no other options. Only melting hope for a Russian revolt, for a coup. They need us to destroy our state ourselves, as we have done before. There are no other options to defeat Russia.
War is against us. Its stage is still cold, but if we are now flinching ... then the hot one will come and we will have to climb into the trenches. And the victory will cost much more expensive and bloody.
Do you want to go into the trenches? Then show solidarity and responsibility. For the time of the war, selfishness and individualism must be forgotten. Mutual aid and mutual assistance. And an understanding of responsibility for oneself, one's family, one's people and one's own country, that lies with each of us.
What can you personally do for our victory?
Step one.
Buy domestic. That is made in Russia. Trite? Yes. But laziness, the power of habit, and sometimes the usual gossip, often makes you forget this rule. But it is precisely in this that you help your country, develop domestic production and increase the welfare of the whole country.
Step two!
Rest in Russia.
There are pessimists and whiners who will shout about infringement of their legitimate right to spend their money, as they like. They will conquer that everything is included in Turkey and that we live only once. They will whisper that you need to think only about yourself, you are a unique and unique personality. After all, it has been inspired all these years from televisions and the Internet ...
Here are just all the great feats, discoveries and accomplishments in our
stories
Russians reached together.
Let's move away from the imposed liberal dogmas and consumer rules. And the motto, "every man for himself" is not for Russians.
I repeat, there is a war going on against us. And over the year, Russians spent more than $ 30 billion on vacations abroad, which is more than 2 trillion rubles. This is about 40 annual budgets of the Belgorod region. And with this money you can pay pensions to all pensioners in Russia for two years. Or buy 30 modern nuclear submarines. Or the 6000 latest
tanks
Armata. Or 600 Su-35 fighters.
A lot of money. And we give them away voluntarily to our enemies, and they, figuratively speaking, buy cartridges for them, for our own murder. And spending them on yourself and your vacation in Russia, you create new jobs, develop infrastructure, roads, help build new hotels, hotels and improve service.
What do I give these numbers? We are used to the fact that all problems should be solved by the state, and no matter how it solves them, most of us are still unhappy. Or maybe try to share the responsibility with their homeland? At least some real reciprocity to answer, not likes under patriotic pictures or meaningless waving flags at rallies, but in deed?
Alone, you can change quite a bit. But together we can change Russia. And at the first stage, it's enough just to show civic engagement and realize responsibility to each other and to the country.
The third step.
Push down alarmists and provocateurs. Understand, faith in your people and your country can transform the world around you right before your eyes. And despondency, panic, and disbelief, these feelings are inspired by Russians for the same purpose, so that we will give up and stop resisting.
But we are going to win with you ... So, above the nose, rub the snot and fight! If the Motherland is needed, we will tear the enemy with our bare hands and teeth, and in the end we will still win. And I don't give you any other choice.
The Russian people are ready for a decisive battle. Is power ready for it?
People are able to endure difficulties, but only under one condition. Power must be honest with him.
Time is compressed, the glow of the final battle is already visible ahead. And if the forces in power want to get the support of the people - you need to start cleaning. Thieves, embezzlers, traitors, and simply stupid, incompetent officials who have crawled into power for the sake of profit should get out of it. They are parasites and pests that discredit the country and cause great damage to all of us. And the people demand justice!
Russia has enough trumps. In order for this battle to emerge victorious, but this requires consolidation of the people and government. Only by working together we will be able to get out of the crisis with the least losses and we will have enough strength and opportunities to start creating new fair laws, only for the whole world.
Everything! Believe in your people and your country!
Only together, realizing that we are one people and we are Russians, regardless of religion, nationality or citizenship, can we win this war.
See you soon.