The command of the Russian-Chinese exercises "Sea Interaction-2015 (II)" noted the precise performance of the landing operation of the amphibious assault forces in order to create a corridor for the evacuation of civilians from the zone "captured" by terrorists, reports
RIA News
message of the representative of the Supreme Military District Roman Martov.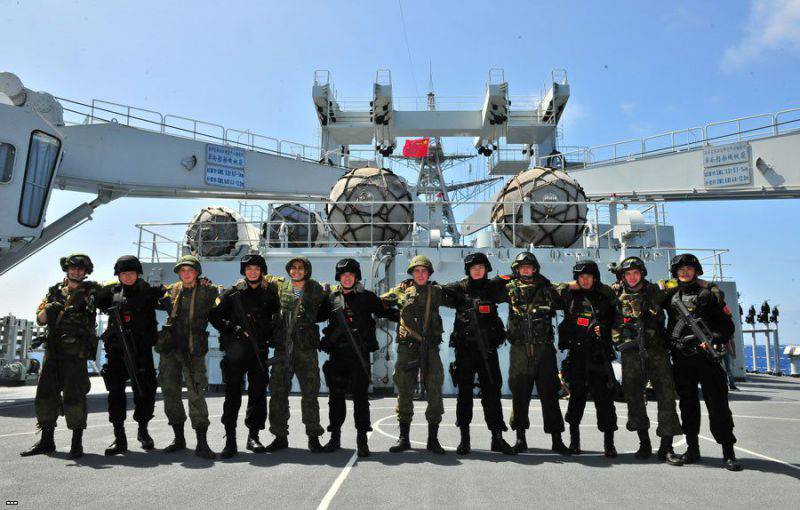 The active phase of the exercises began on August 23. "Several episodes of anti-sabotage, mine action and anti-ship warfare were completed, joint firing took place, anti-aircraft missions using
aviation
China and the Pacific
fleet
Of Russia. The units have completed more than 10 combat training missions. On Tuesday, the warships of Russia and China completed landing operations, which created a corridor for evacuating the population from the zone captured by conditional terrorists, "Martov said.
According to the officer, "a joint landing of the Russian and Chinese marines in Russia was conducted for the first time."
"Upon completion of the operation to ensure the evacuation of the population, the commanders of the units reported to the leadership of the exercise, Russian Vice Admiral Alexander Fedotenkov and the Chinese Rear Admiral Wang Hai, about the task. The construction of the commanders of divisions and the exchange of souvenirs in memory of joint actions took place, "said Martov.
According to him, "Fedotenkov noted that all the forces were within the intended standards, the actions of both sides in this episode were brilliant." The VBR representative added that further exercises will be held at sea and will end in a naval parade in the Peter the Great Bay.